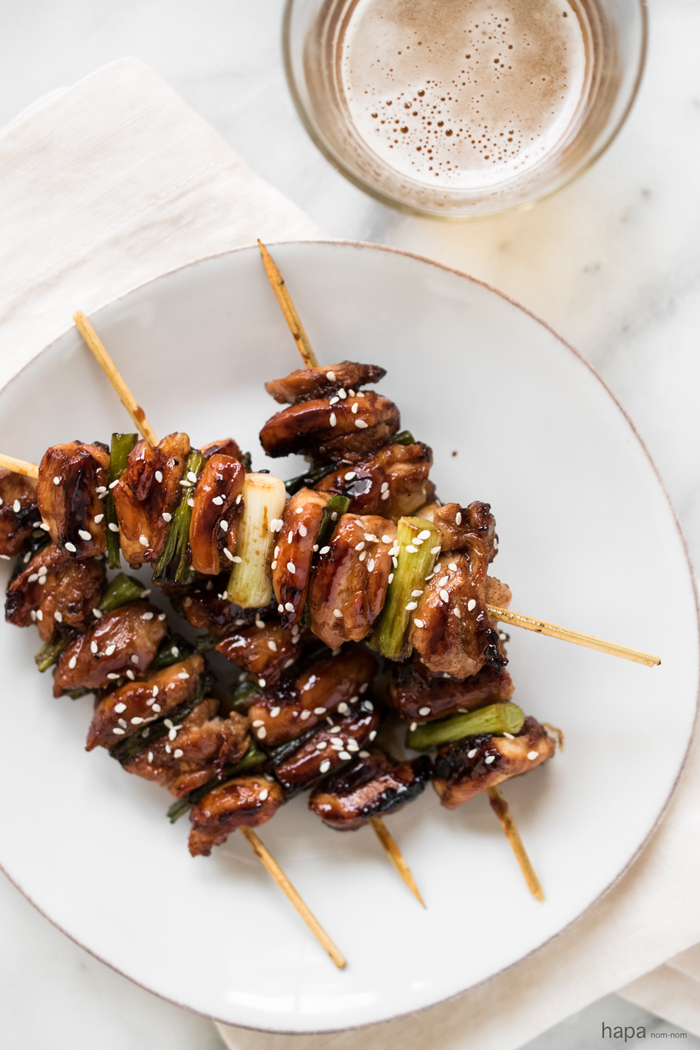 Yakitori is a popular Japanese grilled chicken skewer, generally served at a izakaya or yakitori-ya (I'm oversimplifying here, but essentially they're establishments much like a bar where food is served along with alcoholic beverages).   These are informal institutions, generally frequented by those on their way home from work.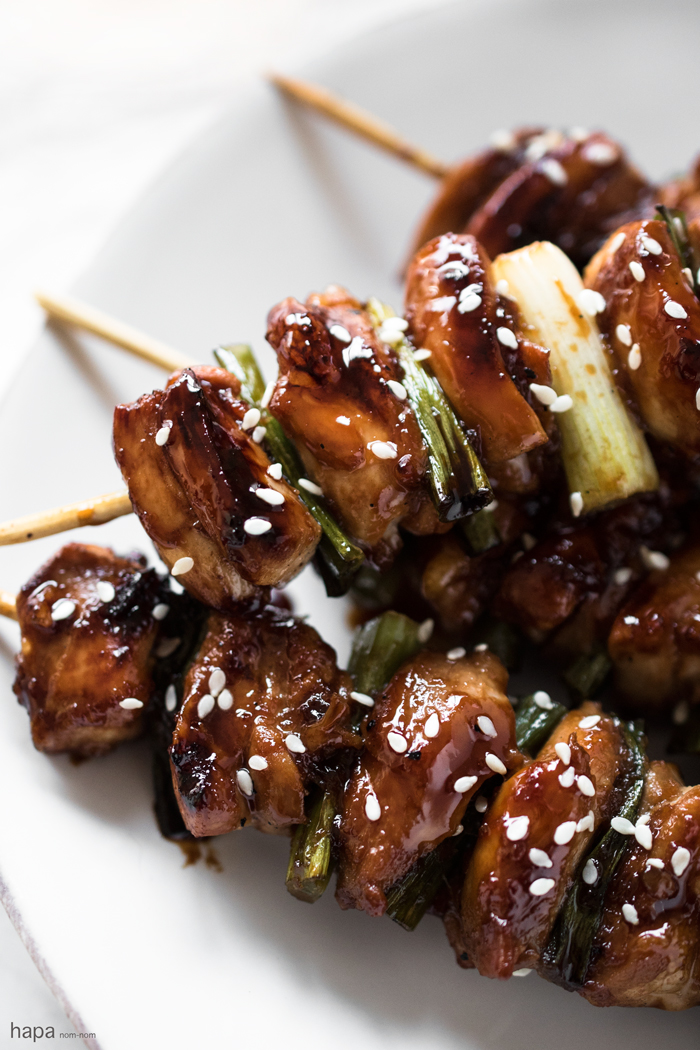 There are various types of yakitori, this particular recipe is known as Negima Yakitori – chicken thighs and scallion skewers; the scallions play a vital role serving as a light counterpoint to the umami-rich yakitori sauce.  Grilling is certainly the preferred method here, however if you don't want to go to the trouble of grilling after you've worked all day, you can quickly cook this on the stove when you get home.  Likewise, yakitori is not traditionally marinated, so you may omit this step if you don't have the time to marinate the chicken.  However, the marinade will certainly add a more robust flavor while the daikon radish tenderizes the meat, leaving you with moist and tender chicken.  If you are making this during the workweek, I suggest marinating the chicken in the morning so it's ready to cook when you get home.  You'll be amazed at how much flavor and tenderness you can achieve with this dish by cooking it on the stovetop – perfect after a long day of work.  Alternatively, this also makes for a fantastic weekend barbecue.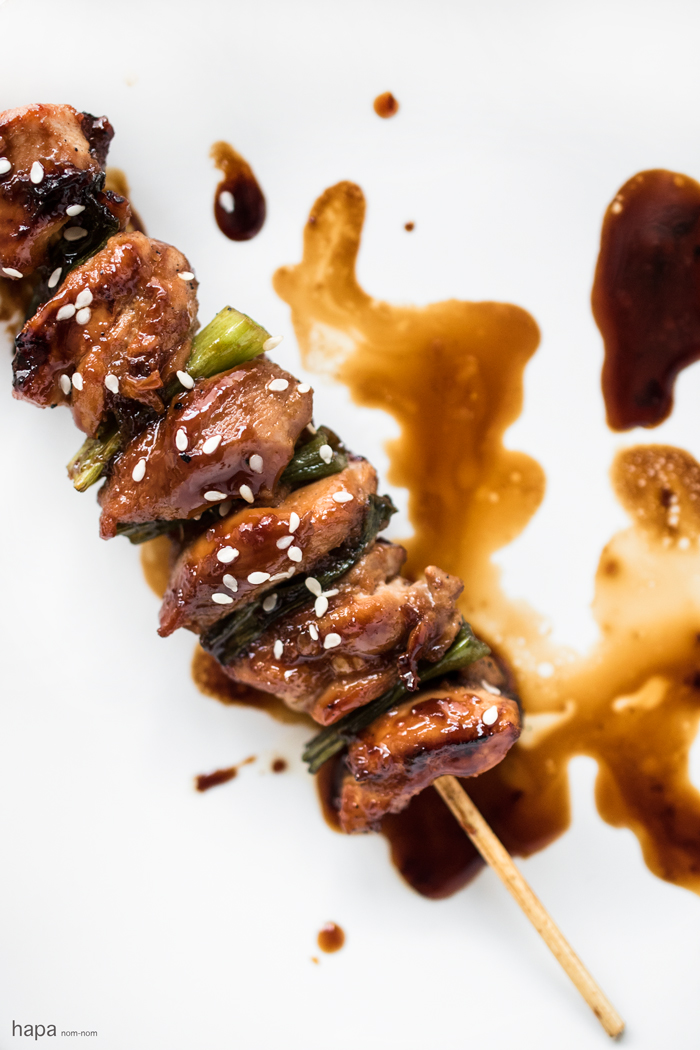 Negima Yakitori
Author:
Kathleen | Hapa Nom Nom
Tender, juicy, and packed with flavor! Serve with an ice-cold beer, and you have your own in-home izakaya.
Ingredients
10 6-inch wooden skewers
Marinade
1 daikon radish (about the size of a large carrot), grated using a microplane
1 cup low sodium soy sauce
¼ cup white miso paste
1½ pounds chicken thighs, boneless and skinless, cut into 1 inch pieces
Basting Sauce
½ cup low sodium soy sauce
¼ cup sake
¼ cup mirin
1 tablespoon sherry vinegar
2 tablespoons sugar
2 cloves garlic, crushed
1-inch fresh ginger, peeled and roughly chopped
1 teaspoon corn starch
Extras
2 bunches of scallions, white and light green parts only
canola or vegetable oil for cooking
1 tablespoon toasted sesame seeds for garnish
Instructions
Soak 8 to 10, 6-inch wooden skewers in water for 30 minutes.
In a large bowl, add the daikon radish, soy sauce, and miso paste. Stir well and add the chicken, being sure to coat each piece with the marinade. Cover and refrigerate for at least 2 hours and up to 8 hours.
In a small saucepan over high heat, add the first 7 basting ingredients and bring to a boil. Once boiling, reduce the heat so the contents gently simmer. Cook for 6 minutes to allow the mixture to thicken slightly. Evenly sprinkle the corn starch into the sauce, stir well, and cook for another 1 to 2 minutes – the sauce will thicken a bit more. Set aside to work on skewering the chicken.
Cut the white and light green part of the scallions into 1 inch pieces. Thread a piece of the marinaded chicken onto the skewer. Add a scallion perpendicular to the skewer. Continue alternating the rest of the chicken and scallions in this fashion.
Lightly oil a cast iron grill pan or grill grates and heat over medium-high heat. Working in batches, add the skewers. Cook for 2 minutes on each side and then begin brushing the skewers with the yakitori sauce, turning and basting every 30 seconds for another 4 minutes, for a total cooking time of 8 minutes, or until cooked through. If cooking in a pan, wipe out the pan of excess sauce and re-oil in between each batch. Transfer to a serving plate and sprinkle with toasted sesame seeds. Serve immediately.