A perfect meal – these Fish Tacos with Sriracha Aioli Slaw are light, packed with flavor, and super easy to make!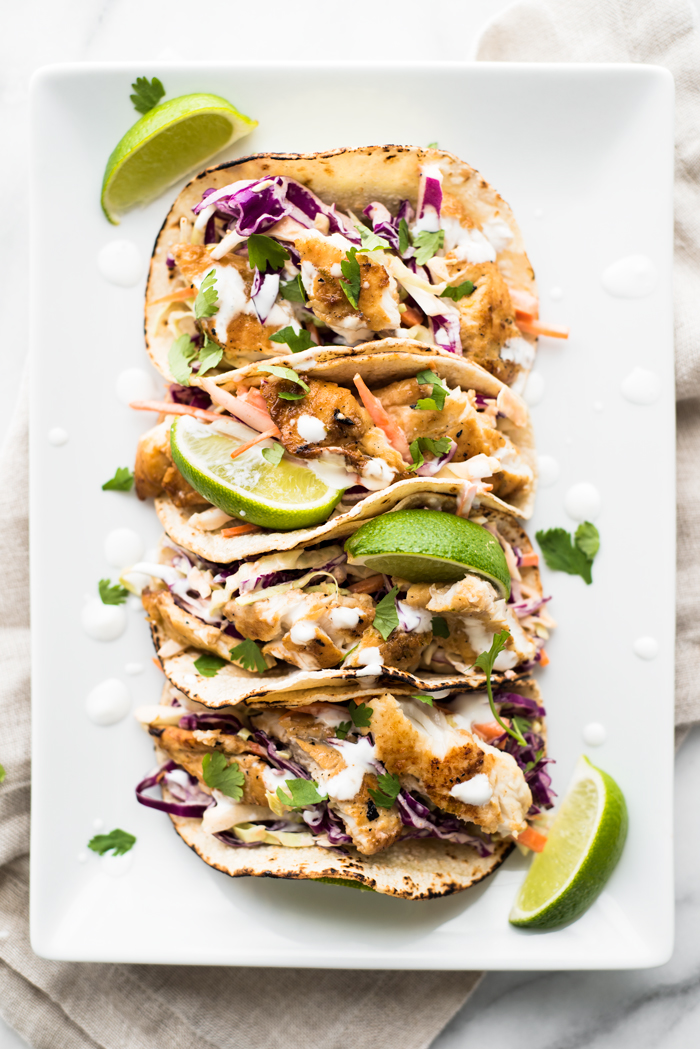 Several weeks ago my husband and I drove down to Florida to visit my parents.   The day after we arrived, my husband and I thought we'd go for a quick bike ride (in 90+ degree F heat – brilliant). Coming from hilly Atlanta, the flat terrain of FL made for quick ground coverage, and before we knew it we were 15 miles out.  
The temperature was climbing as the sun rose higher in sky.  Stopping at traffic lights became a double-edge sword – on one hand it was nice to have a break from peddling, on the other hand the breeze in your face from riding suddenly stopped and all you were left with was air so hot and still that you could feel your heart beating in your head (I was sure heat stroke was just around corner).   We pushed on through the heat and humidity and onto our destination, The Old Salty Dog – my favorite seafood shack overlooking the Gulf Coast of Sarasota.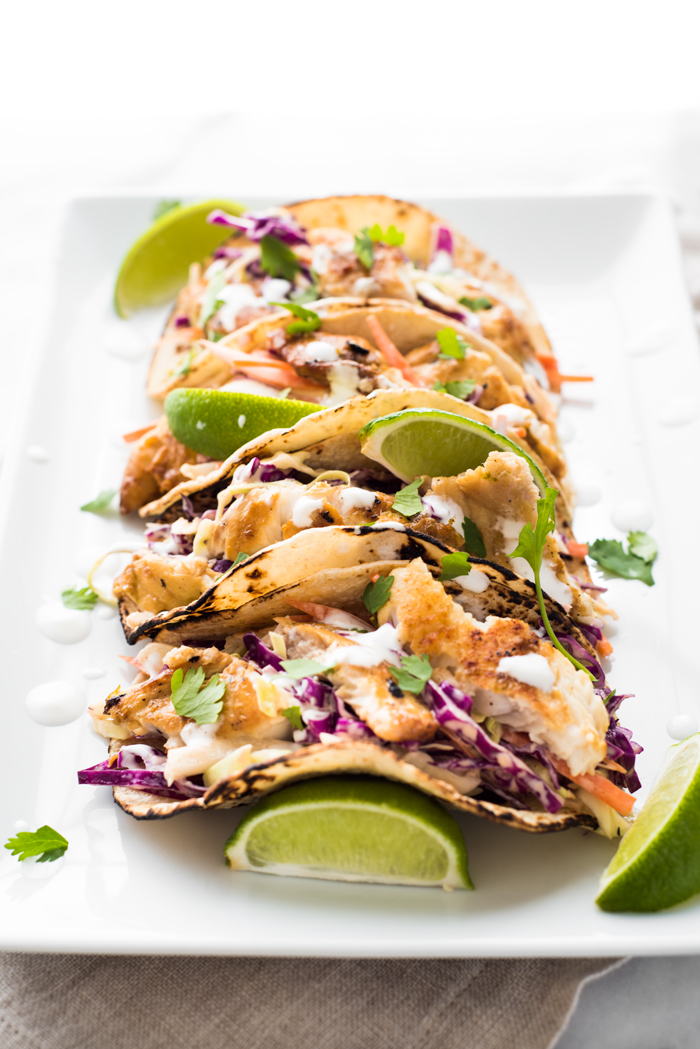 After being seated and downing approximately a gallon of water, we looked over the menu.  Suddenly I became VERY hungry.  Ravenous!  After burning 800+ calories, I eyed their deep-fried hot dog, but then realized that I would have to bike another 15 miles through the blazing sun to get back home.  I needed something to satisfy my hunger pangs, yet light on my stomach -or run the risk of seeing my lunch again on the ride home.  I played it safe and ordered the grilled fish tacos.   They were everything my body needed, lightly grilled fish, crisp slaw, and a bit of tang from a fresh lime – delicious!  After consuming the tacos in record time and downing another gallon of water, I felt renewed, re-energized! HA!  Well that feeling lasted for about 10 miles. The last 5 miles… I wasn't sure I was going to make it.
Fish Tacos with Sriracha Aioli Slaw
Author:
Kathleen | Hapa Nom Nom
Prep time:
Cook time:
Total time:
A perfect meal - these Fish Tacos with Sriracha Aioli Slaw are light, packed with flavor, and super easy to make!
Ingredients
Fish
1 pound tilapia
¼ cup orange juice, preferably fresh
2 limes
4 cloves garlic, minced
¼ cup soy sauce
Sriracha Aioli Slaw
½ cup mayonnaise
2 cloves garlic, minced
pinch cayenne
1 teaspoon sriracha
1 cup red cabbage, finely shredded*
1 cup green cabbage, finely shredded*
2 carrots, shredded*
½ cup cilantro, finely chopped
Kosher salt
black pepper
Other Ingredients
8 (6 inch) corn tortillas
1 avocado, sliced
sour cream
Instructions
Place the fish in a medium sized baking dish. Whisk together the orange juice, zest and juice of 1 lime, minced garlic, and soy sauce and pour over the fish. Allow to marinate for 15 to 20 minutes in the refrigerator.
To make the Sriracha Aioli; in a large bowl add the mayonnaise, garlic, ¼ teaspoon kosher salt, cayenne, and sriracha. Stir well to combine.
Then add the red cabbage, green cabbage, carrots, and cilantro. Toss the slaw to incorporate. Add salt and pepper to taste. Cover and refrigerate.
Warm the tortillas in a grill pan or other heavy-bottomed skillet. Heat the pan to medium-high heat and warm each tortilla 1 to 2 minutes per side – you want to heat the tortillas just enough to slightly char and add a bit of crispness, but not so much that when you fold it, it cracks. Wrap the tortillas in a clean tea towel to keep warm and set aside.
In a large skillet, heat 2 tablespoons of olive oil over medium-high heat. Remove the fish from the marinade. Working in batches if needed, add the tilapia fillets cooking 2 -3 minutes per side – until white and opaque. Transfer the fish to a plate and break it up into large pieces.
Quarter the remaining lime. To assemble: place a heaping spoonful of sriracha aioli slaw onto the center of the tortilla. Top with the fish, sour cream, sliced avocado, and lime wedges. Serve and Enjoy!
Notes
* To make for faster prep - feel free to use a bag of pre-shredded slaw mixture (shredded red/white cabbage and carrots).

Tip: Heating tortillas on a skillet certainly adds a nice texture to your tacos. However, it serves a dual purpose with corn tortillas (not so much with flour tortillas). Corn tortillas easily fall apart - which is why if you don't heat them, they are generally served with two tortillas per taco. By very slightly charing the corn tortillas, you are making them stronger and more pliable. Careful - you don't want heat them so much so that they become crispy and break when you fold them.