It's only been two months since my husband and I moved from Washington, DC to Atlanta, and already we are in love with the food culture here.  There are a ton of locally owned eateries, with locally sourced food, homemade condiments, and real southern hospitality.  Atlanta, to our surprise and delight, has been immensely international and diverse, and so there is a wonderful fusion of southern and ethnic cuisine – how very hapa.
Having recently relocated to the 'Peach State' –  this blog is due for some good southern food.  I sadly know very little about southern food or barbecue for that matter – so you'll have to forgive this 'northern girl' if I happen to offend any southern barbecue purists.  What I do know is that there is a great BBQ debate…it's much like a religion in some parts of the country and each region has its firm beliefs as to what makes great barbecue.  One of the most heated debates is over pulled pork.  What wood do you use?  Rub/no rub?  What's in your rub?  Sauce/no sauce?   Ketchup based sauce?  Vinegar based sauce?  I don't think there is any aspect that has not been heavily debated.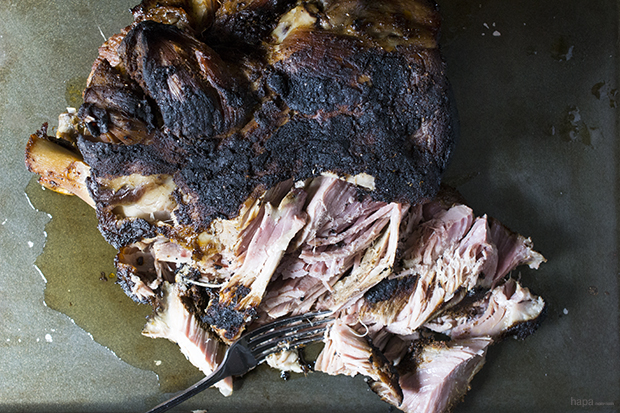 I think that sometimes not knowing the 'rules', can in actuality, fuel creativity (perhaps that's just the artist in me). So the first cardinal rule I'm going to break, is that I've cooked a Boston butt in a slow cooker and not in a smoker…I know, it's sacrilegious.  In fact, it goes against the very definition of barbecue.  Hear me out, though…if you have a smoker, use the smoker.  For those who do not (myself included), the slow cooker is a good alternative.  Hello?  Are you still there?  If you are still reading this – I've also come up with a ketchup and vinegar asian inspired BBQ siracha sauce.  I'm certain I've broken countless other rules, but I'm telling you, even though this northern girl may not know much about barbecue, I know good flavors.  And like Atlanta, this dish has great flavor!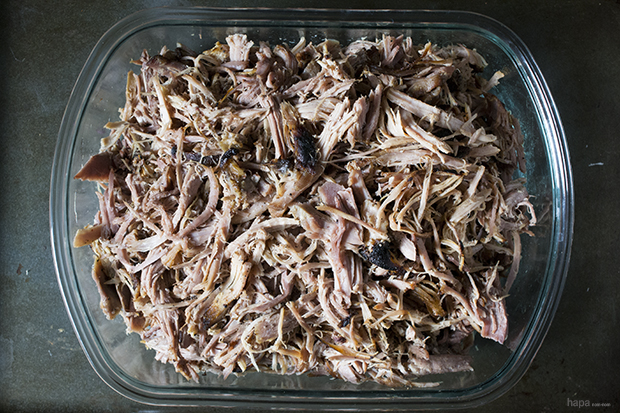 Pulled Pork Sliders
Author:
Kathleen | Hapa Nom Nom
Slow cooker Pulled Pork Sliders - fall off the bone tender pork that's packed with flavor! Pair with Sriracha BBQ Sauce and Coleslaw. Inspired by Alton Brown,
Pulled Pork
Ingredients
Brine:
¾ dark brown sugar
¾ cups salt
8 cups warm water
5 lbs Boston butt (pork shoulder)
Rub:
1 teaspoon whole cumin seed
1 teaspoon whole caraway seed
1 teaspoon whole coriander
½ teaspoon cinnamon
1 tablespoon chili powder
1 tablespoon onion powder
1 tablespoon paprika
canola oil for browning
Other:
1 stick of butter, softened
32 slider buns
Instructions
Remove the ceramic vessel from a 5-6 quart slow cooker. In the vessel, combine the brown sugar, salt, and warm water. Stir the brine well enough to dissolve the salt. Let the brine cool to room temperature and submerge the pork. Place a lid smaller than then opening of the vessel on top of the pork to weigh it down. Refrigerate for 8 to 12 hours.
Place the cumin, caraway, and coriander in a spice or coffee grinder and finely grind. Transfer to a small bowl and add the cinnamon, chili powder, onion powered, and paprika.
Reserving 1 cup of the brining fluid, remove the Boston Butt from the brine and pat dry. Evenly distribute and rub the spices all over the pork.
Heat 2 tablespoons of the oil in a large skillet over medium-high heat. Add the pork and cook for 3 – 5 minutes per side or until slightly charred. Add 2 tablespoons of oil each time you rotate.
Place the reserved brine in the bottom of the slow cooker and add the pork. Cover and cook on low for 10 hours. Resist the urge to open the lid until done.
Remove the pork and let rest for 1 hour. Then pull apart with two forks.
Butter the inside of each slider bun and cook on a skillet over medium heat until golden brown.
Serve pulled pork with coleslaw and siracha barbecue sauce on slider buns.
Notes
*If you are using a smoker, heat the smoker to 210 degrees F. Cook for 10 – 12 hours, maintaing a temperature of 210 degrees. After 10 hours, start checking the pork for doneness – internal temperature should be 190 degrees F, and the meat should fall apart easily.