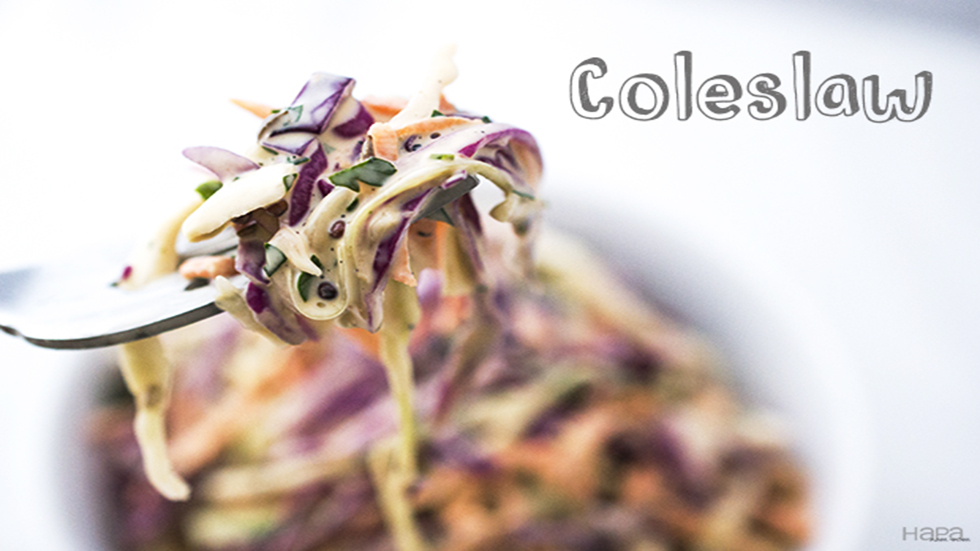 I have never been a big fan of coleslaw, or any traditional picnic side for that matter, to include potato salad and macaroni salad.  For one, I never found the predominately monochromatic pale color very attractive – you do after all eat with your eyes first.  Secondly, I always thought the taste, much like the color, was very bland.  The only time I ever enjoy coleslaw is when it is on top of a pulled pork sandwich.  So when I was making pulled pork sliders for a previous post, I knew I had to find at least a decent coleslaw recipe.  To my surprise, I found a great recipe.   It's not only beautiful and vibrant in color, but also very tasty.  I would happily make and eat this dish again, without the pork's assistance in the flavor department.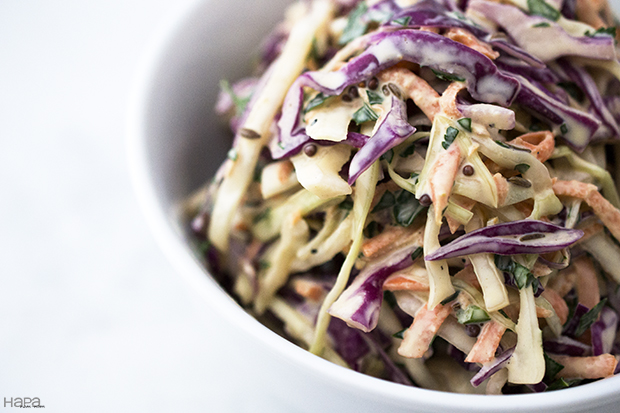 Coleslaw
Author:
Kathleen | Hapa Nom Nom
This coleslaw dish is not only beautiful and vibrant in color, but also very tasty. Try it on pulled pork, hot dogs, or another picnic item. Inspired by Ina Garten,
Vegetable Coleslaw
Ingredients
½ head white cabbage
½ head red cabbage
4 carrots
1 cup parsley, chopped
1 cup mayonnaise
¼ cup Dijon mustard
1 tablespoon sugar
2 tablespoons cider vinegar
2 teaspoons caraway seeds
1 tablespoon whole mustard seed
1 teaspoon kosher salt
½ teaspoon freshly ground black pepper
Instructions
If you are using a food processor, fit it with the slicing blade and working in batches, place the cabbages in the feed tube. Alternatively, thinly slice the cabbage using a sharp knife.
Then fit the food processor with the grating blade and place the carrots in the feed tube. Again, if you do not have a food processor, you can use a hand-held grater for this.
Combine the cabbages, carrots, and parsley in a large bowl and mix well.
In a medium size bowl, combine the remaining ingredients.
Pour the dressing over the vegetables and mix well (I find clean hands work best). Use as much or as little of the dressing as your tastes desire.
Notes
If you want to expedite this dish, feel free to use a bag of pre-cut cabbage and carrots.