Homemade Soft Pretzels make a perfect snack or a great sandwich! I have made these pretzels for many parties and get-togethers, and they're always the first thing to go. So much fun to make and so delicious!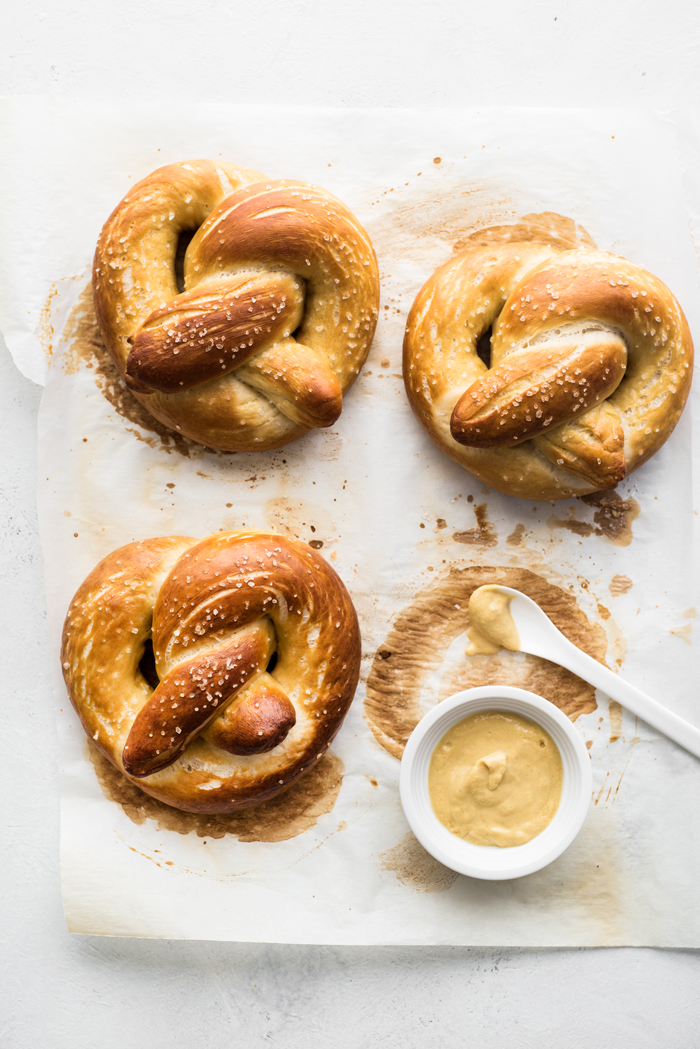 I love to snack on hard pretzels.  Truth be told, I actually prefer the softer variety, but how often do you find a soft pretzel worth its salt, so to speak?  You could pick up a box in the freezer isle of your local grocery store, but those are like eating rubber.  If you live in a city, you could buy one from a street cart vendor…though I think they also get their pretzels from a box in the freezer.  Furthermore, I haven't run across too many bakeries that offer fresh pretzels, and those that do, tend to run out just as quickly as they open their doors.
Then there was the bar.  Not just any bar. I can distinctly remember sitting in a smoke-filled one in Switzerland – well into the evening and about one or two beers past my prime.  The dinner I ate that evening was long used up as energy for consumption of more alcohol, and I desperately craved something to give me the strength to carry on through the night. That's when I noticed behind the counter a rack of soft pretzels.  I was just about to get one when my traveling companion strongly advised against this, noting that they were probably stale.  Also, she made the observation that the cloud of cigarette smoke looming over the entire bar is what surely gave the pretzels their deep golden brown sheen (a good travel buddy can save your life, even in the most seemly benign circumstances).   I agreed with her observation and carried on through the night.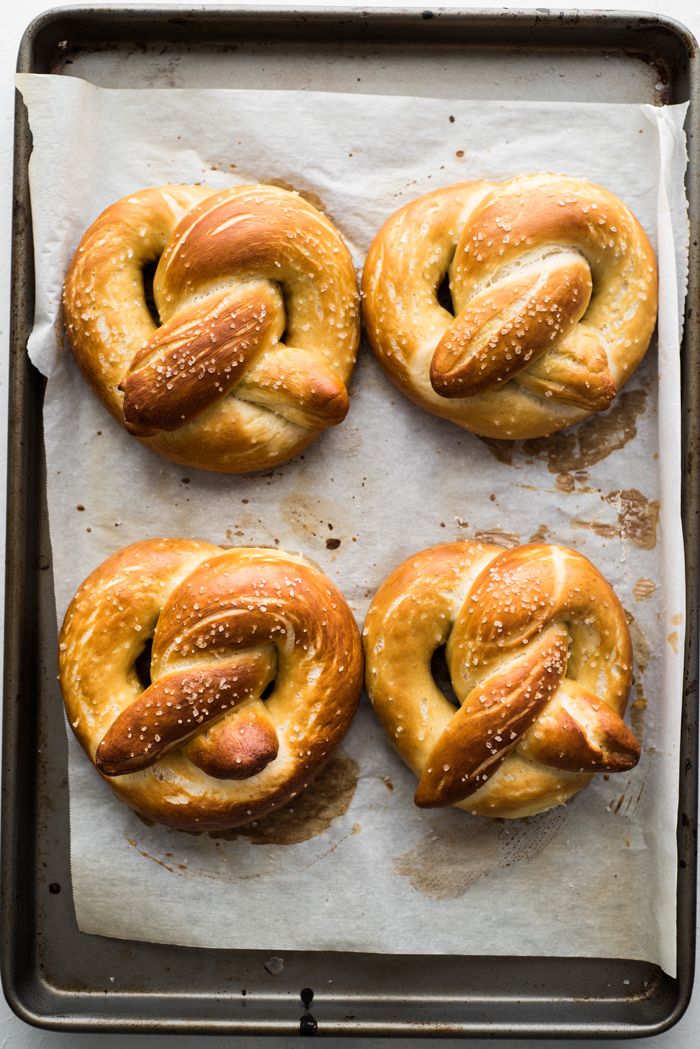 Naturally, when I returned to the States I had numerous dishes I wanted to recreate.  But I couldn't get that pretzel out of my mind.  Well, perhaps I shouldn't say, 'that pretzel' – but a soft pretzel nevertheless.  And much to my surprise, as with many other dishes I never got around to making because I thought they would be too complicated, pretzel making is really not difficult.  It is however,  a little labor intensive – but so worth it!  I have made these for many parties and  get-togethers since, and they're always the first thing to go.
Soft Pretzels
Author:
Kathleen | Hapa Nom Nom
Prep time:
Cook time:
Total time:
Ingredients
1½ cup warm water, 110 -115 degrees F
2 tablespoons light brown sugar
1 package active dry yeast
2½ teaspoon kosher salt
6 tablespoons unsalted butter, melted
5 cups all-purpose flour, plus a little extra if needed
vegetable oil
⅔ cup baking soda
1 large egg yolk, beaten with 1 Tbs of water
coarse sea salt
serve with mustard, try spicy mustard or coarse ground mustard
Instructions
Combine the water, sugar, kosher salt, and butter in the bowl of a stand-up mixer and sprinkle the yeast on top. Let stand for 10 minutes, or until the yeast begins to foam. Add the flour, using the dough hook, mix on low speed until fully incorporated. If the dough is too wet, add one tablespoon of flour at a time.
Increase mixer speed to medium and knead until the dough is smooth and pulls away from the sides of the bowl, and no longer sticky, approximately 4-5 minutes.
Transfer the dough to a large oiled bowl and cover with a moist tea towel. Let it sit in a warm place for 1 hour.
Preheat oven to 425 degrees F and line 2 baking sheets with parchment paper.
Bring a large pot of water and the baking soda to a rolling boil.
In the meantime, punch the dough down and remove the dough from the bowl. Place the dough on a clean counter sprinkled with a tablespoon of flour.
Divide the dough into 4 equal pieces and then half each piece again, so you will have 8 pieces. With a moist tea towel, cover any dough you are not immediately working with. Taking one ball of dough from under the tea towel, roll it out into a 22-inch rope, applying even pressure with your hands. Making a U-shape with the dough, cross the right side over to the left, and left over to the right. Gently press the ends into the bottom of the U. Transfer the pretzel to the parchment-lined baking sheet and cover with a damp tea towel while you work on the remaining pretzels.
Place the pretzels, two at a time, into the boiling water for 30 seconds, splashing the tops with a spoon. Remove with a wide spatula or spider (they will be slick, so be careful with transferring) return to the parchment-lined baking sheet to rest. 4 pretzels per sheet.
Brush each pretzel with the egg wash. Sprinkle with coarse sea salt just before transferring them to the oven (if you sprinkle them with salt and allow them to sit before baking, the salt will begin to melt into the egg wash, leaving you with salt splotches on your pretzel). Place in the oven and bake for 15 – 17 minutes. Transfer to a cooling rack for at least 5 minutes before serving.
Notes
If you would like to make a pretzel bun for
bratwursts
, simply shape the portioned dough into a bun, make shallow-diagonal slits in the top and cook as you would the rest of the pretzels.