These bratwursts are perfect for Oktoberfest, football parties, or just a damn good dinner!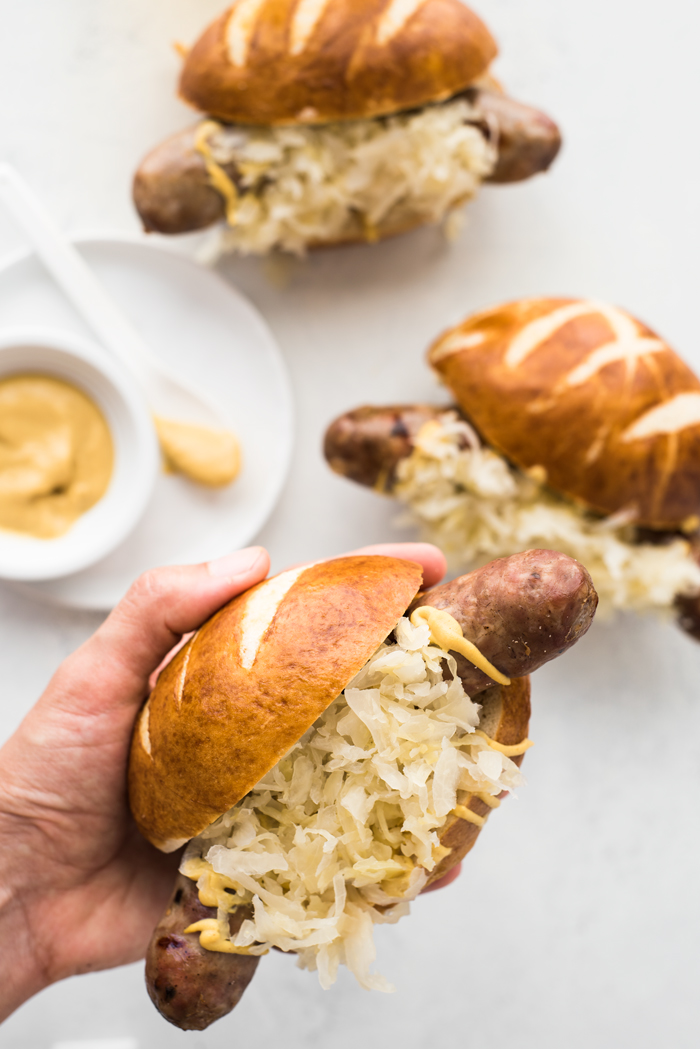 My husband Craig, coming from a military family, was born in Germany and spent much of his formative years living and going to school there. When his parents were still living in Germany, Craig's father would pick us up in Frankfurt. Before we'd leave the airport, we would always stop by a sandwich stand to get a snack to go. Lining the glass cases were beautiful little pretzel sandwiches filled with various deli meats and cheeses.  Enjoying my sandwich in the car as we cruised at warp speed down the autobahn, I was already thinking about finding a brawturst stand when we got into town. 
Bratwursts are German sausages often made from veal, beef, pork, or a combination. And they come in a number of varieties – fat, thin, long, short, spicy, mild, finely ground, coarsely ground, varieties of herbs and spices, cooked in stock, grilled over open flames – the array is really quite impressive. 
You can go to just about any grocery store and find 'brats', which is fine. But if available to you, go to a butcher or a grocery store with a nice selection of meats. Sometimes you'll just see a variety of sausages with one group labeled as bratwursts; naturally you'll want to get those. However, if you find a place that sells a variety of bratwursts (WIN!), get whichever one that fits your tastes. If you're not sure, ask the person behind the counter – they are often a wealth of knowledge about whats behind that glass case. Some of my husband's personal favorites are Weisswurst and Nürnberger Rostbratwurst.  
Want some more ideas of what to serve with your bratwursts? Check out these suggestions: 
French fries
Roasted potatoes
Different varities of mustard
Ketchup 
Currywurst Sauce (a mixture of ketchup and mild curry powder)
Rotkohl (sweet and sour red cabbage)
Grilled onions
Beer!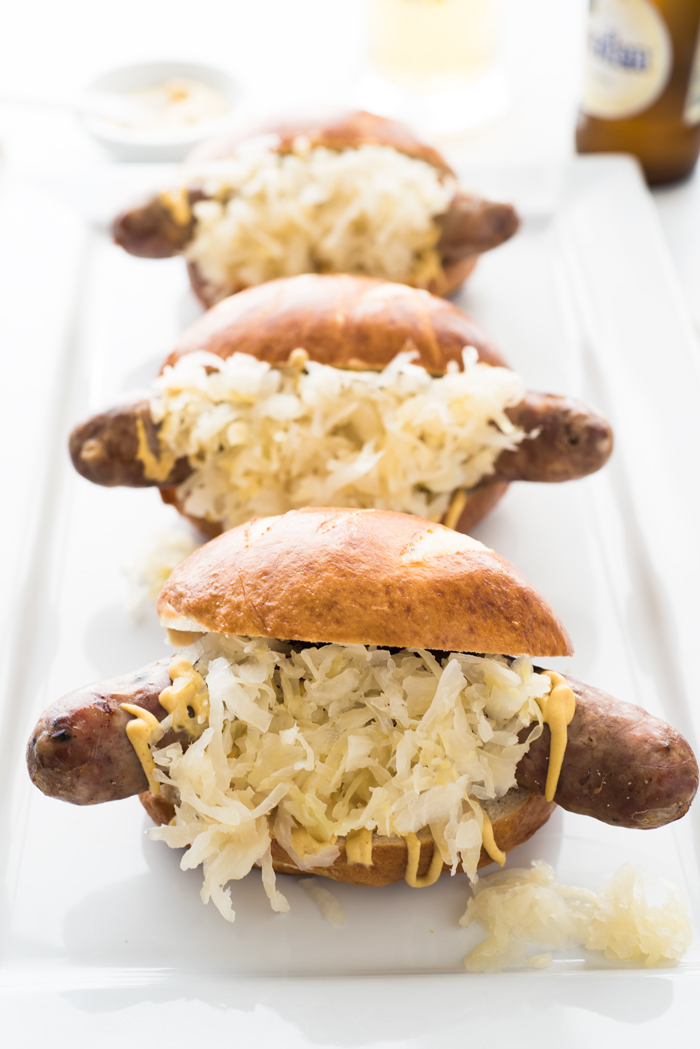 Beer Bratwurst Sandwich on a Homemade Pretzel Roll
Author:
Kathleen | Hapa Nom Nom
Prep time:
Cook time:
Total time:
Beer Bratwurst Sandwich on a Homemade Pretzel Roll - they are perfect for Oktoberfest, football parties, or just a damn good dinner!
Ingredients
4 bottles German beer
1 tablespoon coriander seeds
1 tablespoon whole mustard seeds
1 tablespoon caraway seeds
2 tablespoon brown sugar
3 large yellow onions, peeled roughly chopped
2 garlic cloves, smashed
8 bratwursts
2 tablespoons canola oil
8 pretzel buns (best if made the same day), or hot dog buns
2 cups sauerkraut
mustard
Instructions
Make the pretzel rolls, if you haven't already.
In a large pot, combine the first 8 ingredients and bring to a boil. Reduce the heat to a simmer for approximately 5 minutes and then remove from heat, letting the pot sit with its contents for at least 30 minutes.
Heat your grill using direct, high heat (alternatively you can use a grill pan). Grill the bratwursts for 4 to 6 minutes per side.
Serve on a split pretzel roll, place the bratwursts inside, top with mustard and sauerkraut. Serve and enjoy!