Chef Patrick O'Connell describes it as, 'liquid autumn'. Rich, mildly sweet, and silky smooth – this Apple Rutabaga Soup is one of the tastiest soups I've ever had!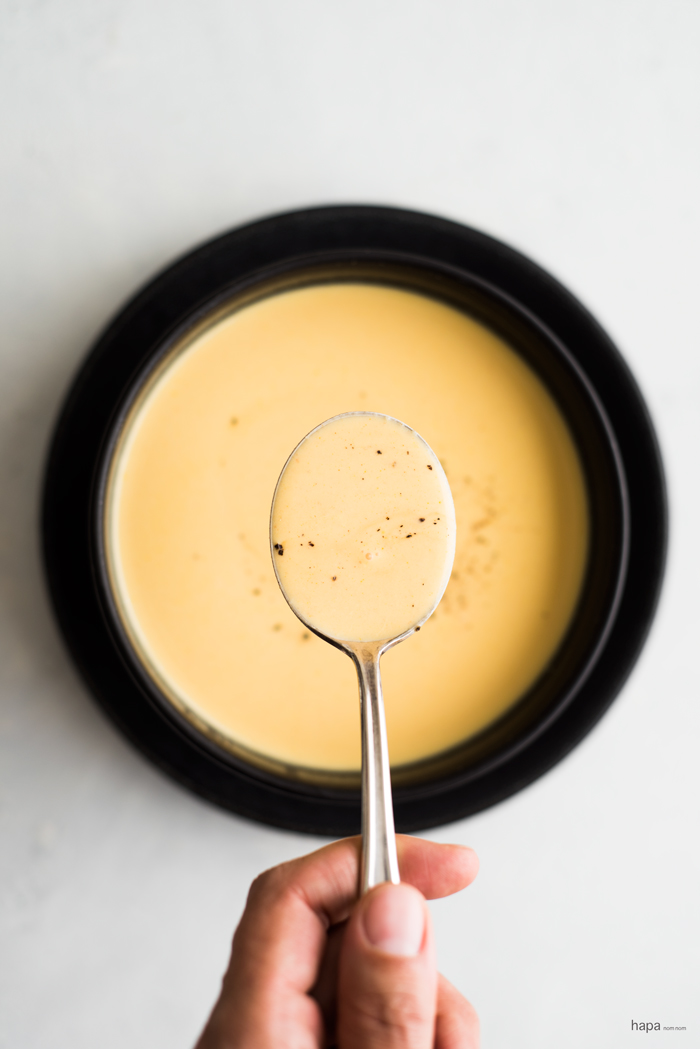 When I was living in DC, I had the fortunate pleasure of dinning at The Inn at Little Washington. The interior design of the Inn is truly dreamy and the food is absolutely exquisite! It's been almost 10 years since I last dinned there and I still think about this Apple Rutabaga Soup. After a flotilla of hors d'oeuvres, the soup was served as a first course in a delicate demitasse cup. I wanted more… I wanted to lick the cup to get every last drop, but something told me that this was not the place to do such a thing. On the other hand, if you make this at home, lick away my friend… lick away. 
Loaded with lots of autumn veggies, the cayenne pepper is an incredible compliment to the maple syrup. Just the slightest bit of heat balances out the subtle sweetness of the soup. This dish can be made several days in advance and refrigerated, or you can freeze it for several months. The advance prep and storage really comes in handy if you plan on serving this as a first course for Thanksgiving!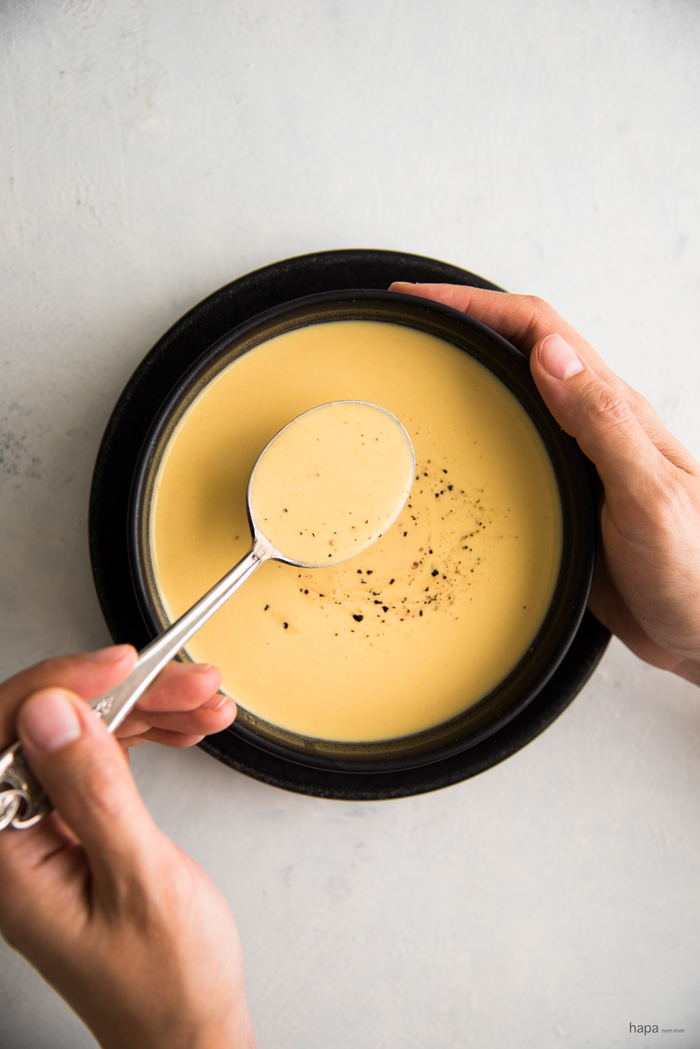 Apple Rutabaga Soup
Author:
Kathleen | Hapa Nom Nom
Ingredients
1 stick unsalted butter (1/4 pound)
1 cup onion, roughly chopped
1 cup rutabaga, peeled and roughly chopped
1 cup butternut squash, peeled and roughly chopped
1 cup sweet potato, peeled and roughly chopped
1 cup carrots, peeled and roughly chopped
1 cup Granny Smith apple, peeled, cored, and roughly chopped
1 quart good quality chicken stock (or vegetable stock for a vegetarian option)
2 cups heavy cream
¼ cup real maple syrup
Kosher salt
cayenne pepper
freshly ground black pepper (optional)
Instructions
In a large saucepan set over medium-high heat, melt the butter. Add the onion, rutabaga, butternut squash, sweet potato, carrot, and apple. Stir occasionally and cook until the onions are translucent and softened.
Add the chicken stock and bring to a boil. Reduce the heat and simmer until the vegetables are cooked through and fork tender, about 20 -25 minutes.
Carefully transfer the contents from the saucepan to a blender or food processor. Puree until smooth. Strain through a fine-meshed sieve into the same saucepan you just used. Add the cream and maple syrup. Add salt and cayenne pepper to taste. Bring the contents to a simmer, turn off the heat and serve. Garnish with a few cracks of freshly ground black pepper, if desired.
Notes
* Slightly adapted from Patrick O'Connell's "Refined American Cuisine"