Raise your hand if you love French fries.
Is that just about everyone? I don't know about you, but I will finish off my cup of fries in the car before I even get home! Sometimes I even start dipping into my husbands stash… shh, don't tell him!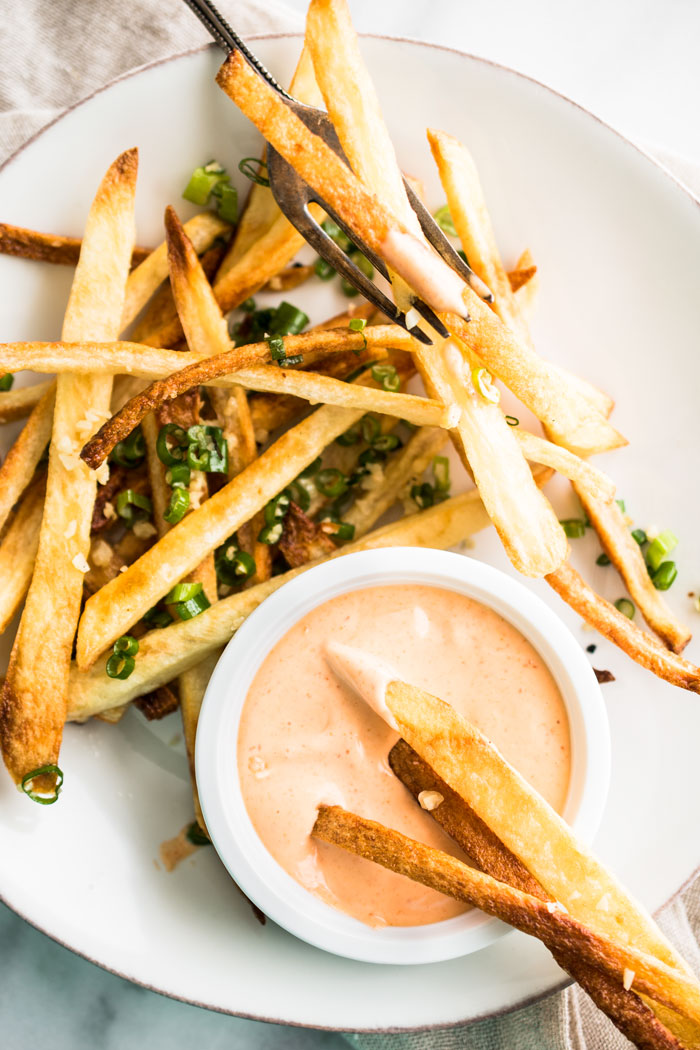 Fries boarder on what I would consider a controlled substance. I can't eat just one…box! I thought making my own at home would help feed my addiction (literally), but really it's just more work than it's worth. Frying in all that oil, keeping the correct temperature, never walking away from the burner for fear that you may start a grease fire, etc. Additionally, fries from your local fast food joint are so cheap, why not just let them make them?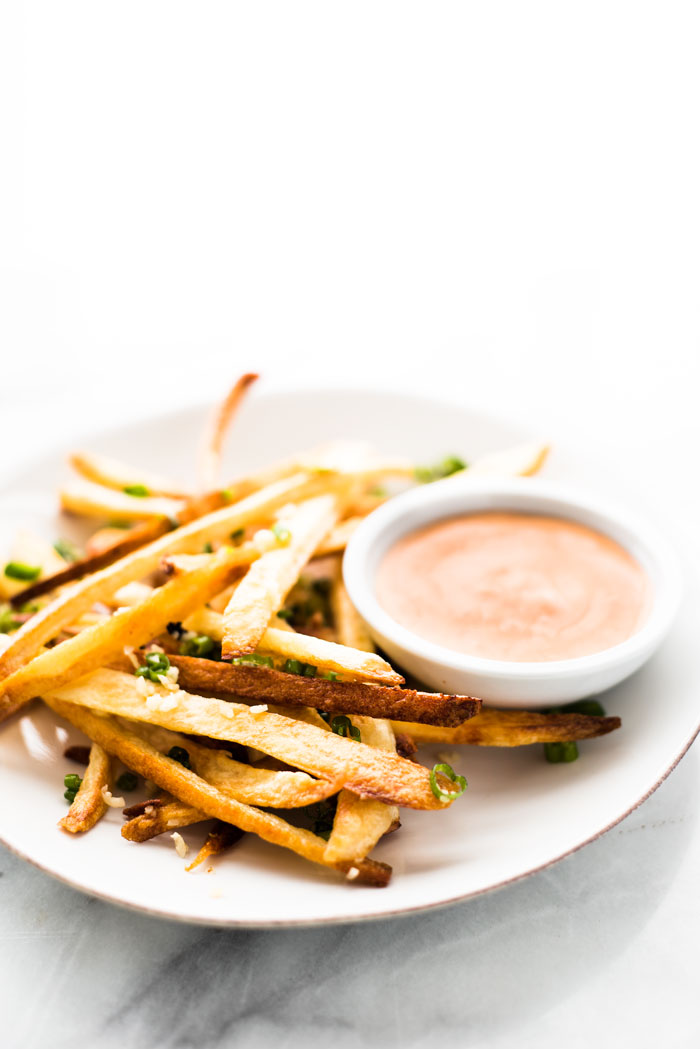 Enter the baked "fries". This is where the tables turn. 
They're easy to make
You don't have to deal with all of that oil = less fat and calories 
You can set a timer and then attend to other items
They're crispy on the outside
Tender on the inside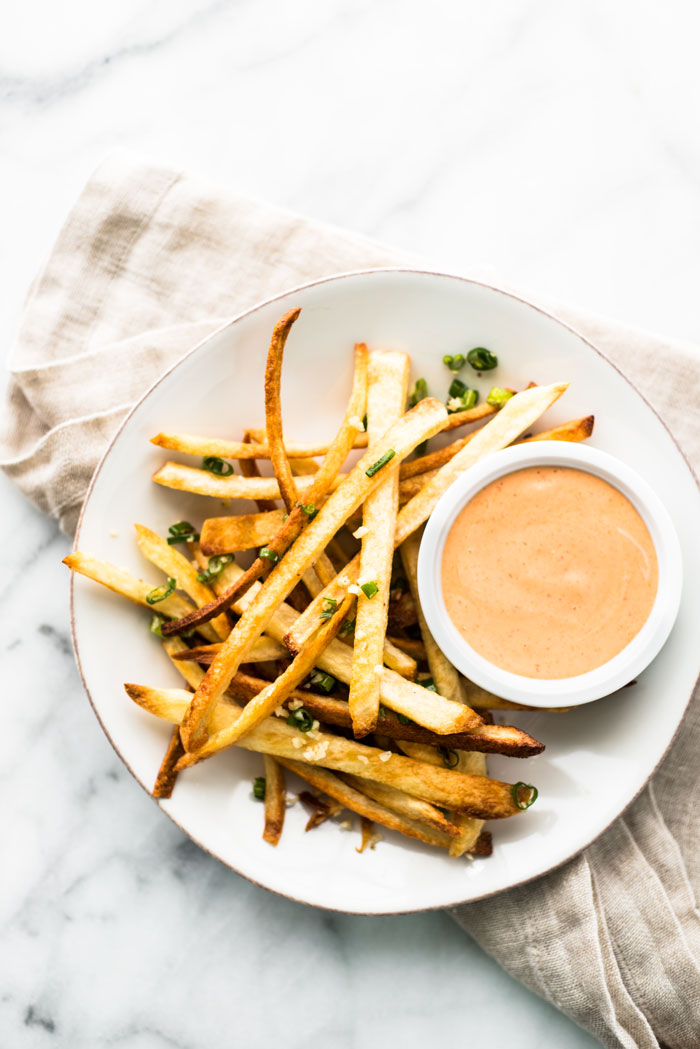 So the "double garlic" feature in this recipe is garlic-infused olive oil, in which the fries are cooked. By the way, you're entire kitchen will smell like roasted garlic – YUM! Then the garlic you used to infuse the oil, is sprinkled over top of the finished fries along with thinly sliced scallions. Dip those babies into some Sriracha-mayo and you'll be in fries heaven!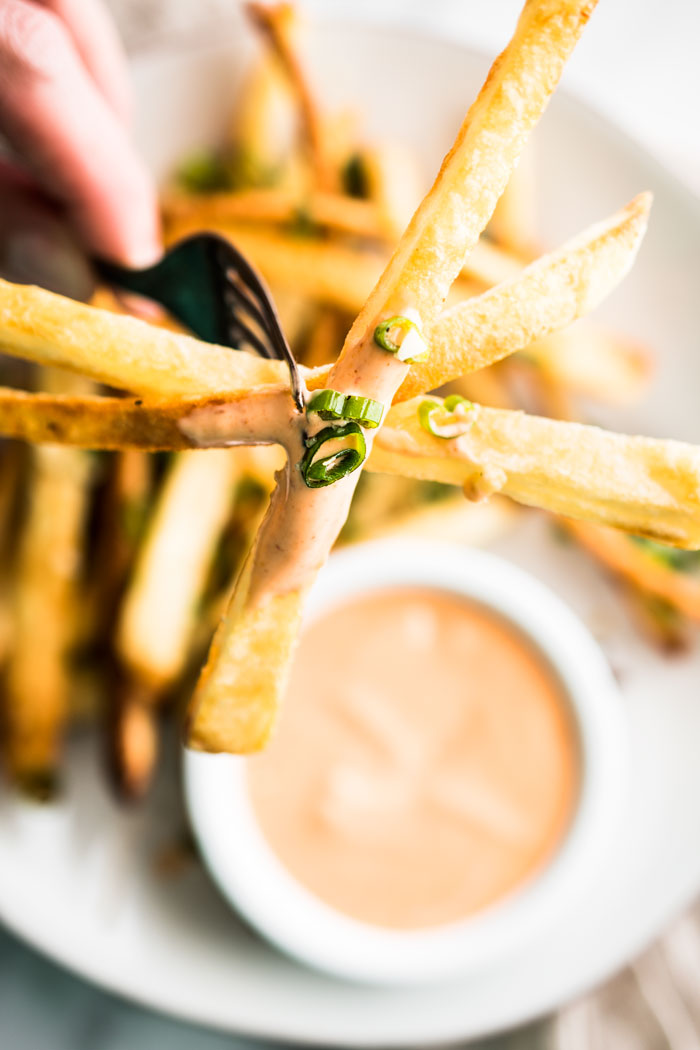 Double Garlic and Scallion Baked Fries
Author:
Kathleen | Hapa Nom Nom
Recipe type:
Appetizer/Sides
Prep time:
Cook time:
Total time:
Crispy Double Garlic and Scallion Baked Fries with Sriracha Mayo!
Ingredients
3 Russet potatoes
3 tablespoons extra virgin olive oil
3 cloves garlic, minced
oil spray or extra olive oil for brushing
Kosher salt
3 scallions, green parts only, thinly sliced
¼ cup mayonnaise
1 tablespoon Sriracha
Instructions
Peel and rinse the potatoes. Cut the potatoes into ¼-inch planks, then cut each plank lengthwise into ¼-inch sticks. Place the fries in a large bowl of cold water and refrigerate for at least 1 hour to overnight.*
Preheat the oven to 450 degrees F.
In a small saucepan, warm the olive oil over low heat. Add the garlic and allow the olive oil to infuse for 2 – 3 minutes. Using a fine meshed strainer, strain the garlic from the oil. Set aside, and do not discard either.
Drain the water from the bowl containing the cut potatoes and pat them dry with paper towels.
In a large bowl, add the dried potatoes and drizzle 2 tablespoons of the garlic-infused oil, ½ teaspoon of salt, and toss together. Line a baking sheet with foil and liberally spray with oil. Spread the potatoes evenly out onto the baking sheet, leaving space in between each potato stick. Bake, turning occasionally, for 25 - 30 minutes.
Meanwhile, combine the mayo and Sriracha in a small bowl. Refrigerate until ready to use.
In the same large bowl you just used to toss and coat the fries, add the minced garlic, scallions, and the remaining tablespoon of garlic-infused oil. Add the cooked fries and toss to coat. Taste and add more salt if needed.
Serve with the Sriracha-mayo and enjoy!
Notes
*Soaking the fries in water removes the starch and sugars that prevent the fries from achieving maximum crispiness.
* Adapted from Ellie Krieger,
Garlic "Fries"