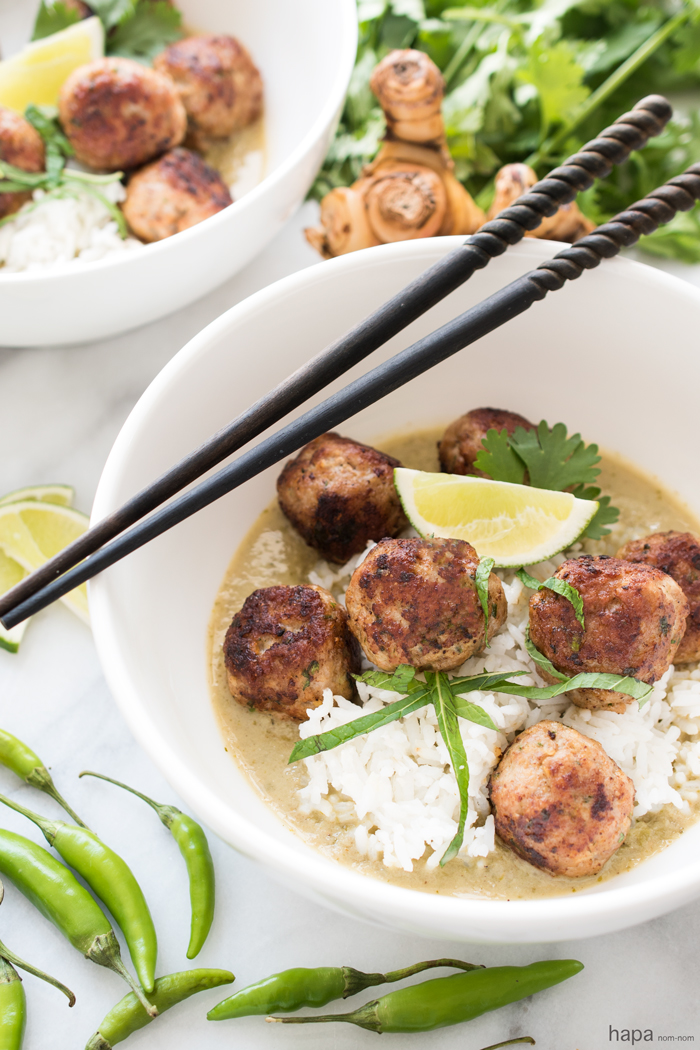 They say third time's a charm. If you're a regular reader, you may have noticed that I haven't posted anything this week – that's because I've been working on this recipe. The first time, the flavors weren't quite balanced. The second time, good – but I knew I could do better. I persisted rather than moving onto another recipe because I knew this dish had some serious potential, but with all these do-overs I was beginning to think I lost my cooking mojo – yikes!
The third time at bat… finally, a home run! The meatballs were juicy, the flavors were complex, the coconut curry was bold and spicy. They were perfect, and they were gone in a matter of minutes. Most of the ingredients can be found at your local grocery store, but there are a few that you may be wondering about:
Galangal – there is really no good substitute for galangal, so a substitution should be your last resort. There are some that say that there is NO substitute for galangal, but lets be realistic – if you're in an area that does not carry this exotic root, then throwing out the likes of that ingredient from the recipe entirely is a bit crazy…in my opinion. That said, first try the international aisle of your local grocery store or Asian food store – it can be located with produce or even in the freezer section. IF galangal is nowhere to be found, use the equivalent measurement of minced ginger with a pinch of mace and pepper.
Shrimp paste – I have only seen this ingredient in International/Asian markets. However, if you cannot find shrimp paste, simply add the equal measurement in fish sauce – most local grocery stores with an international aisle will carry fish sauce. However, in a pinch you may substitute soy sauce – although, the dish may then lack some of those more complex flavors.
I paired the meatballs and coconut curry with jasmine rice, but vermicelli noodles would be another awesome option.
Thai Green Curry Meatballs
Author:
Kathleen | Hapa Nom Nom
Prep time:
Cook time:
Total time:
Fragrant jasmine rice and incredibly juicy meatballs in a spicy coconut curry broth.
Ingredients
Meatballs:
1½ pounds ground pork
2 shallots, grated
2 garlic cloves, minced
2 teaspoons ginger, minced
1 tablespoon soy sauce
1 tablespoon fish sauce
3 tablespoons cilantro, finely chopped
1 egg, lightly beaten
½ cup panko
1 teaspoon kosher salt
pinch of freshly ground black pepper
1 tablespoon vegetable oil
Coconut Green Curry:
3 - 15 green Thai chilies*
3 shallots
8 garlic cloves
2 stalks lemongrass, white part only, hard outer husks removed
½ a thumb-sized piece of galangal
zest of one lime
1 teaspoon shrimp paste
¼ cup cilantro stems
2 teaspoons ground coriander
1 teaspoon ground cumin
1¼ kosher salt
½ teaspoon ground white pepper
2-4 tablespoons water
1 14 ounce can unsweetened coconut milk
½ cup unsalted chicken stock
For serving:
steamed jasmine rice
thinly sliced mint
thinly sliced cilantro
2 limes, cut into wedges
Instructions
Combine all of the ingredients for the meatballs (except for the vegetable oil) in a large bowl. Form the mixture into 1½-inch meatballs and arrange on several plates or on one baking sheet. Refrigerate until ready to use.*
Combine the first 12 ingredients of the coconut curry in a food processor. Process, adding the water 1 tablespoon at a time until it forms a thick paste.
In a medium saucepan combine the coconut milk, chicken stock, and curry paste. Bring to a boil and then turn down the heat to simmer, stirring occasionally. Allow to simmer for 15 minutes until slightly thickened. Taste and season with additional salt and pepper, if needed.
While the coconut curry is simmering, cook the meatballs. Add the oil to a large, heavy-bottomed skillet. Once the oil is hot, add the meatballs, working in batches if needed. Cook for 10 -15 minutes, turning to brown all sides.
To serve, ladle some of the coconut curry into bowls, add the rice, meatballs, and top with the mint, cilantro, and a lime wedge.
Notes
* I love really spicy Thai food - like the kind that makes you sweat! If you're looking for something mild, try 3-4 chilies. For moderate heat: 5-6 chilies. 7-8 chilies for hot. And use the full 15 if you like it very hot! Keep in mind that the coconut milk does temper some of the heat.
* The uncooked meatballs can be made and refrigerated for up to 1 day. Just be sure to cover if storing.