Last week I posted a recipe for naan, an Indian leavened flatbread. So it only seemed appropriate to make an entrée to compliment the soft, pillowy bread I just made. Chicken Tikka Masala is guaranteed to be on the menu of every Indian restaurant, but is it Indian?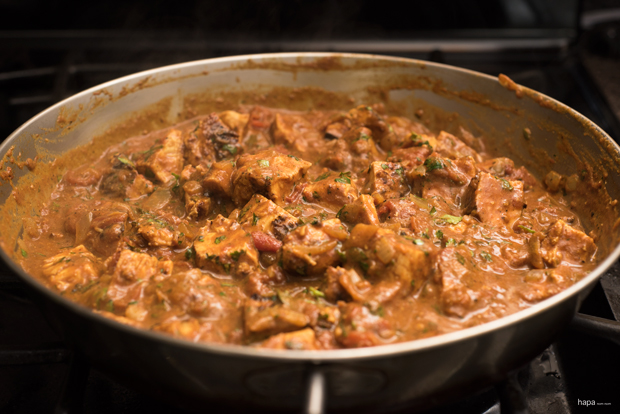 The history of this Anglo-Indian dish is long and varied, but through some research I've tried to condense things  for you. In India, when agriculture first began to take hold, chickens were cultivated, prepared, and cooked in a tandoor (a large cylindrical clay oven). The small roasted pieces that we know as 'tikka' were actually born out of the paranoid behavior of emperor Babur, founder of the Mughal dynasty in South Asia almost 500 years ago.  He was so concerned with choking on a chicken bone, that he ordered his chefs to remove all bones before being cooked in the tandoor. Over time, chicken tikka came to be marinated in yogurt and spices.  During British rule, aspects of Indian food, such as curry, became popular in British cuisine. However, it wasn't until a large immigration movement in the 1950s from India to the UK, that Indian restaurants began sprouting up and chicken tikka made its way onto local plates.
Here's where the history of the dish starts to get a little fuzzy. There are various stories as to how Chicken Tikka Masala actually came to be, but the most popular one is from the 1960s. A British gentleman was dinning in an Indian restaurant when he claimed that his chicken tikka was too dry. Out of desperation and a little ingenuity, the chef added tomato soup, some spices, and a dollop of yogurt – the resulting dish was an immediate sensation. No matter the true origins of the dish, one thing is for certain – Chicken Tikka Masala is delicious and could very well be the most well-known fusion dish around.
Chicken Tikka Masala
Author:
Kathleen | HapaNom
Prep time:
Cook time:
Total time:
Ingredients
¾ cup Greek-style yogurt
6 cloves garlic
1 inch ginger, roughly chopped
1 teaspoon cayenne pepper
½ teaspoon garam masala
kosher salt
2 pounds boneless, skinless chicken thighs
1 tablespoon ground coriander
2 teaspoons ground cumin
1 teaspoon ground turmeric
½ teaspoon ground cinnamon
½ teaspoon ground cardamon
½ teaspoon cayenne
½ teaspoon ground black pepper
3 tablespoon ghee or vegetable oil, divided
1 medium yellow onion, diced
1 28 ounce can whole peeled tomatoes, undrained
1 tablespoon tomato paste
½ cup heavy cream
½ lime, juiced
½ cup cilantro, roughly chopped
cooked basmati rice or naan for serving
Instructions
In the bowl of a food processor, add the yogurt, garlic, ginger, cayenne, garam masala, and 1 teaspoon salt. Puree until smooth. Add the yogurt mixture to a large bowl.
Place the chicken breasts between two sheets of plastic wrap. Pound out until they are the same Take a fork and prick the chicken thighs all over, to help the marinating processes. Add the chicken to the yogurt marinade and marinate for at least 2 hours, but ideally overnight.
To make the sauce, warm a skillet over medium-high heat. Add the coriander, cumin, turmeric, cinnamon, cardamon, cayenne, and black pepper. Stir the spices around constantly to toast until fragrant, about 1-2 minutes. Add 1 tablespoon of the ghee or vegetable oil. Then add the onions and stir to coat. Cook until softened, about 5 minutes. Add the peeled tomatoes, tomato paste, heavy cream, and 1 teaspoon of salt. Bring to a boil and reduce to simmer. Simmer for 10 minutes, until thickened, breaking up the tomatoes with a spoon as they cook. Once done, carefully puree the sauce in a blender.
To cook the chicken, heat 1 tablespoon of the ghee or oil a large non-stick skillet over medium-high heat. Remove the chicken from the marinade (you may discard the marinade at this point). Be sure to skim any excess marinade off of the chicken (this will give you a nice browning on the outside when it's cooked). Add the chicken (in batches, if needed). Cook 5 minutes on the first side, flip and cook 4 minutes on the other side. Place the chicken on a plate and cover with foil to rest for 5 minutes. Cut the chicken into 1-inch cubes. Add the chicken to the sauce and toss to coat. Add the lime juice and cilantro, toss again. Serve immediately with rice or naan. Enjoy!
Notes
You can make the sauce the night before while the chicken is marinating. Just heat back up on the stove while chicken is cooking.

You can use unsweetened coconut milk en lieu of the heavy cream, if you like.