Freshly made bread… I love everything about it – the smell, the pillowy texture, the fantastic taste. I even love the process of making bread. It's almost therapeutic in its ritualistic-like process; the kneading, seeing it double in size, punching it down (my favorite part), rolling, shaping, and then watching it turn a beautiful golden-brown as it bakes. One could meditate on baking bread – total zen.
One of my favorite breads, has a bit of different cooking process. Naan, an Indian leavened flatbread, is traditionally cooked in a tandoor – a large cylindrical clay oven (if you haven't seen one, it kind of looks like a very large vase or jug).  I wish I could get one of these things… they're pretty freaking cool! Wood or charcoal is burned in the bottom of the tandoor, exposing the food to open flames. Convection cooking circulates air based on the shaped of the of tandoor, and radiant heat from the clay walls also aids in the cooking process. Not to mention, temperatures can reach an incredible 900 degrees F! Naan, and other such flatbreads get slapped along the interior walls and cook very quickly. Once done, they are peeled off of the tandoor and enjoyed.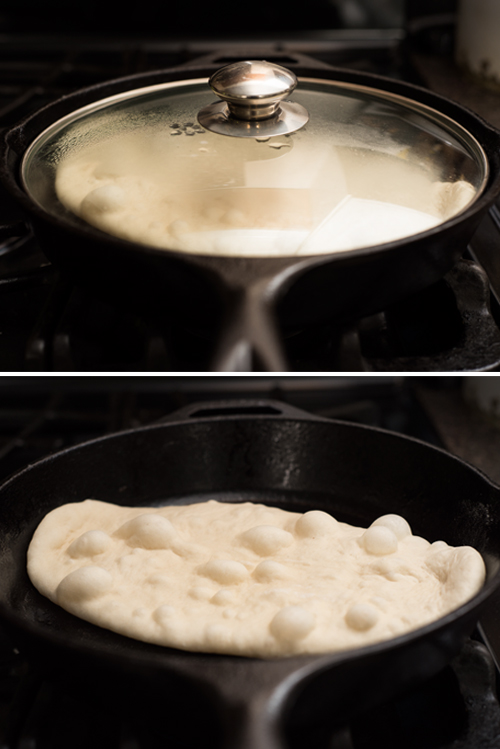 If you happen to have a tandoor (you lucky duck!), then by all means, please use it! But for those of us who don't, a grill, broiler, or stovetop will do just fine. For this recipe, I have used the latter method. Simply heat a large heavy-bottomed pan over medium-high heat, throw the dough into the pan, watch it bubble up, flip, quickly cook the other side, done.
Personally I like to dip my naan into tzatziki (or other similar yogurt dip).  But feel free to use whatever dip you like: curry butter, hummus, or even just slathered with some butter or ghee (clarified butter). It's even great with kabobs of all types. What's you're favorite way to eat naan?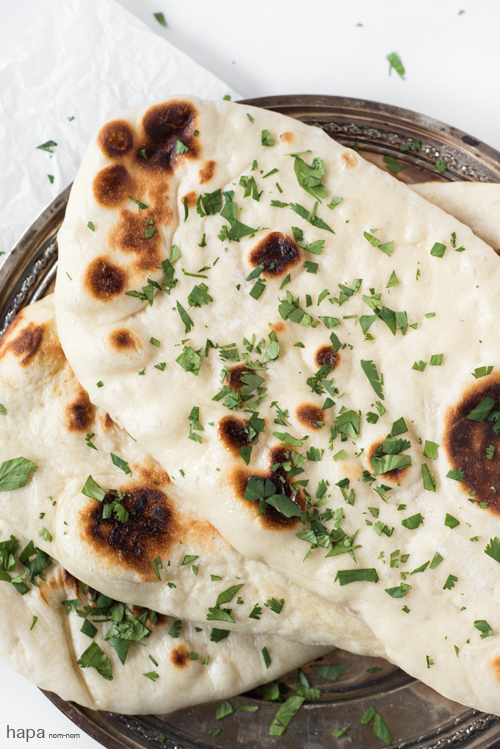 Naan
Author:
Kathleen | HapaNom
Ingredients
1 envelope yeast (1/4 ounce / 21 gram)
¼ cup warm water (110 - 115 degrees F)
1 tablespoon sugar
4½ cups flour
2 teaspoons salt
1 teaspoon baking powder
1 cup Greek yogurt
¾ cup milk, plus a few tablespoons if needed
1 tablespoon vegetable oil
melted butter for brushing
4 tablespoons fresh cilantro, roughly chopped
Instructions
In a small bowl, combine the yeast, water, and sugar. Allow to sit for 10 -15 minutes, until foamy.
In the bowl of a standing mixer (or large mixing bowl if kneading by hand), add the flour, salt, and baking powder. To the dry ingredients, add the yeast mixture, yogurt, and ¾ cups of milk. Knead on low until soft and elastic, about 6-8 minutes using a standing mixer and 8 - 10 minutes if you're kneading by hand. Add a tablespoon of milk at a time if the dough is too dry (I needed just 1 extra tablespoon).
Oil a large bowl with 1 tablespoon of oil. Roll the dough around the bowl to coat. Cover with a clean tea towel, and allow to rest undisturbed in a warm place for 1.5 to 2 hours. The dough should double in size.
Punch down the dough and divide into 8 equal pieces. On a lightly floured surface, roll the dough into balls. Place the rolled balls under a damp tea towel (make sure they're not too close together, as they will rise and expand). Allow to rise for 45 minutes.
Roll each ball of dough into a ¼-inch thick oval.
Heat a large cast iron pan (or other heavy-bottomed pan) over medium-high heat. Working with one piece of dough at a time, cook the first side for 1 - 2 minutes. Once bubbles appear, flip and cook for another 1 - 2 minutes. Place the naan on a plate and brush with the melted butter and sprinkle with cilantro. Serve hot and enjoy!