Do you have a favorite neighborhood restaurant? You know, that place where you can recite the menu without even looking at it and the servers know your cocktail of choice. There's a little Mexican place just like that, about a 3 minute walk from our house that serves creative tacos like braised bacon tacos, slow roasted brisket tacos, fried chicken tacos… but my favorite is the veggie taco. It's filling, mighty tasty, and I don't feel guilty at the end of the meal – surely my wise ordering decision can afford me at least one more cocktail, right?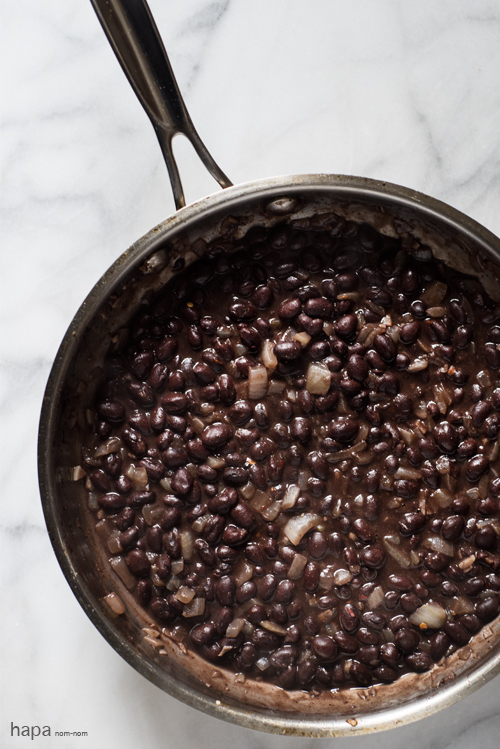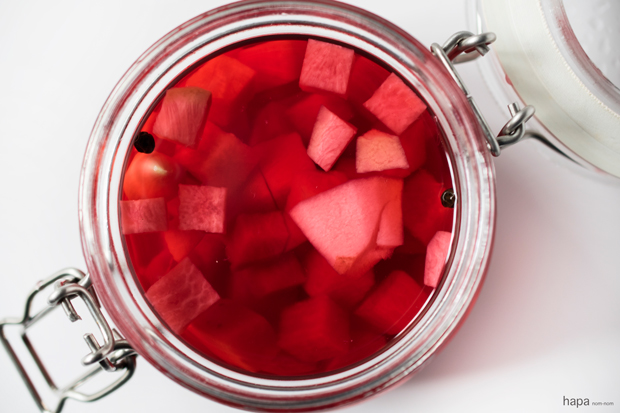 One of my favorite toppings, and one that I feel really makes this dish, are the pickled radishes.  I had never seen these being used in restaurants until moving to Atlanta. They add a nice zip to salads and the vinegar cuts through fatty and/or fried food. Personally, I think they're great just to snack on too!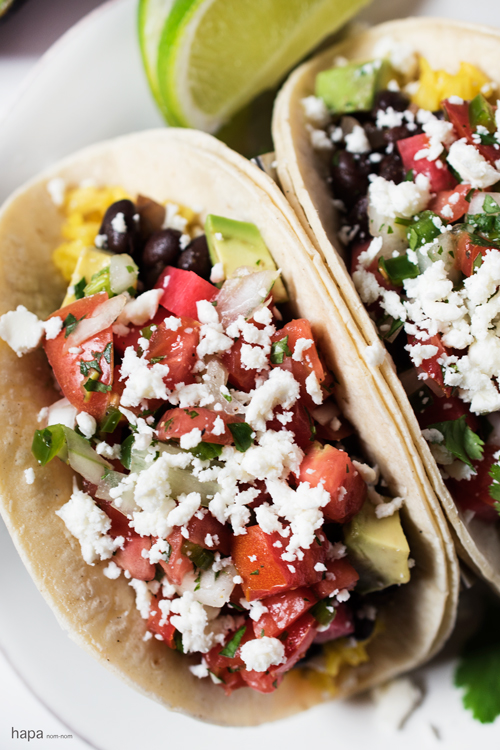 A note on the tortillas. The most popular choices are made of flour and corn. If you're using flour, no worries. Heat them up, don't heat them up – it doesn't really matter in terms of the tacos structural integrity. Now if you're using corn tortillas, you have a little bit to think about.  They are very delicate and not very pliable. If you load up a single corn tortilla, it's guaranteed to split at the bottom, dumping the entire contents of your taco onto your plate and perhaps even your lap. To avoid this, you can do one of two things. You can double up on the tacos. Or you can warm them by heating a pan over high heat. Toast the tortillas for 30 seconds on each side, or just until they're pliable.
You may be wondering why one would want to use corn, given its somewhat temperamental nature. Personally, I prefer their mildly sweet corn taste. However, there are people who prefer them because they fall within the restrictions of a gluten-free diet. Whatever you decide to use, you'll be impressed with the flavors to come from these healthy, vegetarian tacos… so go on, have another one.
Black Bean Tacos
Author:
Kathleen | HapaNom
Ingredients
10 ounces yellow rice
2 tablespoons extra virgin olive oil
1 small onion, finely chopped
2 cloves garlic, minced
2 teaspoons cumin
1 15 ounce can black beans (undrained)
kosher salt
freshly ground black pepper
¼ teaspoon crushed red pepper flakes
8 small tortillas
2 avocados
prepared pico de gallo (you can use store-bought pico de gallo or salsa)
4 ounces queso fresco
2 limes, quartered
hot sauce
Instructions
Cook the rice according to the package directions.
Heat the olive oil in a sauté pan over medium-high heat. Add the onion and cook until softened, about 2 - 3 minutes. Add the garlic and sauté until fragrant, about a minute. Add the cumin and stir to coat.
Add the black beans. Salt and pepper, to taste. And the crushed red pepper flakes. Stir to combine and heat through.
Heat a pan over high heat. Toast the tortillas, about a 30 - 45 seconds per side, or until pliable (if you toast them too much, they will become too crispy to fold).
Dice the avocados and slice the limes.
To plate, place the rice and beans on the tortilla. Top with avocados, pickled radishes, pico de gallo, and queso fresco. Serve with a lime and hot sauce. Enjoy!
Notes
Vegan option - simply prepare without the queso fresco.