Have you ever pickled something? Cucumbers, beets, garlic… radishes? It's easier than you think. As a kid, my dad always made pickled carrots. He would buy a jar of pickles and once we ate all of them he would refill the jar (remaining pickling liquid included) with sliced carrots.
Ok, so this recipe isn't quite as easy as my dad's method. However, I'm no food safety expert, but I kinda feel like you shouldn't be using preserving liquid over-and-over again. Granted, my father didn't grow-up with much, and I know he was raised using creative ways to make things stretch; but I'm just sayin' – botulism… probably sucks.
For safety sake, lets go with this recipe. Feel free to use any vegetable like. I particularly like pickled radishes because they turn a lovely shade of rose due to the color of the red skins bleeding into the liquid. They also go so well with fried or other fatty food – the vinegar profile really cuts through some of those heavier flavors to create a wonderful balance. They're also great on salads or even as a snack.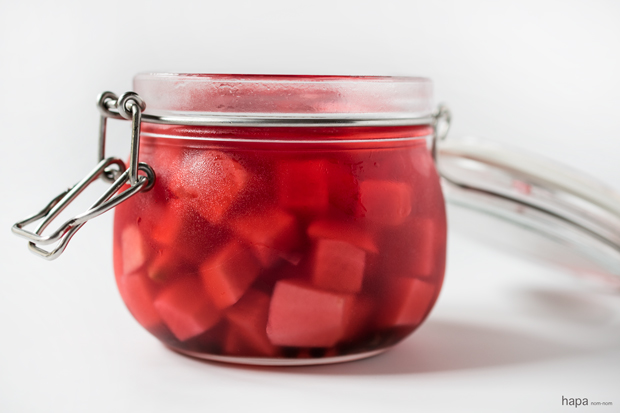 Pickled Radishes
Ingredients
1 pound radishes
1 cup water
1 cup white vinegar
2 teaspoons salt
2 teaspoon sugar
½ teaspoon peppercorns
2 garlic cloves
Instructions
Wash and cut the radishes in halves, quarters, wedges, or rounds (whatever you want).
In a small, nonreactive saucepan, bring the water, vinegar, salt, and sugar to a simmer. Turn off the heat and add the peppercorns and garlic.
Pack the radishes into a clean and sterilized pint jar and pour the hot liquid overtop (see note).
Cover, let cool to room temperature, and refrigerate. The radishes will be ready to use in 24 hours.
Notes
To sterilize jars, bring a large pot of water to a rolling boil. Clean the jars with warm soapy water, rinse well, and add the jars to the boiling water. Boil for 15 minutes. Remove the jars using clean tongs and fill the jars with the food of your choice.

The radishes may be stored for up to one month.