I can't stand the mall!  It's noisy, crowded, and everyone seems to walk at glacial pace.  If I find that I must go, I follow a mission plan much like Special Forces going into a hostile territory (yes, I consider the mall hostile – or at least that's how it makes me feel by the time leave).  I know exactly what I need, and get in, and get out.  The only time I may be diverted from my exit strategy is if I happen to see Cinnamon Rolls.  (I believe they call this 'mission creep').
Soft and fluffy bread, ooey-gooey layers of cinnamon and brown sugar, topped with sweet icing – the question then becomes not why the mission creep, but why not?!  Clearly I would not do well in a real hostile environment if there was a tasty treat in sight.
If you're like me, and it takes an act of Congress to send you to the mall, or you just want to make your own Cinnamon Rolls, this is an easy and delicious recipe!  I won't sugar coat it (pun intended), it does take some time , about 2 hours to make – though most of that time is inactive (allowing the dough to rise and baking time), but it's worth it!   No hoards of people needed – though you may draw them from the delightful smells coming from your kitchen.
Cinnamon Rolls
Author:
Kathleen | Hapa Nom Nom
Ingredients
BREAD DOUGH:
1 cup of milk
2 envelopes active dry yeast, ½ ounce
¼ cup sugar, plus 1 pinch
1 teaspoon kosher salt
2 large eggs
4 ounces unsalted butter, melted
4 cups all-purpose flour, sifted
cooking spray
FILLING:
4 ounces unsalted butter, softened
1¼ cup dark brown sugar
1½ tablespoons ground cinnamon
ICING:
2 ounces soft cream cheese
1 cup confectioners sugar
2 tablespoon half and half
1 teaspoon vanilla extract
Instructions
Warm the milk in a small saucepan to 110 degrees F. Transfer the milk to the bowl of an electric mixer fitted with the whisk attachment. (Alternatively, you can make everything by hand). Stir in the yeast and add a pinch of sugar. Allow to sit for 5 minutes.
While on low speed, add ¼ cup of sugar, salt, eggs, and melted butter - mix until well incorporated. Change out the whisk attachment for the dough hook and while on low speed gradually add the flour. Continue to mix on low speed for 2 -3 minutes. (The dough should be soft and slightly tacky, but not so much that the dough sticks to your hands).
Transfer the dough to a large, lightly oiled bowl and cover with a tea towel. Allow to rise for 1 hour in a warm place, until doubled in volume.
In the meantime, prepare the filling. In a clean bowl of an electric mixer, add the softened butter, brown sugar, and cinnamon. Using the paddle attachment mix on medium speed until smooth.
To make the icing, add the cream cheese, confection sugar, half and half, and vanilla extract to a clean mixing bowl of an electric mixer fitted with a paddle attachment. Beat on low speed for 3 - 4 minutes until soft.
Preheat the oven to 350 degrees F.
Turn out the dough onto a lightly floured surface and cut in half. Working with one half at a time, roll out the dough to ¼-inch thick, about 10x17 inches. Spread the filling evenly over the dough and then roll up from the shorter side to form a log. Cut the log into 1½ inch sections. Lay the rounds into a lightly oiled baking pan. (It's ok if they're lightly touching, but don't cram them in). Repeat with the remaining piece of dough. Allow the rolls to rise in the pan for 15 - 20 minutes.
Bake the cinnamon rolls for 20 - 25 minutes, or until golden brown. Remove from the oven and drizzle the icing evenly over the top. Serve and Enjoy!
Make the Dough and Allow it to Rise:
Make the Filling:
Evenly Spread the Filling on the Rolled Dough:
Roll up the Dough with the Filling:
Slice into 1 1/2-inch Rounds: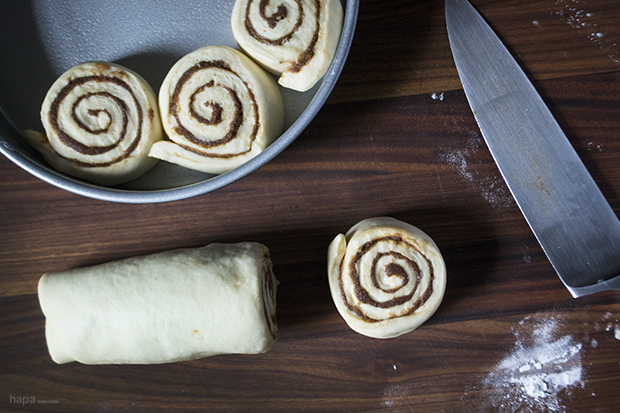 Bake and Drizzle with Icing.  Enjoy!