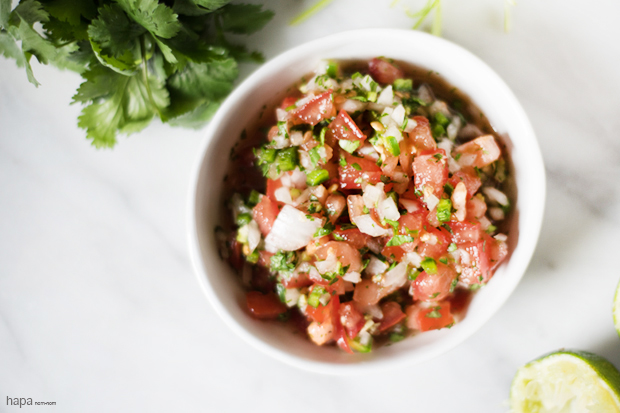 Pico de Gallo, otherwise know as salsa fresca, is a wonderful condiment full of bright and vibrant ingredients.  It is not cooked, unlike its sibling, salsa.  And so it retains a wonderful fresh taste – hence  the name 'fresh sauce'.
Pico de Gallo is easily prepared and takes just about 5 minutes!  It's perfect on chips, tacos, mixed into guacamole, on top of fresh fish, or on an omelet.  The possibilities are seemingly endless!
Pico de Gallo
Author:
Kathleen | HapaNom
Ingredients
4 vine ripened tomatoes, diced
½ of a sweet onion, diced
1 - 2 jalapeños (seeded and membrane removed), diced
2 limes, juiced
4 tablespoons fresh cilantro, finely chopped
½ teaspoon kosher salt
¼ teaspoon freshly ground black pepper
Instructions
Combine the ingredients in a large bowl. Stir well and add additional salt and pepper, if needed. Serve immediately or cover and refrigerate until ready to use.