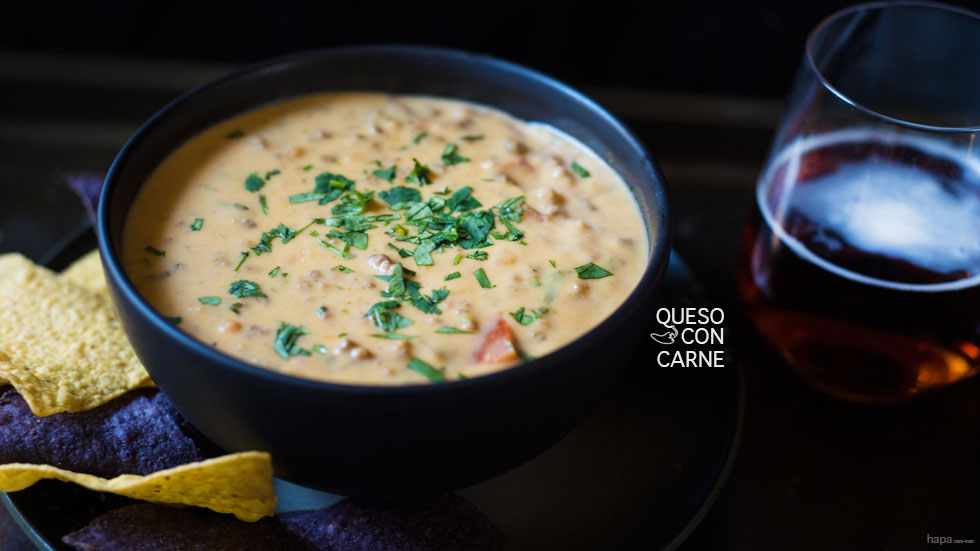 The Super Bowl has become one of the biggest food "holidays" in the U.S., perhaps second only to Thanksgiving.  Even people (such as myself) who don't follow the game, attend Super Bowl parties for the food.
Every party needs a great dip.  So when I was bouncing recipes off my husband, he emphatically said, "you have to make my mom's tex-mex dip!"
If I even dared to suggest other types of dip, I heard, "NO!  You have to make tex-mex dip!"
I don't think I've ever heard him be so passionate about something.  I'm not quite sure how to take that… considering his biggest affection apparently lies with cheese dip.  Ha! I kid.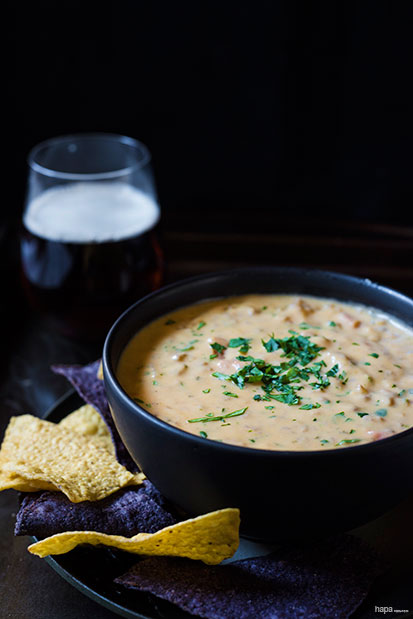 My mother-in-law sent me the recipe with a note saying that whenever she makes it for parties it's always crazy popular and she hardly ever has anything leftover.  Reading the recipe, I could see why.  Cheese, salsa, ground beef, sausage… it had all of the makings of a fantastic cheese dip!
As some of you may already know, when you try to make cheese dip using real cheese, you always end up with the oil separating into an unappealing goopy mess.  Traditionally this dip is made with Velveeta, which will certainly give you a velvety texture.  But I've found that you can make smooth and creamy cheese that doesn't separate, simply by starting with a béchamel sauce.  One of the 5 mother sauces, béchamel is a base for dishes such as lasagna, gratins, mac n' cheese, and cheese dip.  It makes sauces thick, luscious, and helps to prevent them from separating.
Feel free to try other types of cheese or combinations thereof.  Just be sure it's a good melting cheese, such as Cheddar, Monterey Jack, Gouda, or Fontina.  (Mozzarella will not work, as it's too stringy).  If you'd like, you may omit the meat to make this dish vegetarian – another delicious option.
My husband and I sat down with a generous helping of Queso con Carne and a big bag of chips, and I'm a bit embarrassed to say we polished off the entire bowl!   It was every bit as good as my husband said it would be – from now on, this will be my go-to party dip!

Queso con Carne
Author:
Adapted from my MIL, Pat
Cuisine:
Tex-Mex, American
Prep time:
Cook time:
Total time:
Ingredients
½ pound ground beef
½ pound ground pork sausage
2 cups whole milk
6 tablespoon unsalted butter
3½ tablespoon all-purpose flour
24 ounces sharp cheddar, shredded
1-10.5 ounce can cream of mushroom soup
pico de gallo, drained
kosher salt
tortilla chips or soft flour tortillas for serving
Instructions
In a large saute pan over medium-high heat, add the ground beef and sausage. Stir occasionally to make sure it's browning evenly. The meat is done cooking when it's nicely browned and there are no signs of pink when you break open larger pieces. Drain off the excess grease and set aside.
In a small sauce pan, or in a microwave, heat the milk to steaming, do not let it boil.
In a large sauce pan, melt the butter over medium-low heat, don't let if brown. Add the flour and whisk until smooth. Cook for 6-7 minutes, or until the mixtures turns a light, blond color. Slowly add the milk while whisking vigorously and continuously. Once smooth and thickened add the cheese and stir to melt.
Add the cream of mushroom and stir until smooth. Then add the pico de gallo and cooked beef and sausage. Stir to combine and season with salt, if needed.
Serve immediately with tortilla chips or warm soft flour tortillas. Enjoy!
Notes
I use homemade pico de gallo in this recipe, but sometimes it can be found in the refrigerated section of your grocery store, if you'd like to cut back on prep time.