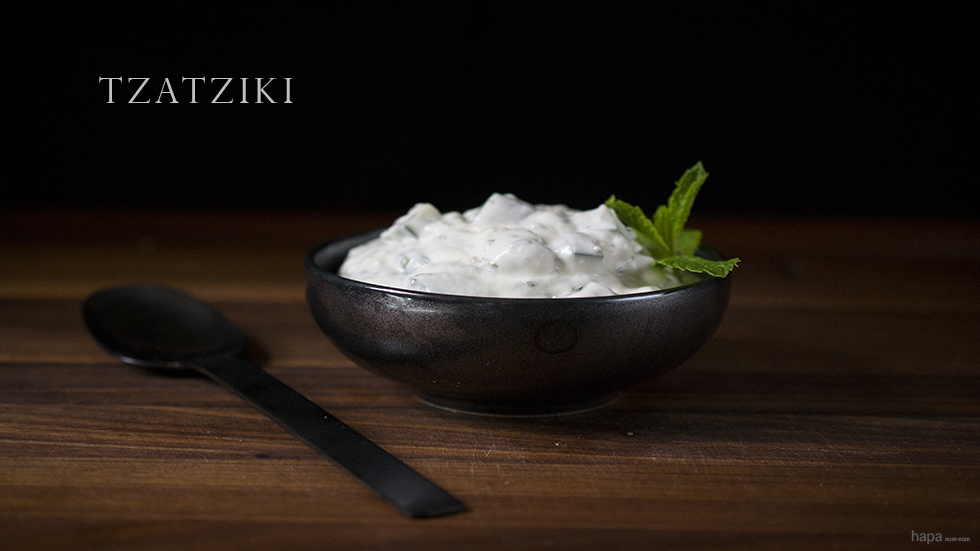 I love Tzatziki!  I pair it with lamb, grilled chicken, hot dogs, hamburgers, vegetables, fish, or just eat it by itself; as the little old lady says in that great marketing commercial for hot sauce, "I put that sh*t on everything."  The problem is,  I just can't pronounce it to save my life.  I would tell my husband I was making tzatziki, and he would always say, "I'm sorry, what was that?"  "Tzat…zi…ki,"  I would say.  "What did you call it?", he would tease.  As I would stand there trying harder and harder to pronounce the word, the more I butchered it. My inability to pronounce said word, morphed into a playful nickname for the dish – Suzuki Sauce.  Perhaps my husband thought I'd have an easier time pronouncing a Japanese word, given my background.

Tzatziki
Author:
Kathleen | Hapa Nom Nom
Cuisine:
Middle Eastern/Mediterranean
Adapted: Classic Lebanese Cuisine by Chef Kamal Al-Faqih
Ingredients
2 large garlic cloves
1 teaspoon Kosher salt
2 cups Greek style yogurt
1 teaspoon tahini (mix well before using)
2 tablespoons fresh mint, finely chopped
½ lemon, juiced
1½ cups English cucumber, seeded and diced
Instructions
Use a mortar and pestle to mash the garlic and salt together until it forms a paste. If you do not have a mortar and pestle start by finely mincing the garlic. Sprinkle the garlic with salt and then tilt the blade so that it forms a shallow angle with the cutting board. Scrape the knife across the garlic repeatedly, until it forms a paste.
In a large bowl, combine the yogurt, tahini, mint, and lemon. Add the garlic and salt mixture and combine well. Add the cucumber to the yogurt mixture just before serving. Enjoy!