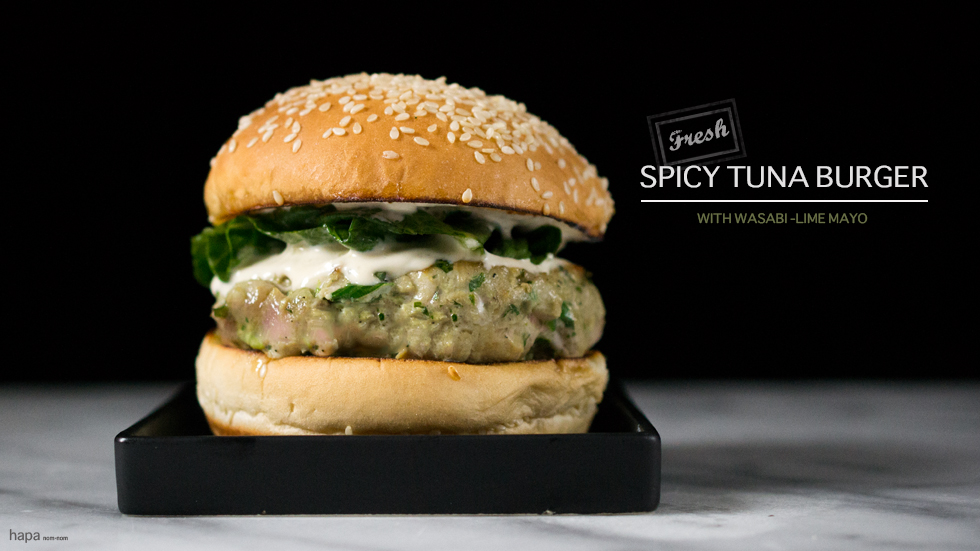 A FOOD52, COMMUNITY PICK – SPICY TUNA BURGERS
Summer calls for burgers.  However, with the heat and humidity on the rise,  I didn't feel like having something heavy such as a traditional beef pattie (although those are super delicious).  I was craving something light and healthy yet packed with flavor – Spicy Tuna Burgers…those will do just nicely.  This is isn't your basic bland canned tuna sandwich you may have found in your lunch box as a kid.  This my friend, is on the other side of the spectrum.  We're using fresh sushi-grade tuna mixed with familiar Asian flavors such as ginger and scallions, using avocado as a binder, seared on the outside, still pink on the inside, topped with a wasabi-lime mayo, and crispy romaine lettuce tossed with an tangy-salty-sweet dressing.  Finally, the burgers are cradled by a toasted sesame seed bun.  These Spicy Tuna Burgers are light, full of flavor, and sure to satisfy your summer burger craving…without packing on the pounds.
Cut the Tuna into a 1/4-inch Dice: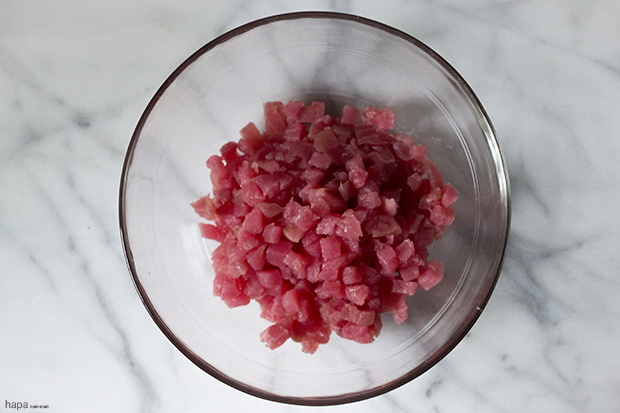 Mash the Avocado and Prep the other Ingredients: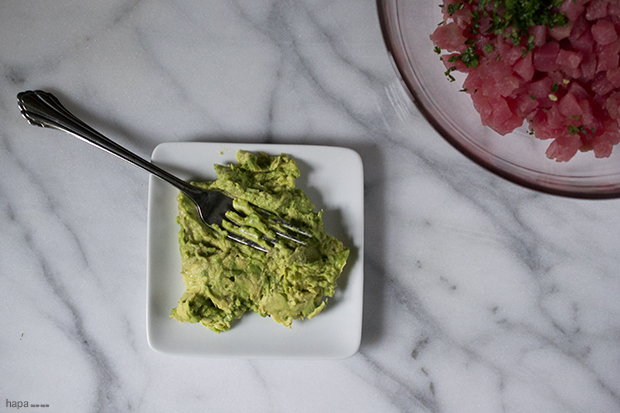 Add the Burger Ingredients to the Bowl and Mix Well: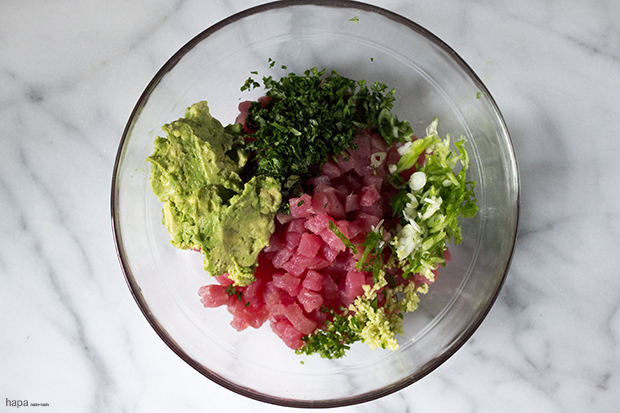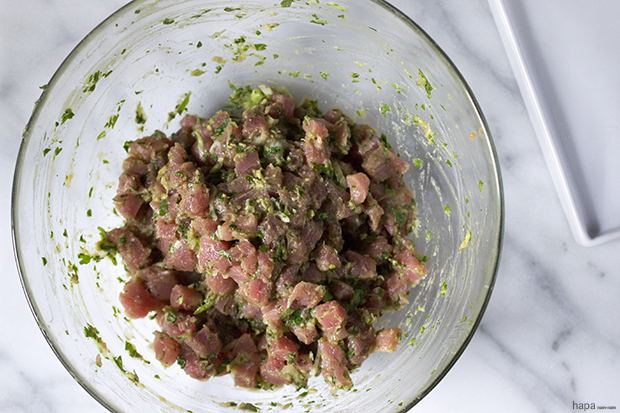 Form the Tuna Mix into Patties: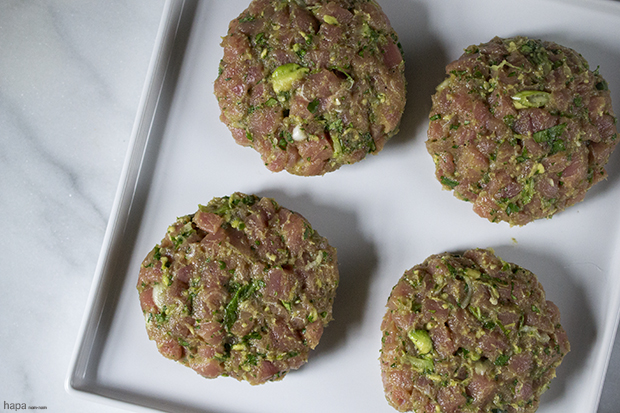 Make the Wasabi Mayo: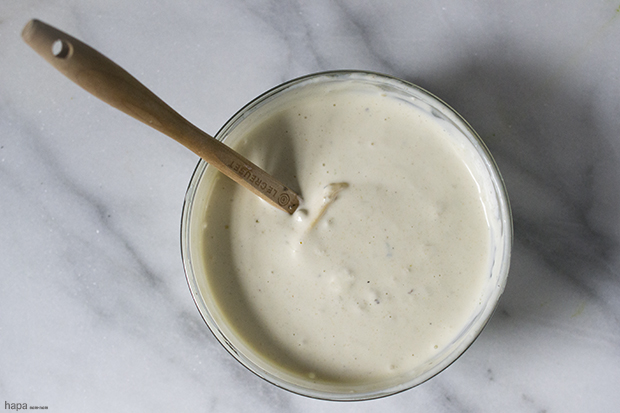 Make the Dressing for the Lettuce:
Cook the Tuna Burgers: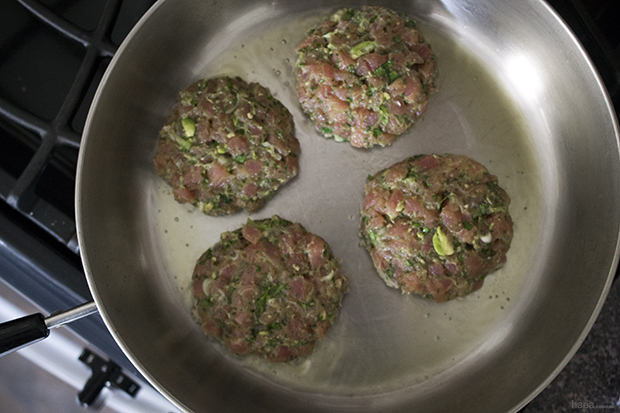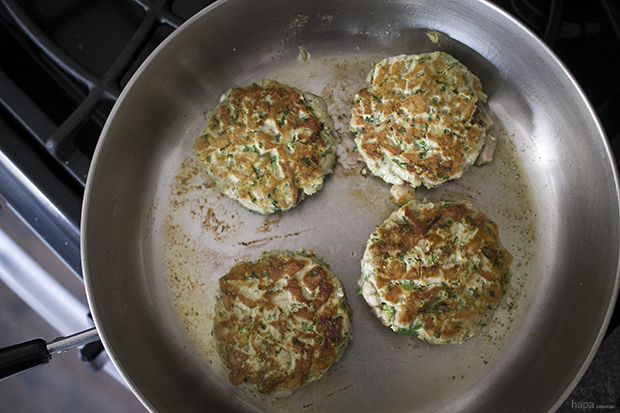 Toast the Buns: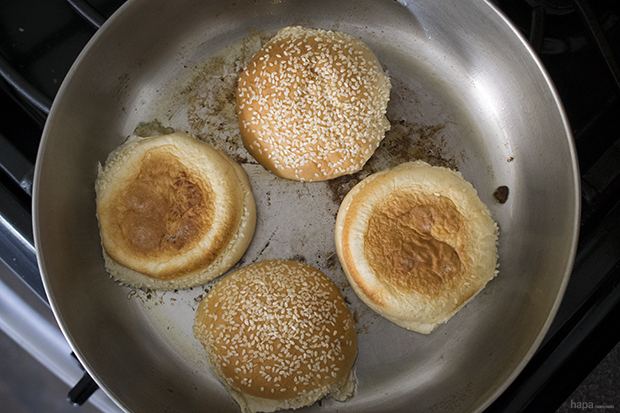 Assemble the Burgers: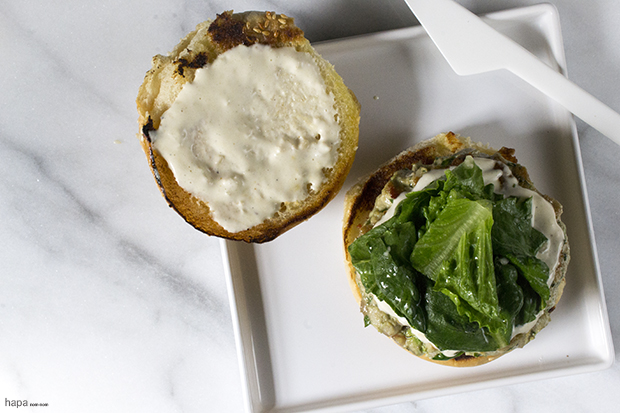 Enjoy!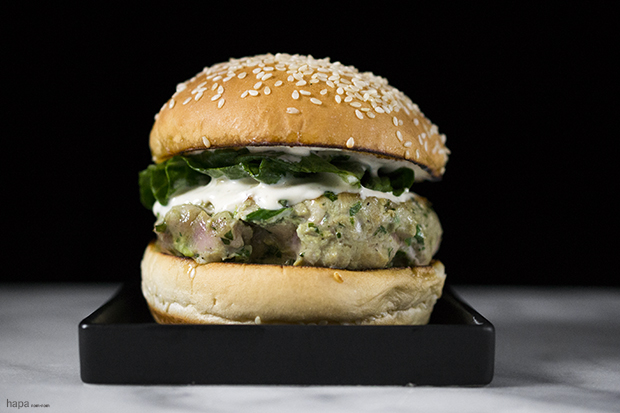 Spicy Tuna Burgers
Author:
Kathleen | Hapa Nom Nom
These Spicy Tuna Burgers are light, full of flavor, and sure to satisfy your summer burger craving…without packing on the pounds.
Ingredients
TUNA BURGER:
1 pound fresh sushi-grade tuna fillet
1 scallion, finely chopped
2 tablespoons cilantro, minced
1 teaspoon ginger, minced
1 Thai bird chile, minced
½ avocado, mashed
¾ teaspoon kosher salt
¼ teaspoon freshly ground black pepper
2 tablespoons extra virgin olive oil
4 sesame hamberger buns
WASABI MAYO:
1½ tablespoons wasabi paste
½ cup mayonaise
1 lime, juiced (about 2 tablespoons)
1 teaspoon ginger, minced
DRESSING:
2 limes, juiced (about 4 tablespoons)
1 tablespoon fish sauce
1 tablespoon orange juice
2 teaspoons rice vinegar
1 clove garlic, minced
1¼ cup romaine lettuce, shredded
Instructions
Cut the tuna into a ¼-inch dice and add to a large bowl. Add the scallion, cilantro, ginger, chile, avocado, salt, and pepper. Gently work with your hands to incorporate all of the ingredients. Divide the contents of the bowl into 4 equal portions and shape into 1-inch thick patties. Cover and refrigerate for 2o minutes and up to 2 hours.
In the meantime, make the wasabi mayo. In a small bowl, add the wasabi paste, mayonnaise, lime juice, and ginger. Stir well to combine. Cover and refrigerate until ready to use.
Just before you're ready to cook the tuna burgers, make the dressing. In a medium-sized bowl, add the lime juice, fish sauce, orange juice, rice vinegar, and garlic. Stir well. Toss in the shredded lettuce to coat. Set aside until ready to use.
Heat the oil in a large skillet over medium-high heat. Cook the tuna burgers, 2-3 minutes per side – don't overcook the burgers or they will be dry. Transfer to a clean plate to rest.
With the remaining oil in the pan, toast the hamburger buns for 1 minute. Add more oil if needed.
To assemble, place the burgers on the bun bottoms. Top each with wasabi mayo and dressed lettuce. Cover each burger with the bun tops and serve immediately.