My good friend Nagi of RecipeTin Eats, Food Blogger Central, and the creator of the new must-have cookbook for chicken wing lovers: 'Baked Wings' – has graciously created a guest post for Hapa Nom Nom and I couldn't feel more honored. After you have checked out her incredible Thai Coconut Pumpkin Soup she has created here, please visit her site RecipeTin Eats – she's doing a lot of amazing things!
So without further adieu, I turn the reins over to Nagi…
Hi there! I'm Nagi from RecipeTin Eats food blog. Super honoured to be here on one of my all time favourite blogs doing a guest post while Kathleen is crossing the US to her new home! I'm keeping my fingers crossed that they don't have any car troubles in the middle of the desert. 🙂 
 This soup I'm sharing today is a fabulous fusion recipe. For many years I turned my nose up at the thought of a Thai pumpkin soup, thinking it just sounded weird. I can be really bull headed sometimes. The only reason I "discovered" how absolutely irresistibly scrumptious it is is because I happened to have an excessive amount of pumpkin on hand as well as spare homemade red curry paste.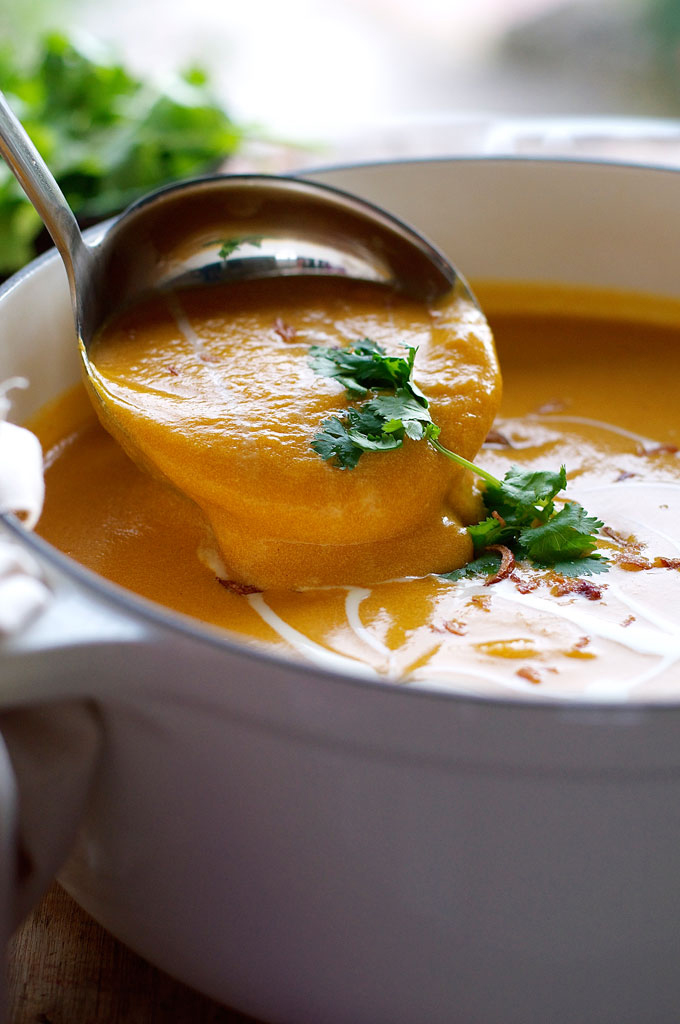 So I thought I'd give it a go…..and boy am I glad I did! I was blown away! The flavour combination of creamy, sweet pumpkin with coconut milk (that in itself is a magic combination) and with the deep, complex flavours of red curry is just incredible! INCREDIBLE!!
I happened to have excess red curry paste on hand because I've been making a lot of Thai food lately. I tend to go through phases where I become obsessed with a particular cuisine or food type. Like Kathleen's 
Spicy Thai Curry Noodle Soup
. I've made that so many times now, I know the recipe off by heart!
So as I was saying, I used homemade red curry paste but you can absolutely use store bought.
It really is amazing, what a touch of red curry paste can do to the humble pumpkin soup. It turns the ordinary into extraordinary. It's GOURMET!!
Hope you love it as much as I do! – Nagi
Thai Coconut Pumpkin Soup
Author:
By Nagi from RecipeTin Eats, guest post for Hapa Nom Nom
Pumpkin soup is taken from ordinary to extraordinary with the addition of some subtle Thai flavours. You can make this with homemade or store bought Thai red curry paste.
Ingredients
Pumpkin Soup
1 tbsp vegetable oil
1 onion, peeled and sliced
4 tbsp Thai red curry paste, homemade (recipe below) or store-bought
1.5 lb pumpkin, cut into cubes
3 cups vegetable stock
1 - 2 cups water
1 can (14 oz) coconut milk
Garnish (optional)
Coriander leaves
Fried shallots or garlic (store bought)
Extra coconut milk
Homemade Red Curry Paste
20 long dried red chilis
2 tbsp coriander seeds (or 1½ tbsp coriander powder)
4 tsp cumin seeds (or 3 tsp cumin powder)
2 tsp salt
2 lemongrass, white part only, sliced
4 shallots, sliced
8 garlic cloves, peeled and chopped
3" piece of galangal, peeled and roughly chopped
Zest of 3 limes (or zest of 2 kaffir limes)
2 tbsp shrimp paste
Instructions
Soup
Heat oil in a large pot over medium high heat.
Add onion and curry paste. Saute for about 2 minutes until the onion is slightly softened and the curry paste is fragrant.
Add remaining ingredients except the coconut milk. The pumpkin should be mostly submerged (use 1 to 2 cups of water to get the liquid level right).
Place the lid on and bring to a rapid simmer, then place the lid on. Let it cook for 10 to 15 minutes or until the pumpkin is really soft.
Remove from heat and use a stick blender to whizz it smooth. Then stir in the coconut milk.
Do a taste test and add salt if required.
Serve, garnished with coriander leaves, fried shallots and a drizzle of coconut milk, if desired.
Homemade Red Curry Paste
Soak the dried chilies in hot water for 10 minutes, then drain (reserve water) and place chilies in a small processor.
Dry toast the coriander and cumin seeds until fragrant. Ground in a mortar and pestle. (Skip this step if using powder) Then place it in the food processor.
Place remaining ingredients in the food processor and some of the soaking water. Then whizz until a smooth paste forms, using more water as required to help it blend.
This makes more than required. The best way to store this is in the freezer into serving size portions. I use an ice cube tray.