Almost 2 years ago, Bon Appétit magazine came out with their "Hot Soup" issue.  On the cover were several stunning bowls of Chicken Khao Soi, a coconut curry noodle dish from northern Thailand.  Its bright and vibrant colors hinting at the layers of complex flavors,  you would think it takes hours upon hours of slowly building
layers to elicit such complex flavor profiles, such as is done in Ramen or Pho.  But this dish couldn't be further from the idea of long hours toiling away in the kitchen.   One bite and you'll be truly amazed that this entire dish can be on the table in about 40 minutes.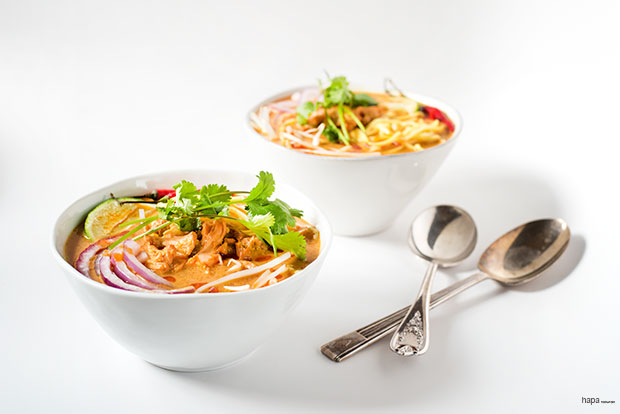 Prior to making this dish, I had never actually had Khao Soi.  Being a frequent patron to Thai restaurants, I'm a bit surprised that I have never even seen this on any of their menus – to include the authentic establishments.  From what I understand, for a truly bona fide bowl of Khao Soi, it's going to take you about 2 hours – time that involves toasting aromatics and going old-school-style with a mortar and pestle to extract flavors.   I honestly cannot speak to the traditional method of preparing this dish and whether or not the same flavors can be replicated using an abbreviated recipe.  But what I can tell you is that this Spicy Thai Curry Noodle Soup is rich, creamy, and packed with complex and bold flavors.
The broth gets its brilliant color from turmeric powder, a mild and earthy spice which can range in color from golden-yellow to deep orange.  This of course will have an affect on the color of your soup base, and according to chow.com, it will also vary in flavor.  They state:
There are two main types of turmeric powder: Light yellow Madras turmeric is most commonly available and is used primarily for curries, pickles, and mustard; Alleppey turmeric is darker in color due to a higher portion of curcumin (turmeric's coloring agent) and is noted for its fine flavor and earthy aroma with delicate notes of lemon and mint.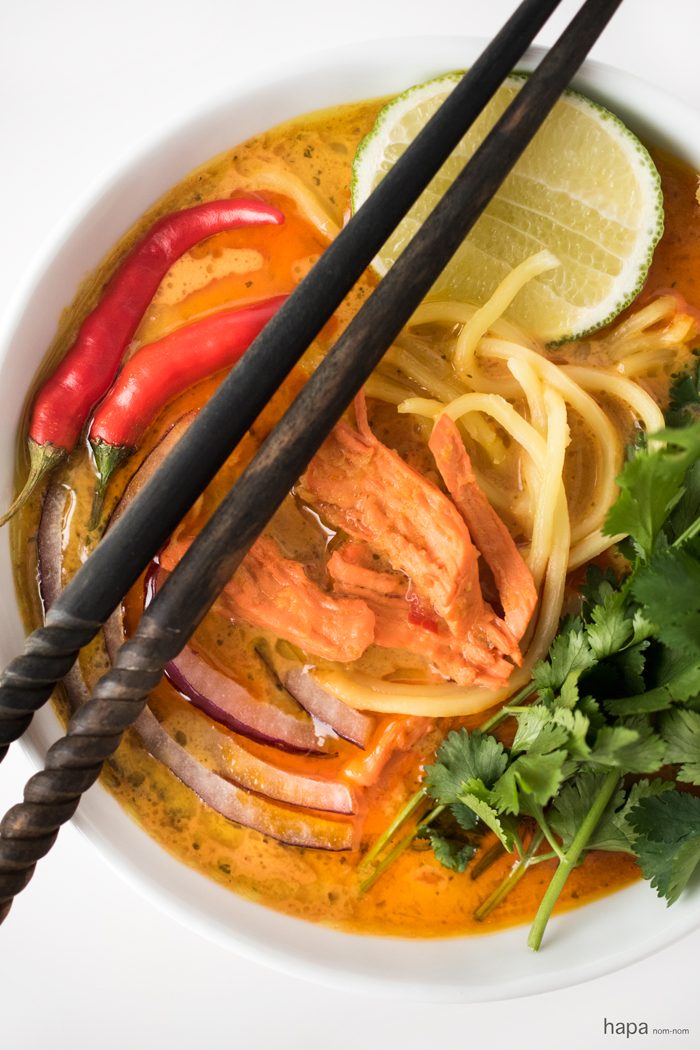 Chances are the turmeric powder you purchase at the store will not indicate what type of turmeric is inclosed.  But what I can tell you, is that I bought turmeric from two different stores, both varying in color, and both dishes turned out great!  So don't stress too much over it, unless of course you really want that deep orange color as are in the photographs above.  Speaking of color – I should mention that turmeric is often used as a dye and like dyes do, it will stain anything it touches – to include your fingers. The color fades after repeated washes, but just be aware in case you're wearing your favorite white sweater while enjoying this incredible dish.

Spicy Thai Curry Noodle Soup
Prep time:
Cook time:
Total time:
This bright and beautiful soup has incredible depth of flavor. You'll never believe how quick and easy it is to make.
Ingredients
1 stalk lemongrass, tough outer layer removed, bulb thinly sliced
2 - 3 red Thai chilies, seeded
2 shallots, halved
8 garlic cloves
1 2-inch piece of ginger, peeled and sliced
¼ cup cilantro, stems only
1 tablespoon ground coriander
1 tablespoon ground turmeric
1 teaspoon curry powder
2 tablespoons vegetable oil
2 14-ounce cans unsweetened coconut milk
2 cups chicken broth
1½ pound boneless, skinless chicken thighs, halved lengthwise
1 pound Chinese egg noodles
3 tablespoons fish sauce
1 tablespoon light brown sugar
Kosher salt
sliced red onion, bean sprouts, cilantro, lime wedges, chili oil - toppings for serving
Instructions
Prepare lemongrass water by, placing the thinly sliced lemongrass in a small bowl, then pour ½ cup of boiling water over it and allow to steep for at least 10 minutes. Then remove the lemongrass, reserving the water.
Puree the chilies, shallots, garlic, ginger, cilantro stems, coriander, turmeric, curry, and 2 tablespoons of the lemongrass water. Process until smooth, add more lemongrass water, 1 tablespoon at a time, if needed.
In a large pot over medium heat, warm the vegetable oil. Add the spicy curry puree you just made, and cook 4-6 minutes, stirring constantly.
Add the coconut milk and broth. Bring to a boil and add the chicken. Reduce the heat to a simmer and cook the chicken until fork-tender, about 10-15 minutes. Transfer the chicken to a plate and allow to cool slightly, then shred the meat.
Cook the noodles according to the package directions.
Add the fish sauce, sugar, and chicken to the soup. Season with salt, if needed. Divide the soup and noodles among bowls and serve with the desired toppings. Enjoy!