This Vegetable Coconut Curry Soup is rich, creamy, and packed with bold flavors and loaded with a ton veggies. 
Hiya! How were your holidays?! Nothing short of wonderful, I hope. It was just Mr. HNN and I for Christmas and New Years Eve. I'm now in my final weeks of pregnancy so traveling long distances to see friends and family was pretty much out of the picture.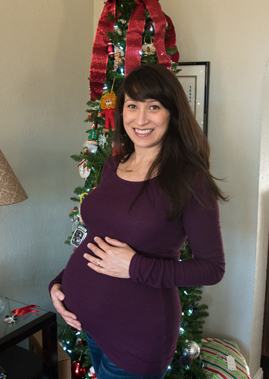 All-and-all it's been a pretty easy pregnancy. I think staying active has really helped – I'm still regularly practicing yoga and able to hike 3 miles with the dogs. Sure, sleep has eluded me for the past month (no doubt preparing me for the days, weeks, and months of sleepless nights to come), but I've otherwise felt great! Now I'm just keeping my fingers crossed that I don't pay for the ease of my pregnancy in labor and delivery!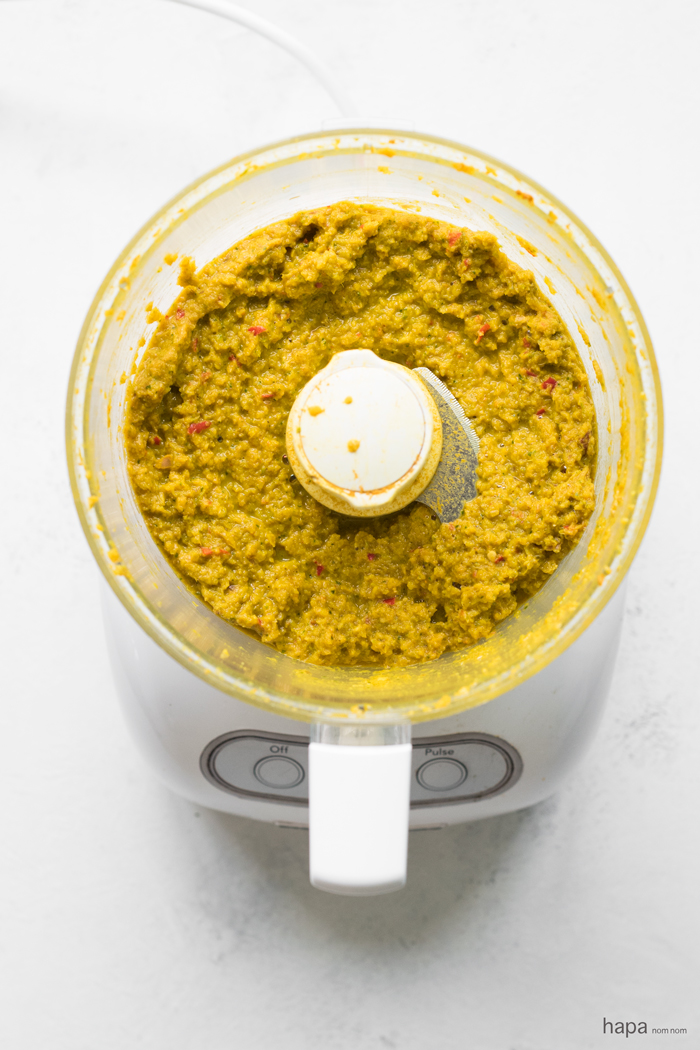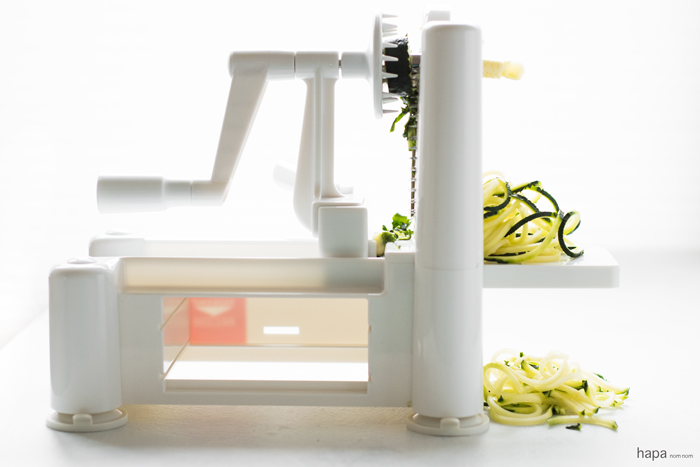 So with less than 3 weeks to go, I'm trying to make amends for some of my more indulgent choices over the past month. A flavor-packed soup fully-loaded with amazing veggies is just what the doctor ordered (so to speak).  There's kale which is high in fiber, iron, calcium, contains powerful antioxidants, and an entire slew of other goodies for your body. Carrots, as I'm sure you know is a great source of beta-carotene; zucchini is high in omega-3 fatty acids; lentils are packed with protein, and turmeric is a known anti-oxidant and anti-inflammatory.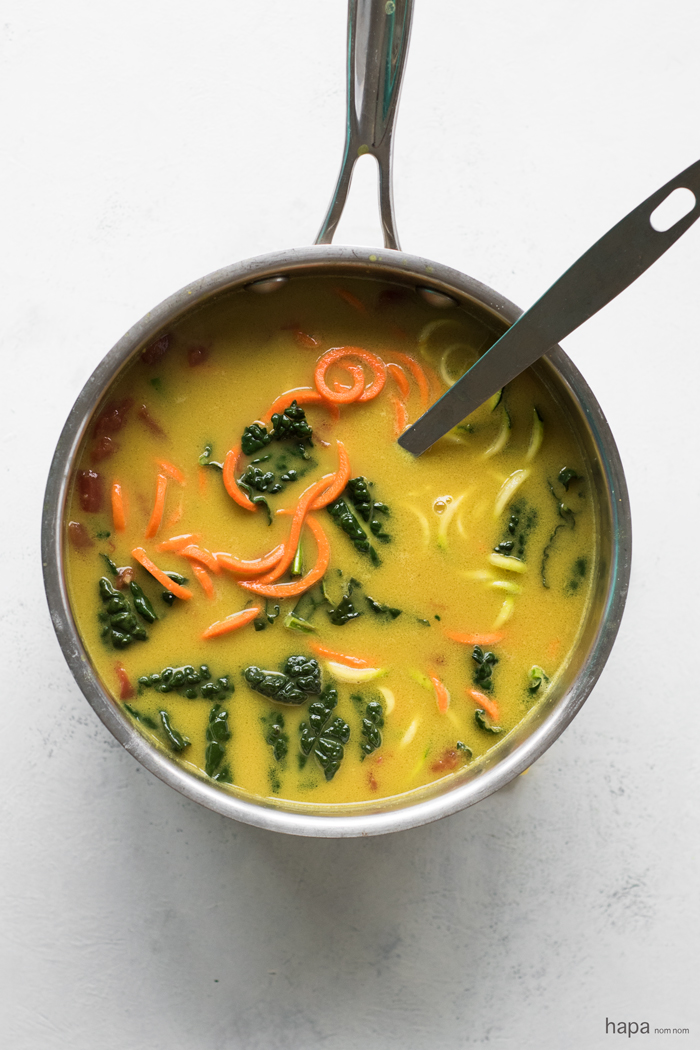 What's even better than a bowl loaded with nutrient-rich awesomeness? The fact that it tastes amazing! No weak or boring flavors here! The coconut curry broth is jam-packed with bold and rich flavors, there's certainly nothing shy about this soup! So you're really getting the best of both worlds – a meal loaded with nutrients that doesn't sacrifice an ounce flavor!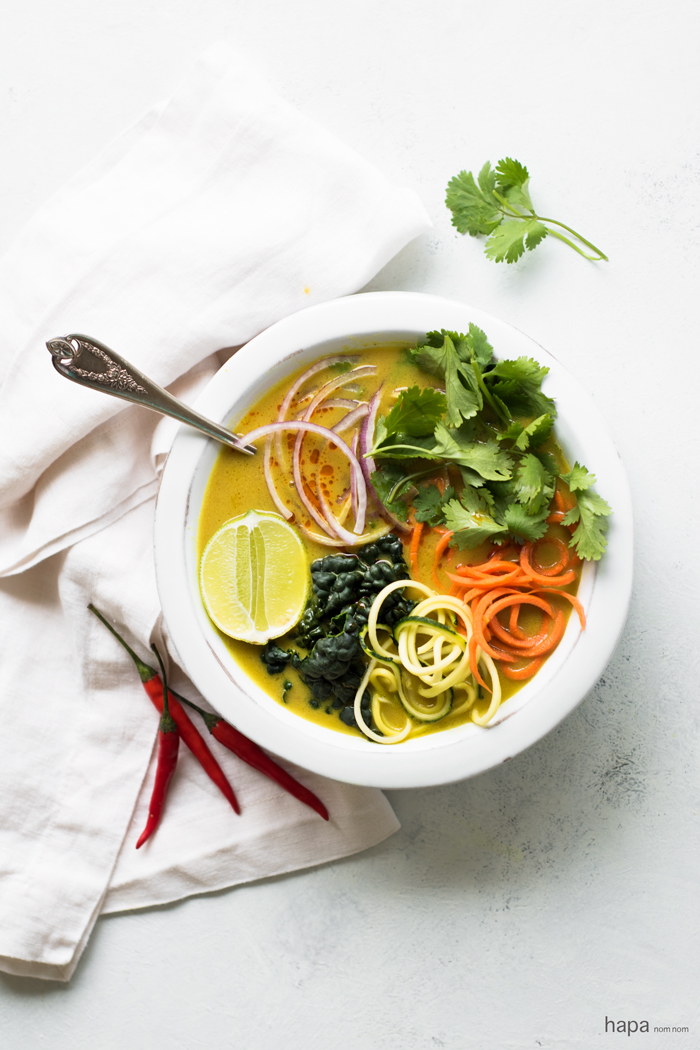 Vegetable Coconut Curry Soup
Author:
Kathleen | Hapa Nom Nom
Prep time:
Cook time:
Total time:
This Vegetable Coconut Curry Soup is rich, creamy, and packed with bold flavors and loaded with veggies.
Ingredients
1 - 3 Thai chilies, seeded
8 garlic cloves
2 shallots, halved
1 2-inch piece of ginger, peeled
¼ cup cilantro, stems only
1 tablespoon ground turmeric
1 tablespoon ground coriander
1 teaspoon curry powder
2 tablespoons vegetable oil
2 14-ounce cans unsweetened coconut milk
2 cups chicken broth
3 tablespoons fish sauce
1 tablespoon light brown sugar
1 large carrot, peeled and spiralized*
1 large zucchini, spiralized*
1 small bunch of kale, thick stems removed, leaves sliced
¼ cup red lentils
Garnish
a drizzle of chili oil (optional)
half a small red onion, thinly sliced
¼ cup fresh cilantro leaves
1 lime, cut into wedges
Instructions
In a food processor, puree the Thai chilies, garlic, shallots, ginger, cilantro stems, turmeric, coriander, and curry powder. Add 2 tablespoons of water. Process into a paste, adding more water, 1 tablespoon at a time, if needed.
In a large sauce pan over medium heat, warm the vegetable oil. Add the curry paste you just made and cook for 4 - 6 minutes, stirring frequently.
Add the coconut milk and chicken broth. Stir in the fish sauce and brown sugar; bring to a simmer. At this point I recommend pouring the coconut curry broth you just made through a fine-mesh sieve into a large bowl with a pour spout and then back into the saucepan. This is not necessary, but it does give you a nice smooth broth.
Bring the broth back to a simmer and add the carrot 'noodles', zucchini 'noodles', kale, and lentils. Cover and allow to gently simmer for 10 - 15 minutes.
Ladle the soup into bowls and garnish with chili oil, red onion, cilantro leaves, and a lime wedge. Enjoy!
Notes
* If you don't have a Spiralizer - you can slice the zucchini into ⅛-inch thick planks. Then stack the planks and slice lengthwise into ⅛-inch noodles.