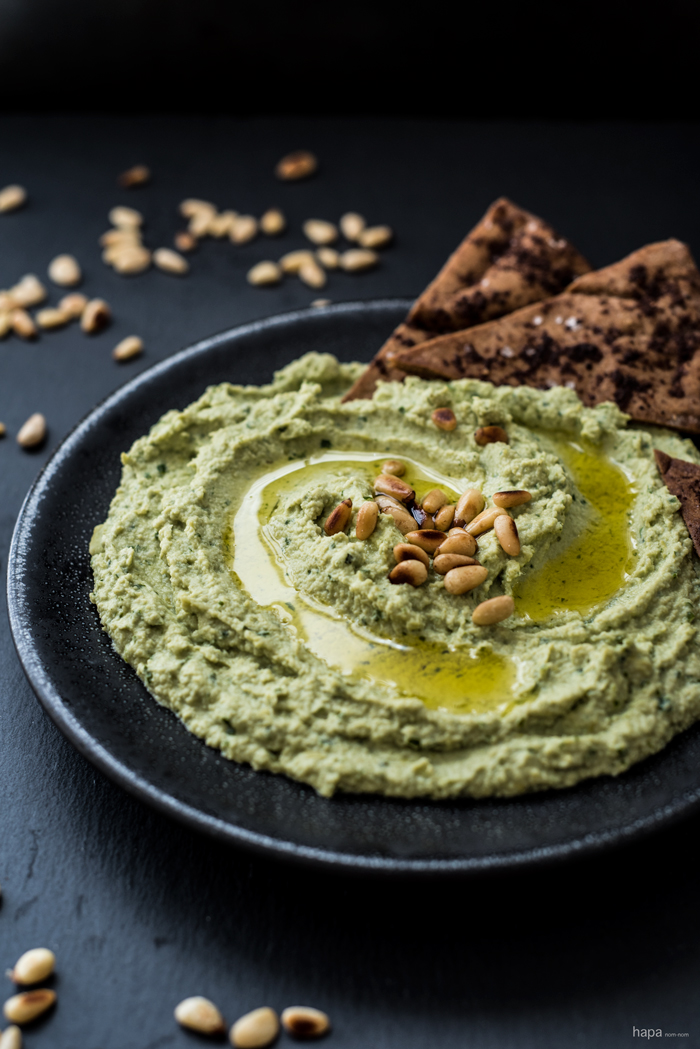 Have a seat hummus. The Goddess is in town.
My husband is always asking me if we have snacks in the house. This usually occurs around 9pm when we're both in our PJ's and relaxing on the couch.
I never keep snacks in the house; that's by design. If I keep little treats or anything that's packaged and easily edible in the house, I will eat it! And not over the course of a week… that day. It's so bad, that my husband will have to hide his snacks in the car just so I don't eat them. Clearly I have no self control.
This dish was born out of the desire to have a snack that I could keep in the house and not feel bad if I ate the entire thing. My first thought was hummus. A healthy snack, but I wanted brighter flavors and I wanted to bump up the health benefits. This is what's so super about this Super Green Goddess Hummus – I replaced the chickpeas with edamame to add more protein… and add to the vibrant green color. Then I put a Green Goddess spin on things to add plenty of fresh herbs and flavor, then I threw an avocado in there to add more nutrients and a creamy texture.
The result was amazing! It was luscious, flavorful, and a spectacular shade of green – I felt healthier just looking at it! And what's even better – it's filling! So snack away my friends, snack away.
Super Green Goddess Hummus
Author:
Kathleen | Hapa Nom Nom
Prep time:
Cook time:
Total time:
Instructions
Preheat the oven to 350 degrees F.
Add the water and the edamame to a small saucepan and place over high heat. Bring to a boil and cook uncovered for about 1 minute. As soon as all the edamame is thawed, turn off the heat.
Pour the edamame and the water from the pan into a food processor. Add the avocado, garlic, parsley, tarragon, chives, lemon juice, tahini, and 1 teaspoon of salt. Process until smooth, about 2 minutes. If needed, add a little water to thin out the mixture - 1 tablespoon at a time until you reach the desired consistency. Allow the mixture to cool to room temperature before serving.
Cut each pita bread in quarters and each quarter in half to make 8 triangles. Place them in a single layer on a sheet pan and brush lightly with olive oil, sprinkle with sumac, and sea salt. Bake for 10 - 12 minutes.
In a dry saute pan over medium-high, toast the pine nuts by moving the pan around constantly - this should only take about a minute.
When ready to serve, spoon the hummus out onto a serving dish. Using the back of a spoon, spread the hummus around to form several circular canals. Pour the olive oil into the canals and top with the toasted pine nuts. Serve with the pita chips and enjoy!