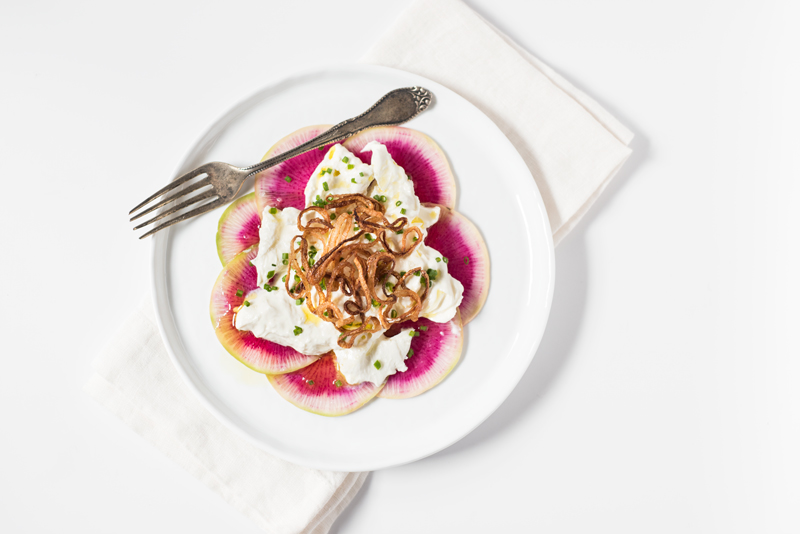 A breathtaking display of vivid colors – watermelon radish is stunning!  My husband and I were having brunch at our favorite spot and I noticed a new item on the menu – a watermelon radish salad with burrata.  Nearly every weekend I ordered this extraordinary dish, until the season for this root vegetable sadly came to a close. 
A year has passed and finally the season for these gorgeous radishes has returned.  Shopping at the farmers market I was pursuing the aisles for ingredients, when I saw a big sign for watermelon radishes!  I could barely contain my excitement!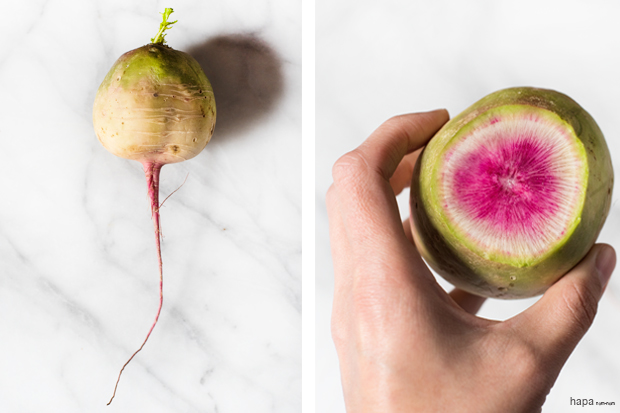 When I got home I immediately searched for an online menu to my favorite brunch place, thinking now that they're back in season it may be back on the menu.  I couldn't find the description anywhere!  Not even buried somewhere in their digital archives!  The only ingredients I could remember, were the watermelon radishes and burrata.  I tried doing a broad online search for the dish, and while I didn't exactly find what I was looking for, I did find something from Bon Appétit – a lovely salad of vibrant radishes, burrata, and simply dressed with olive oil, lemon juice, and chives.  I only made a small adaptation, but what I feel is an important one. I added fried shallots, the crispy texture and mildly sweet onion taste create a wonderful compliment to soft and buttery burrata and delicate peppery radish.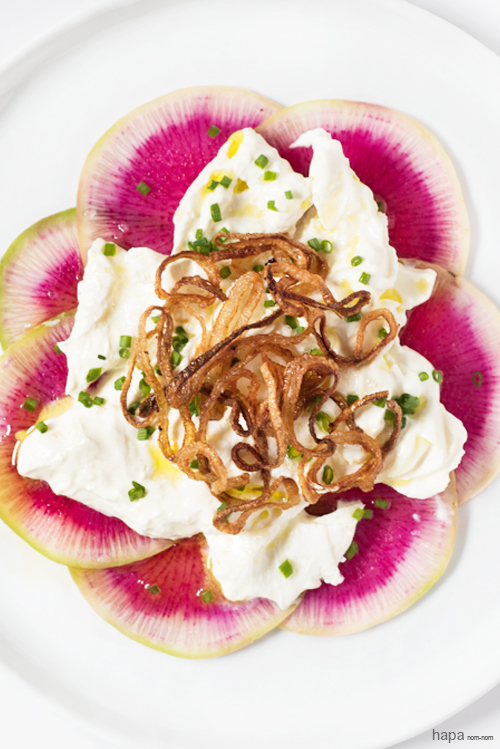 Watermelon Radish with Burrata and Crispy Shallots is a dish simply made, but it's high-impact both visually as well as on your palate.  The vibrant colors and array of flavors and textures make this a perfect salad to celebrate springs glorious season.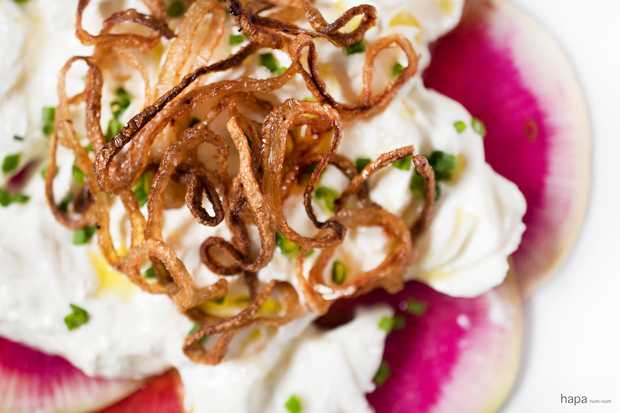 Watermelon Radish with Burrata and Crispy Shallots
Author:
Kathleen | HapaNom
Ingredients
¼ cup vegetable oil
1 large shallot, cut into ⅛-inch slices
1 watermelon radish, thinly sliced*
8 ounces burrata, torn into pieces
1 tablespoon extra virgin olive oil
½ lemon, zested and juiced
2 teaspoons fresh chives, chopped
sea salt and freshly ground black pepper
Instructions
In a small saucepan over medium heat, warm the vegetable oil. Once the oil becomes fragrant and shimmers, add the shallots. Stirring frequently, cook for 5 -7 minutes, or until light golden-brown. (Note that once the shallots start to brown, they will darken very quickly, so keep an eye on them). Remove with a slotted spoon and allow to dry on a plate lined with a paper towel.
Plate the watermelon radish. Add the burrata, drizzle with the olive oil and lemon juice. Garnish with lemon zest, chives, crispy shallots, salt, and pepper. Enjoy!
Notes
* Slicing the watermelon radish with a mandolin is the easiest and fastest way to get perfectly thin slices. Just always be sure to use the hand-guard when using.

Recipe slightly adapted from Bon Appétit.