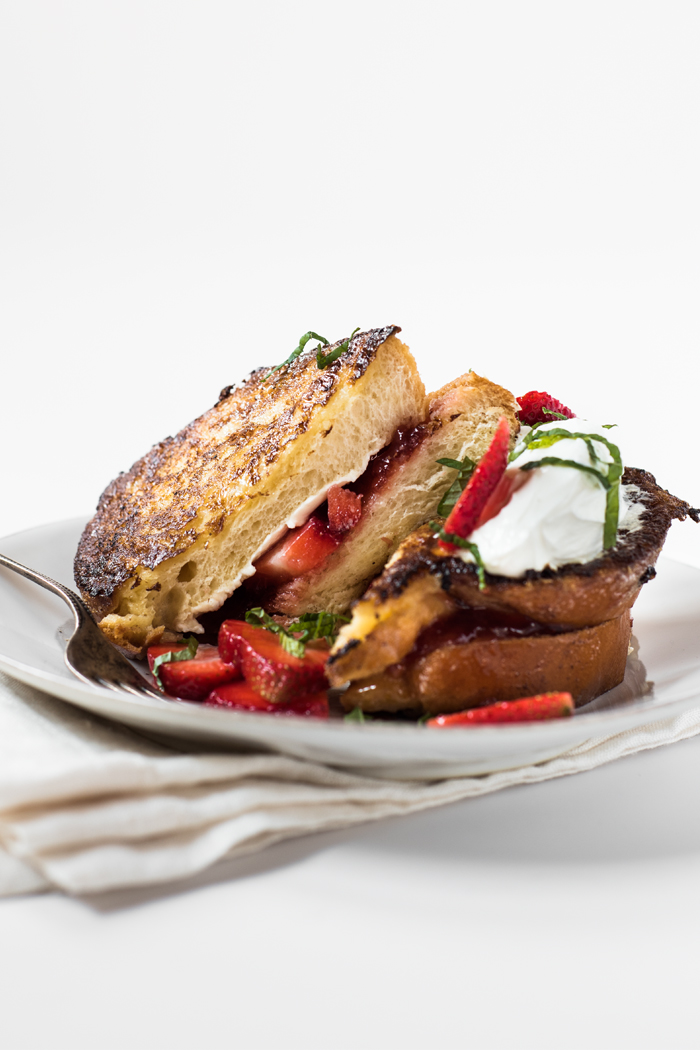 Considering that Valentine's Day is just a few days away and the pre-Lenten partying is in full swing – why not indulge with a sweet and decadent Strawberry French Toast.  Serve with maple syrup if you like, but really it doesn't need a drop.   This French Toast sandwich (if you will), is stuffed with cream cheese, strawberry preserves, and macerated fresh strawberries.  Topped with sour cream, more strawberries, and fresh mint – it's amazing!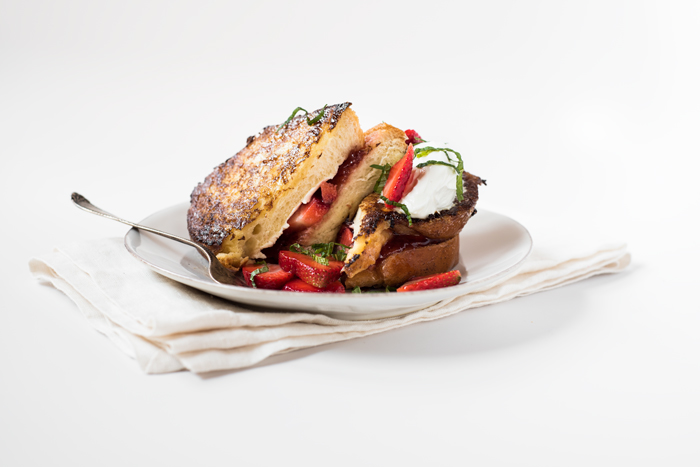 Strawberry French Toast
Author: Kathleen | Hapa Nom Nom, Adapted from, Grilled Cheese 50 Recipes to Make you Melt
Ingredients
10 ounces strawberries, hulled and sliced
5 tablespoon sugars, divided
1 teaspoon fresh lemon juice
4 large eggs
½ cup whole milk
¼ teaspoon pure vanilla extract
pinch of ground cardamon
8 slices of challah bread or brioche, sliced ¾-inch
6 ounces soft cream cheese
6 ounces strawberry preserves
4 tablespoons unsalted butter, divided
½ cup sour cream
small bunch of mint, cut into a chiffonade
Instructions
In a bowl, combine the strawberries, 1 tablespoon sugar, and lemon juice. Toss to combine and set aside to macerate.
In a shallow bowl, combine the eggs, milk, vanilla, and cardamon. Whisk well to combine. Set the mixture aside.
Thickly spread 4 slices of the bread with cream cheese, slightly tapering towards the edges so the cream cheese doesn't seep out while cooking. Then spread the other 4 slices with the strawberry preserves and some of the macerated strawberries (reserve some of the macerated fruit for topping). Place the cream cheese slices on top of the strawberry slices, and press firmly.
Heat a heavy-bottomed skillet over medium-high heat. Melt 1 tablespoon of butter per sandwich in the pan. Dip each sandwich into the egg mixture and let it soak - about 45 - 60 seconds per side. Place each sandwich into the hot pan and cook until golden-brown, about 1 minute per side.
Slice each sandwich in-half and plate. Add a dollop of sour cream, some of the macerated strawberries, and mint. Serve immediately and enjoy!