There are days when my body just craves something light and fresh. Do you feel the same way? That feeling generally comes after a few days of a lot of rich food and too much wine.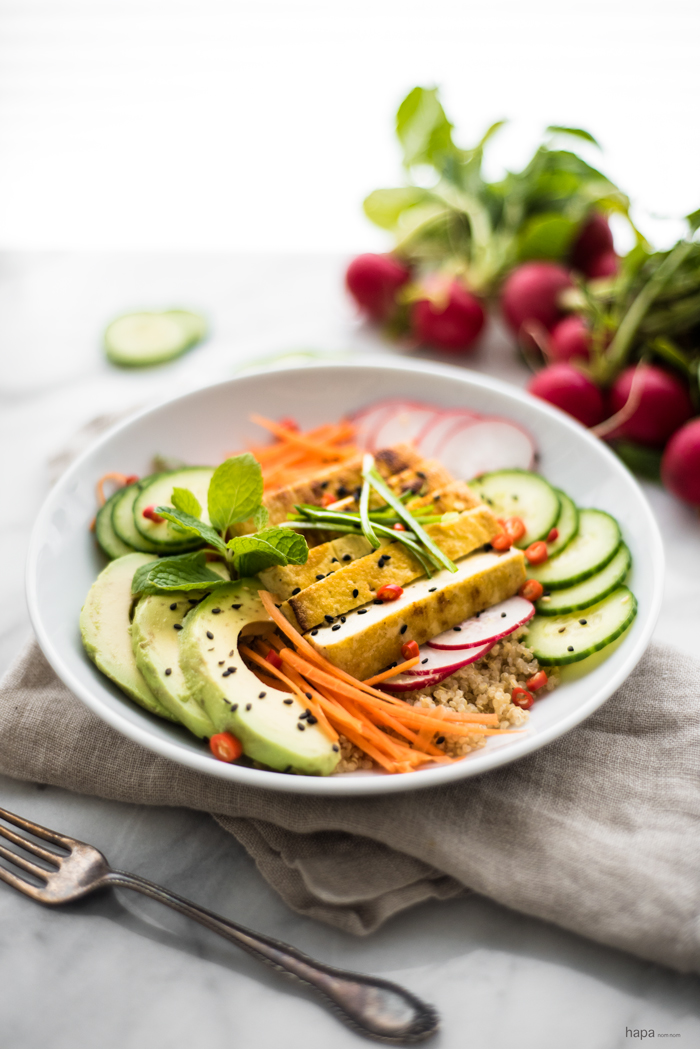 Over Valentine's Day weekend Mr. HNN and I went up to Sonoma with a bunch of friends. It was an absolutely gorgeous day! We sat out on the back patio of a winery, ordered several large platters of charcuterie and cheese, and enjoyed juuuust a few bottles of wine 😉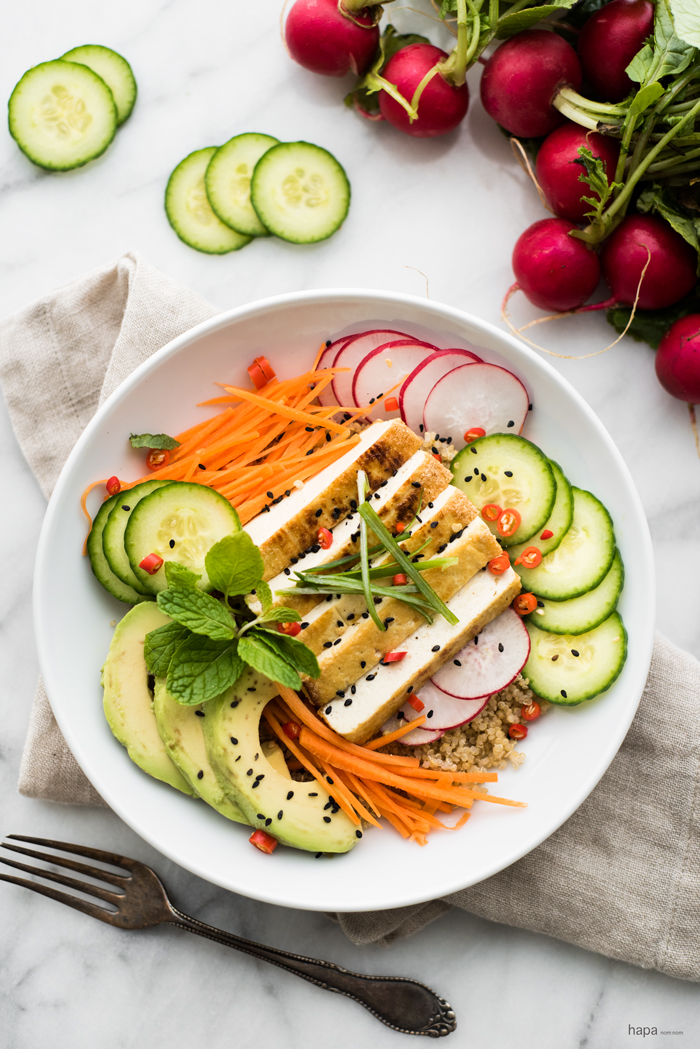 The following day was spent recovering and eating carbs…. lots of carbs (it's what I crave when I've had a little too much to drink). Once I came out of my wine/carb coma, I was feeling tired and sluggish. I craved something nourishing and this Asian Style Tofu Buddha Bowl did the trick! It was like a total body reboot. I felt less bloated and like I had more energy. The additional beauty of this bowl, is it's completely customizable! If you prefer brown rice or farro over the quinoa, use it. Use whatever veggies you like, and if you'd like to use grilled chicken breast or fish, go for it! It's still makes a delicious and nutritious bowl!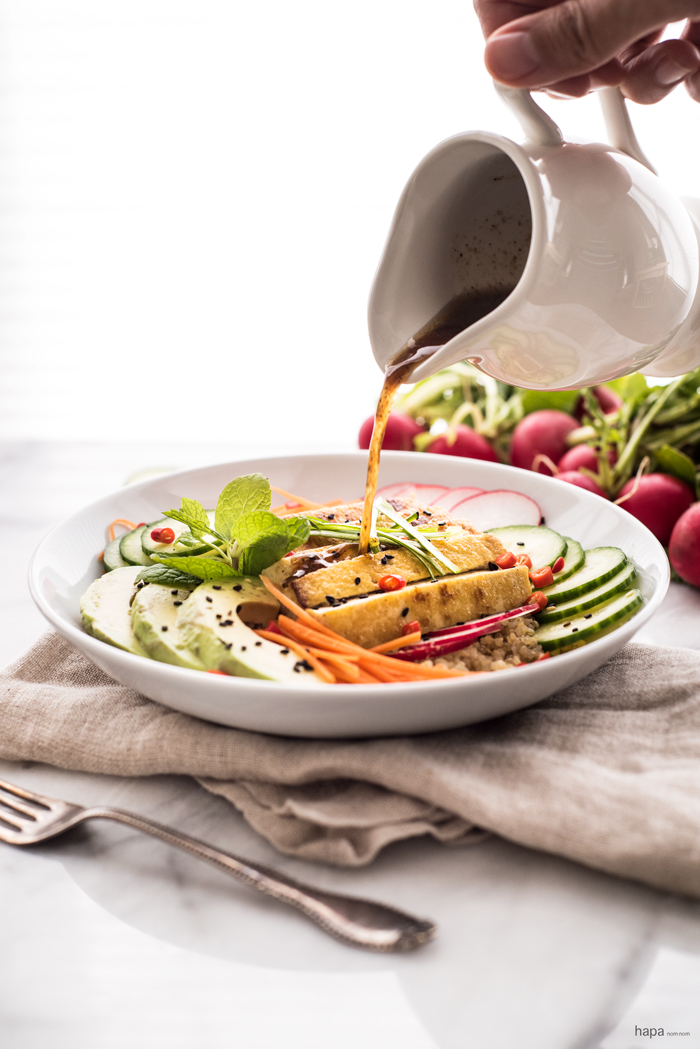 Asian Style Tofu Buddha Bowl
Author:
Kathleen | Hapa Nom Nom
Prep time:
Cook time:
Total time:
30 minute Asian-Style Tofu Buddha Bowl with a sesame-lime dressing. Vegan friendly, nourishing, and delicious!
Ingredients
Dressing
2 tablespoons low sodium soy sauce
2 tablespoons rice vinegar
2 tablespoons grapeseed oil
1 tablespoon toasted sesame oil
1 tablespoon fresh lime juice
¾ teaspoon Kosher salt
½ teaspoon black pepper
Salad
1 cup quinoa*
2 tablespoons grapeseed oil
16 ounces super firm tofu*
Kosher salt
freshly ground black pepper
6 radishes, thinly sliced
⅓ of a small English cucumber, thinly sliced
1 medium carrot, julienned*
1 avocado, thinly sliced
2 scallions, cut into strips
2 Thai chilies or 1 jalapeno, seeds removed, thinly sliced (optional)
mint, garnish (optional)
black sesame seeds, garnish (optional)
Instructions
In a small bowl, whisk together the ingredients for the dressing.
Cook the quinoa according to the package directions.
While the quinoa is cooking, heat the grapeseed oil in a large skillet over high heat (this is for cooking the tofu).
While the pan is heating, set the tofu down on a cutting board. Place your knife, parallel to the cutting board and slice the tofu in half so that you have two plank-like pieces. Place both pieces between paper towels and pat dry. Season both sides liberally with salt and pepper, and place the pieces in the hot pan. Sear both sides for 2-5 minutes, or until the outside is golden-brown and crispy. Remove from heat and allow to cool on a paper towel-line plate. Once cool enough to handle, slice into strips.
Divide the quinoa evenly among two bowls. Add the veggies, the tofu, and garnish with chilies, mint, and black sesame seeds. Serve with the dressing (stir just before dressing the salad) and enjoy!
Notes
* If you don't want to use quinoa, feel free to use any type of rice or farro.

* If you can't find super firm tofu, find the firmest tofu you can. Then take a plate and line it with paper towels. Place the tofu block on the paper towel-line plate and put another layer of paper towels on top of the tofu. Place another plate on top and then weigh it down with heavy cans for at least 1 hour.

* For faster prep, you can shave the carrot into strips with a vegetable peeler.