A few weeks ago, I was walking through the farmers market at the Ferry Building along San Francisco's Embarcadero. As the name suggests, the Ferry Building is a terminal for ferries traveling across the Bay. Except… it's much more than just that. It houses a wonderful array of food boutiques and restaurants. Want an bottle of olive oil infused with truffle oil, there's a vendor for that. Need a pound… or few of freshly sliced Prosciutto di Parma that's paper thin? There's a vendor for that. Looking to grow your own exotic mushrooms? Yes, there's a vendor for that as well. Those are just a sliver of the permanent marketers featured. During the farmers market, the number of merchants explode and they spill out onto the surrounding streets!
  I was walking through the crowds and passed by a woman selling Taiwanese steamed buns (gau bao). Perfectly fluffy and warm buns filled with tender slabs of pork belly, pickled mustard greens, and sweet crushed peanuts. I ate as I continued to walk through the crowds, trying not to make a complete mess in my hands and all over my face (a near impossible feat). As soon as I done (aside from wishing that I grabbed more napkins), I instantly wished I bought more than just one gua bao. Totally inspired, I hit the kitchen! I used the steamed buns recipe from David Chang, the man who sky-rocketed the gua bao into the stratosphere of popular food. The buns are phenomenal, so soft and cloud-like, you could sleep on them! It's David Chang… would you expect anything less?
  Rather than using pork belly, I gave a nod to our old home in the ATL, and made pulled pork. I say just a nod, because if I were going to go for full southern influence, I'd be out back tending to a smoker for the better part of the day. Well… I do not have a smoker, nor do I have the time to tend to such an endeavor. The slow cooker may take nearly as long as a smoker, but that's 8 hours that you can leave the kitchen, run errands, go to work, take a nap. You just set it and forget it! The result is meat that literally falls off the bone! Seriously, you could shred the pork with your fingers if you wanted to. And the Sriracha BBQ Sauce that accompanies the pork is out of this world! It's a little spicy, a little smoky, a little sweet, and a little vinegary – it has the best of all worlds and it's a…maz…ing on pulled pork!
A nice balance to the pork and pillowy steamed buns, are the quick pickled cucumbers. They take on a vinegary quality to balance out the rich pork while adding a subtle crispness. Then of course there are the scallions to add that extra punch of flavor. The culmination of all of these fantastic components is a phenomenal little bun that packs a ton of flavor! These are perfect for parties, but if you want to have them for just a few people or even just yourself – the buns freeze beautifully for several months, the pulled pork can be portioned and frozen as well, and the sriracha bbq sauce can also be refrigerated for several months. So while the sum of the components of this dish does take some time and effort – you can prepare most of this dish way in advance or enjoy it long after you've initially made it! And above all… it's worth the time because they're crazy good!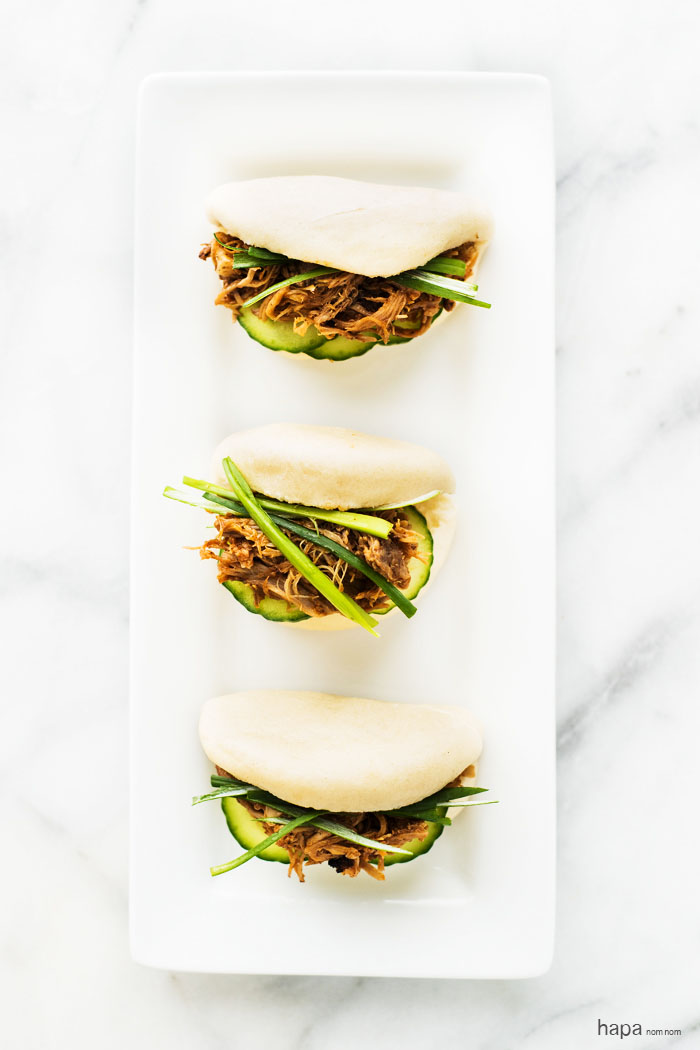 Slow Cooker Pulled Pork Buns
Author:
Kathleen | Hapa Nom Nom
Prep time:
Cook time:
Total time:
Freshly made steamed buns (gua bao) with pulled pork, dressed with an incredible sriracha bbq sauce, topped with a quick pickle cucumber, and scallions. A...ma...zing!
Ingredients
Slow Cooker Pulled Pork
4 - 5 pounds pork shoulder
2 tablespoons paprika
2 teaspoons ground cumin
2 teaspoons onion powder
2 teaspoons garlic powder
2 teaspoons dry mustard
2 teaspoons Kosher salt
½ teaspoon black pepper
2 tablespoon canola oil
2 cups water
½ cup apple cider vinegar
Quick Pickled Cucumbers*
1 cup water, hot from the tap
1 cup white vinegar
2 teaspoons Kosher salt
2 tablespoons sugar
1 small English cucumber, sliced ⅛ inch thick
Additional Items
prepared steamed buns (gua bao)*
prepared sriracha bbq sauce*
1 small bunch scallions, green parts only, sliced into strips
Instructions
Trim the pork shoulder of any excess fat. In a small bowl, combine the paprika, cumin, onion powder, garlic powder, dry mustard, salt, and pepper. Rub the spice mixture all over the pork.
In a large, heavy-bottomed skillet, heat the canola oil over medium-high heat. Once hot, add the pork and sear each side for about 3 minutes, or until slightly charred (don't forget to sear the sides and ends as well).
Transfer the pork shoulder to the slow cooker and add the water and apple cider vinegar. Cook on low for 8 hours.
In the meantime, make the Quick Pickled Cucumbers. Combine the water, vinegar, salt, and sugar in a bowl with a pouring spout (a 2 cup measuring cup works great) and stir until the sugar dissolves. Pack the cucumbers into a container and pour the brine over top. Allow to sit for at least an hour. (Ideally, they should be prepared about 4 hours before you're ready to serve).
Once the pork shoulder is done cooking, remove and set it on a large cutting board or in a large bowl. Using two forks, shred the pork. Then add ½ of the bbq sauce and toss to combine.
To serve: Place several slices of cucumber inside each bun, then some pulled pork, and a few strips of scallions. Serve with the extra Sriracha bbq sauce on the side for anyone who wants a little extra, serve, and enjoy!
Notes
* The Quick Pickled Cucumbers should be allowed to sit for at least an hour and eaten the same day. You want the cucumbers to retain a bit of its crispness.
* The Steamed Buns (gua bao) can be made long in advance. They will keep in the freezer for several months.
* The Sriracha BBQ Sauce can also be made in advance. It will keep in a sealed container in the refrigerator for several months.