Growing up, we always had a leg of lamb with mint jelly on Easter. Leg of lamb is great for large parties, but if you're having an intimate dinner, I love to use loin lamb chops. Not only are they more individualized in size, they only need 8 minutes to cook. Which means, including prep time you can have dinner on the table in about 15 minutes!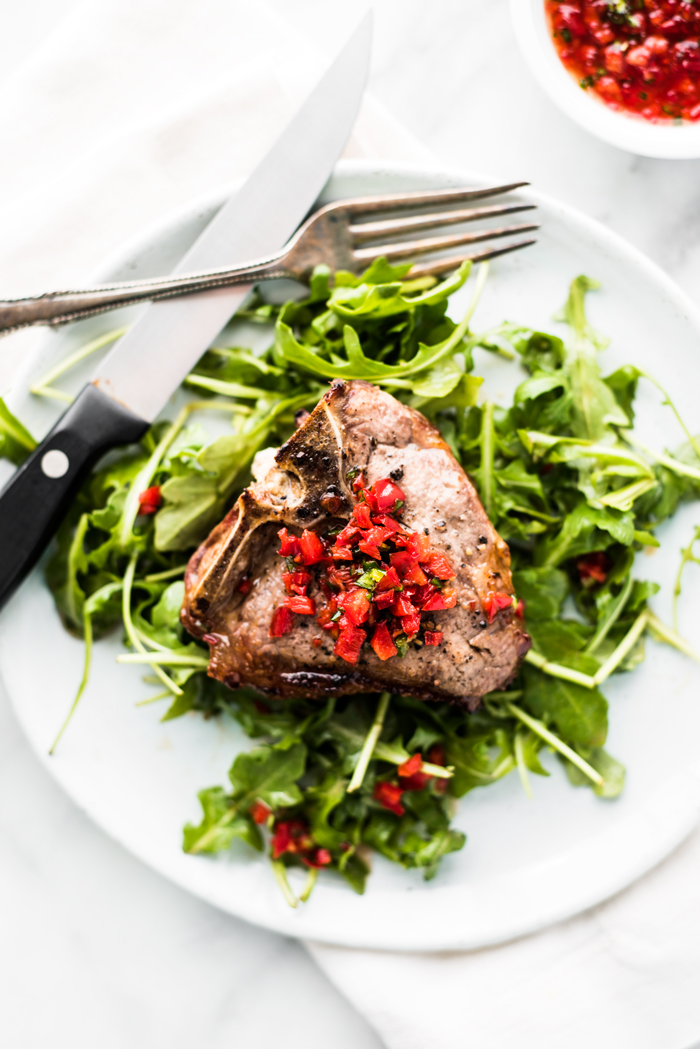 Lamb loin chops are the T-bone steaks of the lamb world. They cook up quickly under the broiler and develop a caramelized crust and a pink, juicy center.  If you've had lamb in the past that was tough or strong-tasting, try a loin chop – it's an incredibly tender cut with a delicately sweet taste.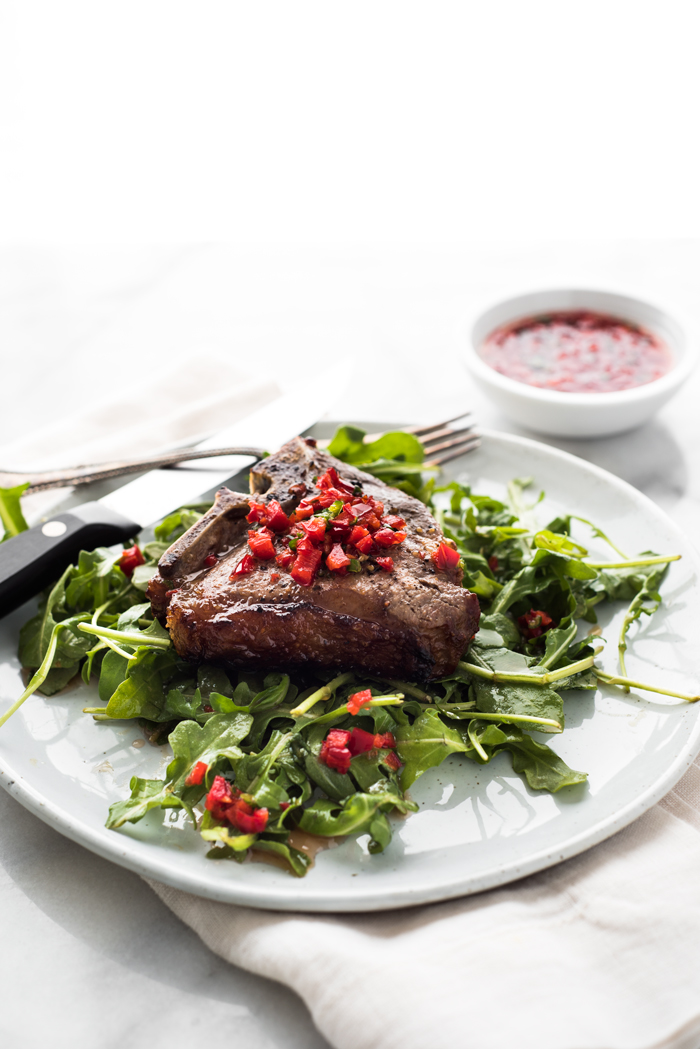 The Honey Pepper Sauce is a refreshing take on a traditional mint jelly. A bit of sweetness from the honey and red bell pepper, a balance of tart from a touch of lime juice, and some heat from a few chili peppers. Paired with the lamb it's an unexpected and delicious twist on a classic.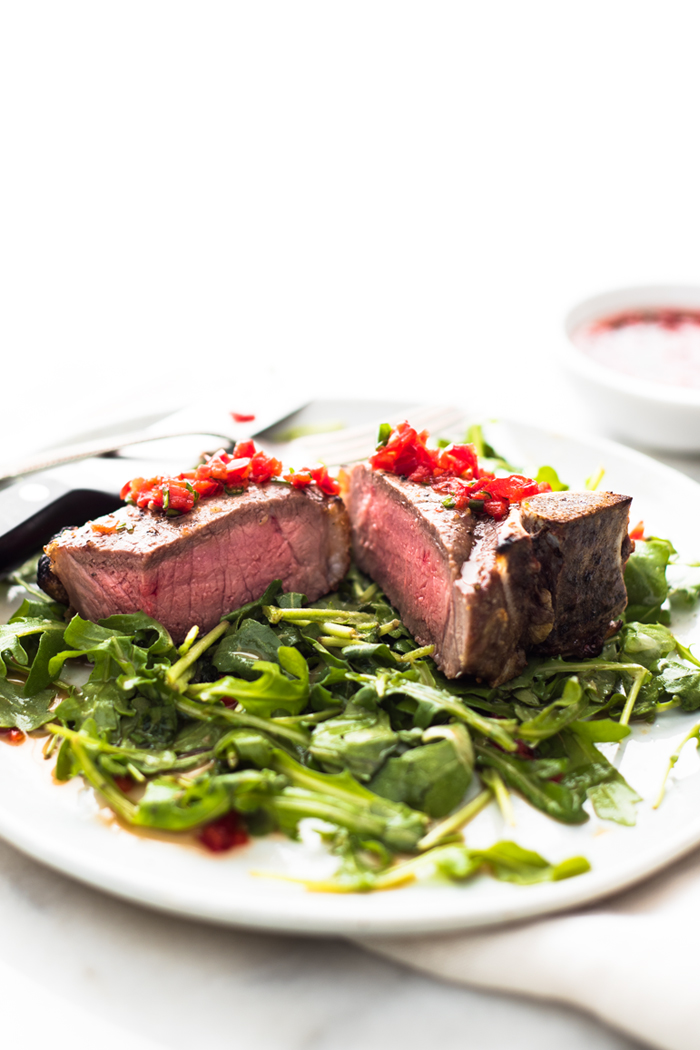 Loin Lamb Chops with a Honey Pepper Sauce
Author:
Kathleen | Hapa Nom Nom
Prep time:
Cook time:
Total time:
Incredibly tender Loin Lamb Cops with a Honey Pepper Sauce atop a bed of dressed greens, made in just about 15 minutes!
Ingredients
Honey Pepper Sauce
¼ cup honey
2 teaspoons fresh lime juice
½ a small red bell pepper, finely chopped
1 - 4 green Thai chilies, seeded and finely chopped*
Lamb
4 lamb loin chops (at least 1-inch thick)
2 tablespoons extra virgin olive oil
Kosher salt
freshly ground black pepper
Dressed Greens (optional)
1 tablespoon red wine vinegar
1 tablespoon fresh lime juice
1 teaspoon Worchestershire sauce
1 teaspoon Dijon mustard
1 clove garlic, minced
¼ cup extra virgin olive oil
Kosher salt
freshly ground black pepper
4 cups packed arugula, or greens of your choice
Instructions
Combine all of the ingredients for the sauce and set aside.
Preheat the broiler and set the rack so the tops of the lamb chops are about an inch away from the heat source.
Line a baking sheet with foil. Place the lamb chops on the sheet pan (line them up along the center so they will all be directly under the heating element) then brush both sides lightly with olive oil. Then season both sides liberally with salt and pepper.
Broil for 4 minutes per side for medium-rare.
If you're making the dressed greens - whisk the red wine vinegar, lime juice, Worcestershire sauce, Dijon, and garlic together in a large bowl. Then slowly drizzle in the olive oil while whisking. Add salt and pepper to taste.
Serve the lamb chops with the honey pepper sauce, dressed greens, and enjoy!
Notes
* Use the number of chilies you like to fit your heat preference. If you cannot find Thai chilies, you may use a jalapeno.
* Recipe adapted from Bobby Flay, Loin Lamb Chop with Jalapeno Preserves