Moving is hard. It has now been 16 days (not including our week long drive out from one coast to the other) that we've been without our household goods. It can be difficult to eat well when you don't have a kitchen, but you can make it happen! All you need is just a few basic kitchen items.
If you are moving, be sure to bring at least these items for the kitchen:
Pot or pan, as big as you're able to carry
Mixing bowl, as large as you're able to carry
Knife, even just a small one
Cutting board
Large spoon for stirring
Can opener
zip-top bags for storage
Now unless you're a badass master chef and/or MacGyver, you won't be whipping up any gourmet meals with this sparse list of cooking utensils, but you'll have enough to at least make some nice homemade meals. And after you've been eating out (cheaply, I might add) for any extended period of time, you start craving something homemade, something fresh, and something that doesn't sit like a lead brick in your stomach.
This Black Bean and Corn Salad is not only healthy and delicious, but it can be made with the minimal kitchen items I noted above. The ingredients are all simple, quick and easy to prepare, and in-terms of spices only requires cumin, salt and pepper. Seriously, how easy is that!?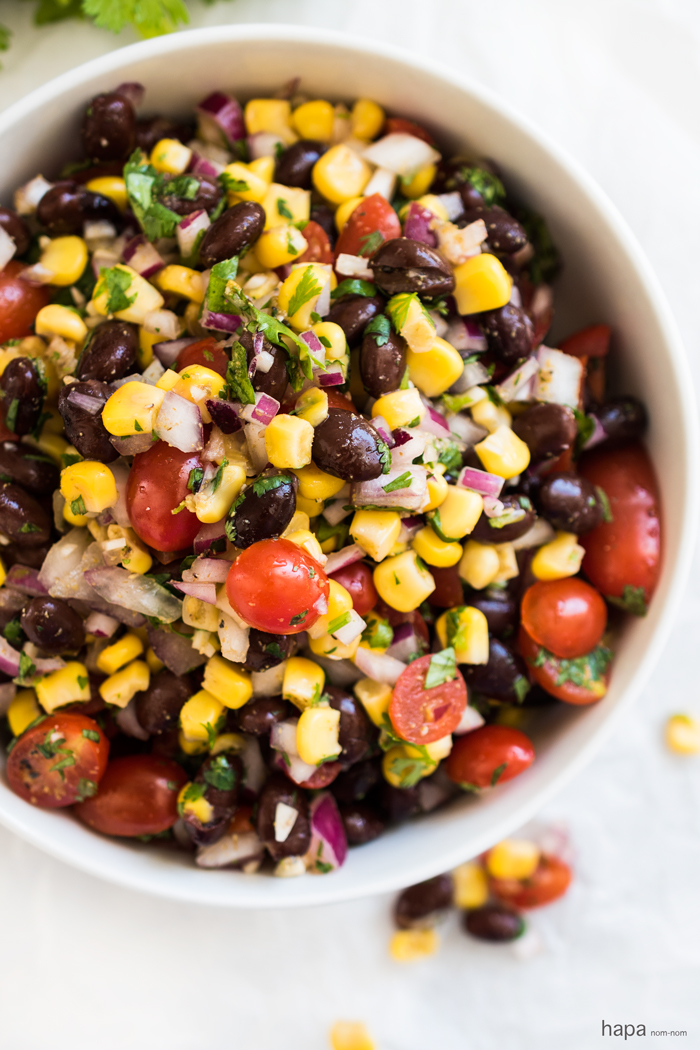 Black Bean and Corn Salad
Author:
Kathleen | HapaNomNom
If you're moving, camping, RVing, going for a picnic, or just want a quick and easy side dish, this Black Bean and Corn Salad is perfect for any occasion.
Ingredients
1-14 ounce can black beans, rinsed and drained
1-14 ounce can corn, drained
1 small red onion, diced
1 pint grape tomatoes, quartered
¼ cup cilantro, roughly chopped
1 lime, juiced
1 tablespoon ground cumin
kosher salt and black pepper to taste
Instructions
In a large bowl, combine all of the ingredients and toss well to combine. Serve and enjoy!