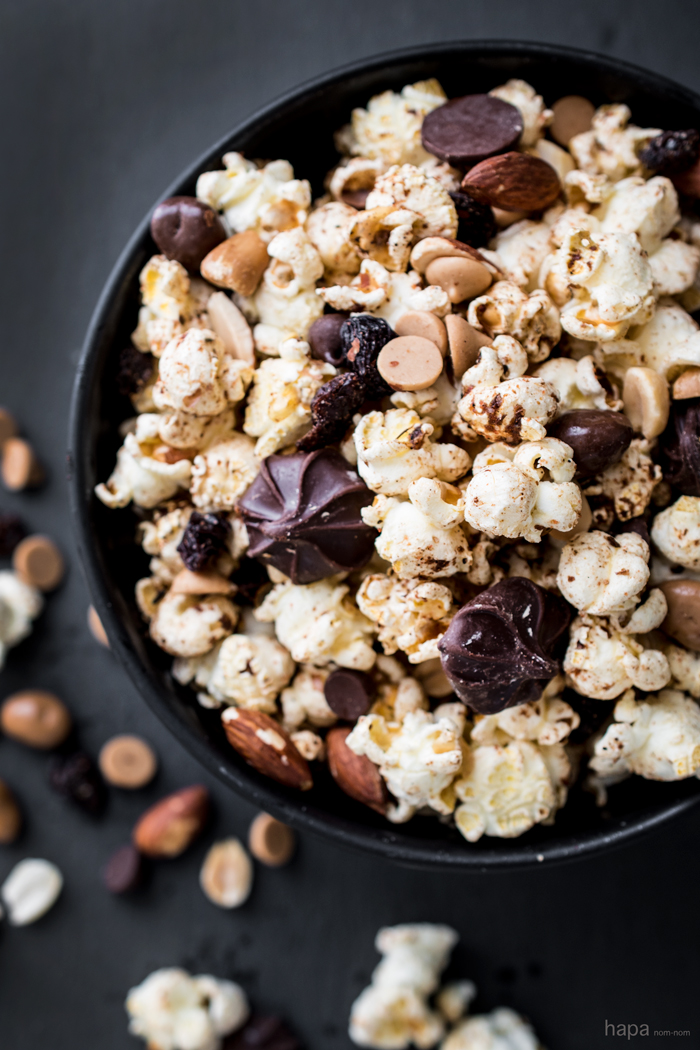 I've got a back-to-back post for you! Generally I would wait to post this on Friday, but I'm heading to Oregon for a camping trip with my cousin (might as well be my sister) and her family.
I've been assigned to food detail, and I have a 4 day breakfast, lunch, and dinner planned for the 5 of us. This Spiced Trail Mix Popcorn is one of the snacks I've come up with – a kick of heat paired with the saltiness of nuts, and the sweetness of chocolate – perfect for noshing at the campsite, picnic, or even movie-night on the couch.

Spiced Trail Mix Popcorn
Author:
Kathleen | Hapa Nom Nom
Prep time:
Cook time:
Total time:
Ingredients
2 tablespoons corn oil
½ cup popcorn kernels
6 tablespoons unsalted butter
½ teaspoon cayenne pepper
2 teaspoons ground cumin
2 teaspoons Cajun seasoning
1½ teaspoon kosher salt
1½ cup trail mix (I like the kind with nuts and chocolate)
Instructions
Pour the corn oil into a large heavy pot with a lid. Place a couple of kernels in the oil, cover the pot, and turn the heat to medium-high. When the first kernel pops, immediately add the remaining popcorn.
Shake the pan over the heat with the lid slightly ajar. When the popping slows to 2-3 seconds apart, turn the heat off.
In a small saucepan, melt the butter over medium-high heat. Add the cayenne, cumin, Cajun seasoning, and salt. Stir until the butter begins to foam.
Immediately drizzle the butter-spice mixture over the popcorn, trying to disperse as evenly as possible. Place the lid over the pot containing the popcorn and shake to distribute.
Once the popcorn has cooled a bit, add the trail mix.* Toss to combine, serve, and enjoy!
Notes
* If you're using a chocolate trail mix, I like to wait for the popcorn to cool to a warm temp. That way the chocolate softens a bit without totally melting. However the preference is totally up to you. If you want the chocolate melted into the popcorn, add it right away. If you want the chocolate to remain solid, wait until the popcorn has completely cooled.