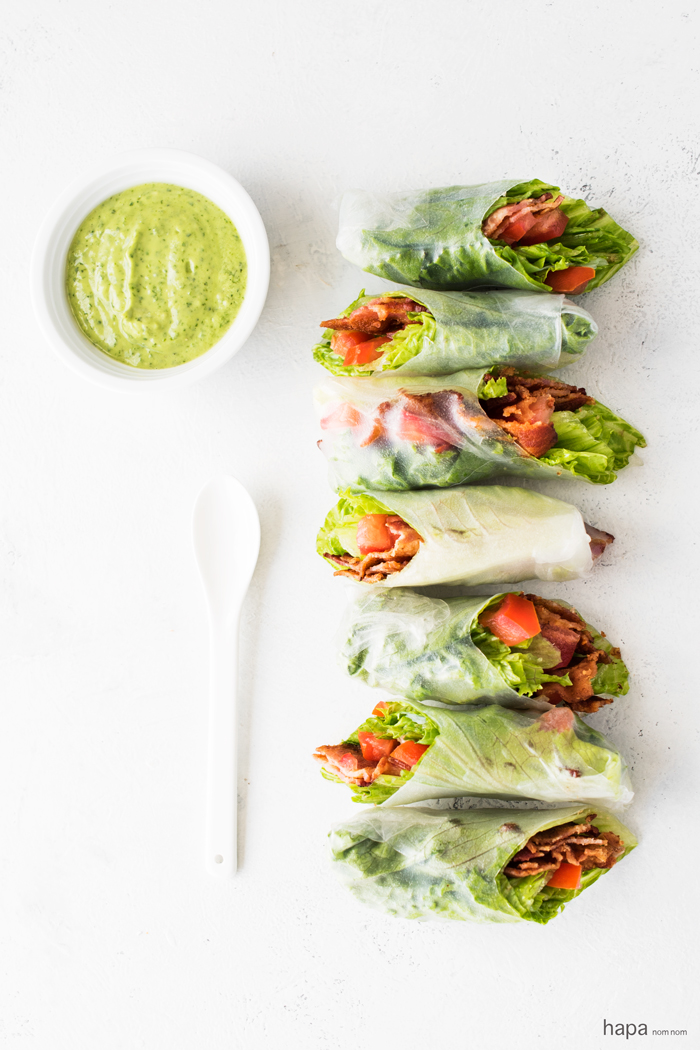 Summer is in full swing folks! That means trips to the pool, the beach, perhaps even a trip to the grocers freezer aisle to cool off if neither of the previous two are available. On hot days, turning on the stove is a big no-no and I use the stove sparingly. That's what's so great about these BLT Summer Rolls – the only thing you need to cook is the bacon; and personally I'm willing to briefly turn on the stove for something as mouthwatering as bacon.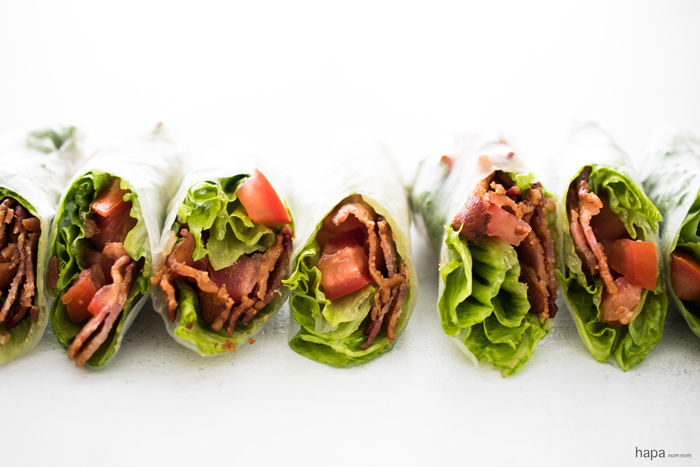 I love summer rolls. They're light, fresh, and oh so good! And they're so versitle! Granted, these certainly are not the traditional Vietnamese variety, but if you want to get a little creative with your food, the sky's the limit (just check out these Lox Summer Rolls).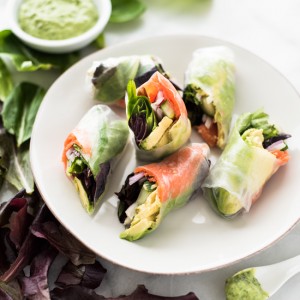 Something else I love… a nice bacon, lettuce, and tomato (BLT) sandwich. It's often my go-to at any diner or deli. Who can resist the crispy lettuce, juicy tomatoes and of course the porktastic bacon?! Certainly not me.
A roll like this only seemed natural – a thin, light rice paper wrapper that gives you more BLT bang for your buck! And the dipping sauce… let me just tell you about the dipping sauce. It's a mix of creamy avocado and tangy crème fraîche – if this were a standard BLT sandwich, I'd slather it all over the bread before piling that bacon, lettuce, and tomato high!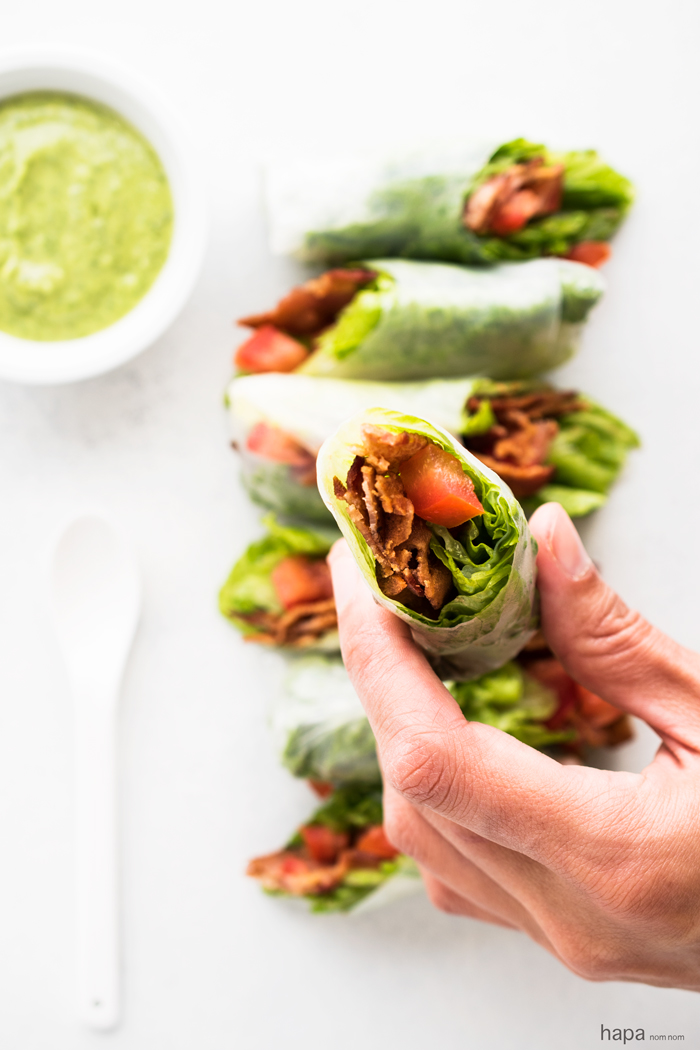 BLT Summer Rolls with Avocado Dipping Sauce
Author:
Kathleen | Hapa Nom Nom
Recipe type:
Appetizer, Entree, Snack
Wrapped in a thin, light rice paper wrapper these rolls give you more BLT bang for your buck!
Ingredients
Avocado Dipping Sauce
½ avocado
¼ cup creme fraiche
1 tablespoon fresh lemon juice
4 mint leaves
Kosher salt
freshly ground black pepper
BLT Summer Rolls
6 rice paper rounds
12 baby romaine lettuce leaves*
6 slices of cooked bacon
1 large tomato, seeded and diced
Instructions
In the bowl of a food processor - add the avocado, creme fraiche, lemon juice, and mint. Add 1 tablespoon of water at a time until you reach your desired consistency. Add salt and pepper to taste. Refrigerate until ready to use.
Fill a large bowl with room temperature water. Working with one rice paper wrapper at a time, dip it into the water so the entire round is submerged. As soon as you have wet the entire round, remove it from the water and lay it on your work surface (the rice paper wrapper will be fairly stiff, but it will continue to soften as you work).
Place a lettuce leaf in the center bottom ⅓ of the wrapper. Then top with the a slice of bacon, some diced tomato, and top with another lettuce leaf.
Fold each side of the wrapper over the filling. Then roll up from the bottom, while using your fingers to compress the filling into the wrapper - roll tightly. (See the VIDEO I created for these Lox Summer Rolls to see how to roll them up).
Slice in half and serve with the avocado dipping sauce and enjoy!
Notes
* I used baby romaine because the smaller leaves were the perfect size for the summer rolls. You can use standard romaine lettuce, just cut the leaves in half horizontally.