Check out the lacquer on these baby back pork ribs!  Incredible!  Right!?  The taste is just as impressive, and can you believe it was made in the oven!?  That's right, get amazing flavor and texture without having to consult your local pit master. Tender, juicy, sweet, and spicy – you'll devour these ribs much like a child would eating their first ice cream cone.   Your fingers (and perhaps even your face) will be orange and sticky – and you'll be in foodie bliss.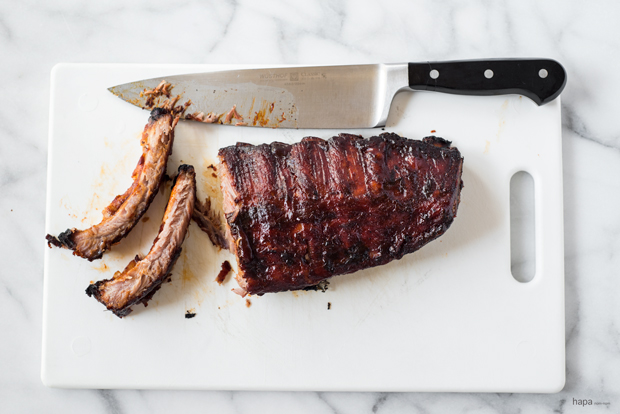 Gochujang (a Korean chile paste) is what gives these Spicy Pork Ribs such great flavor and heat. Generally you can find this at any Asian grocery store. If you haven't used it before, trust me, it won't be one of those ingredients you buy for one dish and then never use again. It has a rich umami flavor, leaving your tastebuds with a full-bodied experience.  Just be aware that gochujang varies greatly in spiciness – depending on the brand, it should indicate the level of heat somewhere on the packaging.  I buy the red box, 'med-hot, level 3′, but feel free to purchase whatever spice level that suits your tastes.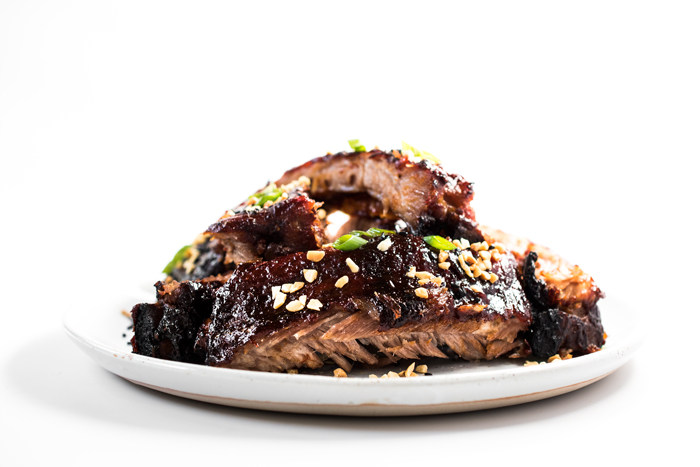 Incase you hadn't noticed, I've been on a Korean food kick recently, but I come by it honestly.  My good friend, Seung Hee was classically trained in Korean royal court cuisine (how freakin' cool is that!?).  Every time we spend the day together, it revolves around cooking and/or eating.  She is a genius in the kitchen and I always learn something new from her and I'm totally inspired.  That being said, last week when we spent the day cooking, she made the most incredible Korean fried chicken I've ever had! Several days later I was still thinking about the wonderful flavors of her fried chicken, and I thought… that sauce would be great on some ribs!  I replicated the recipe the best I could from taste and memory (I hope I did her recipe justice).  Her version was extra fiery, I believe she added gochugaru, a Korean coarsely ground red pepper.  I omitted it to keep this recipe more user friendly for grocery store patrons, but feel free to add some if you have it and want that extra kick.  Just be aware- add slowly, a little goes a long way.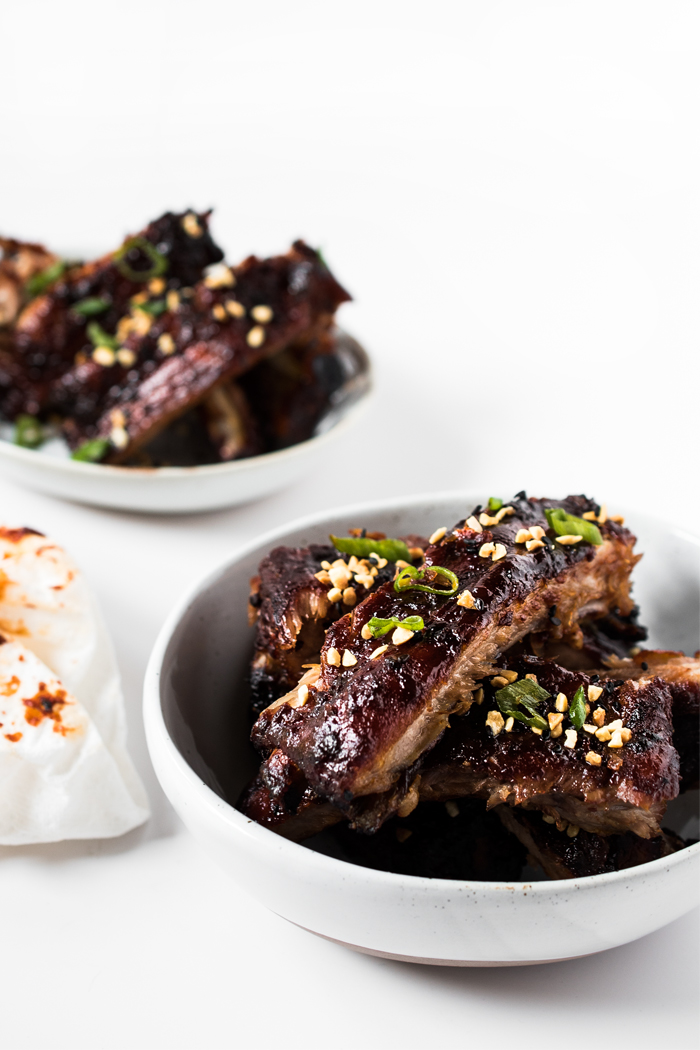 Sticky and delightfully messy, these Spicy Pork Ribs will bring out your inner caveman… or cavewoman.  Just make sure you have lots of napkins on hand… you'll need them.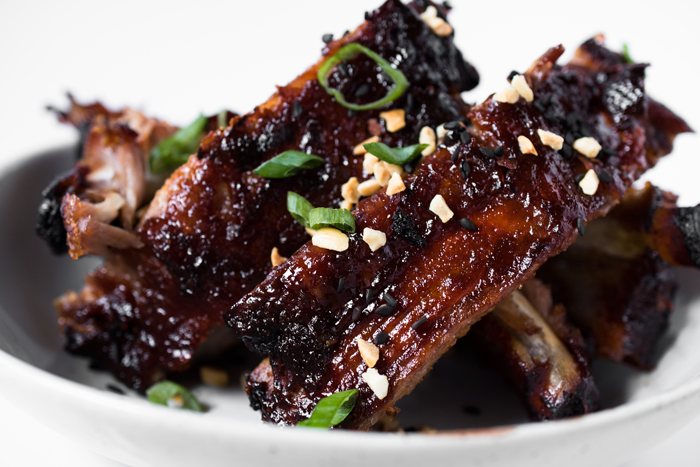 Spicy Pork Ribs
Author:
Kathleen | Hapa Nom-Nom
Prep time:
Cook time:
Total time:
Oven baked Spicy Pork Ribs - they're fall off the bone good! And SO easy to make!
Ingredients
½ cup gochujang
⅓ cup ketchup
1 orange
1 tablespoon soy sauce
1 tablespoon cider vinegar
2 tablespoons honey
kosher salt to taste
1½ pounds baby back pork ribs (about one rack)
2 teaspoons black sesame seeds, garnish
1 tablespoon finely chopped peanuts, garnish
1 scallion, green part sliced, garnish
Instructions
In a medium-sized bowl, combine the gochujang, ketchup, zest and juice from the orange, soy sauce, cider vinegar, honey, and salt to taste. Whisk until smooth.
Line a sheet pan with aluminum foil. On the underside of the ribs, remove the silvery membrane by wedging a butter knife just underneath the membrane, and pull it away form the bone. Using a paper towel in your hand, grab that hunk of membrane you just lifted up and pull back. (Click here to see a video demonstration). Place the ribs on a foil-lined baking sheet, meat side down. Pour half of the marinade over the ribs and evenly brush all over. Flip the ribs so they're meat side up and pour the remaining half of the marinade over the ribs, brushing all over to coat evenly. Cover the entire baking sheet tightly with foil. Chill for at least 2 hours and up to overnight.
Place oven rack in the middle of the oven. Preheat to 300 degrees F. Bake the ribs uncovered for 1 hour. Cover with foil and bake for 30 more minutes. Remove from the oven and allow to rest for 10 minutes.
Slice the ribs into 1 - 2 rib sections. Plate and garnish with black sesame seeds, peanuts, and scallions. Serve and enjoy!