Full of perfectly balanced, complex flavors, with lots of easy to find ingredients – this Shrimp Pad Thai is great for the everyday home cook!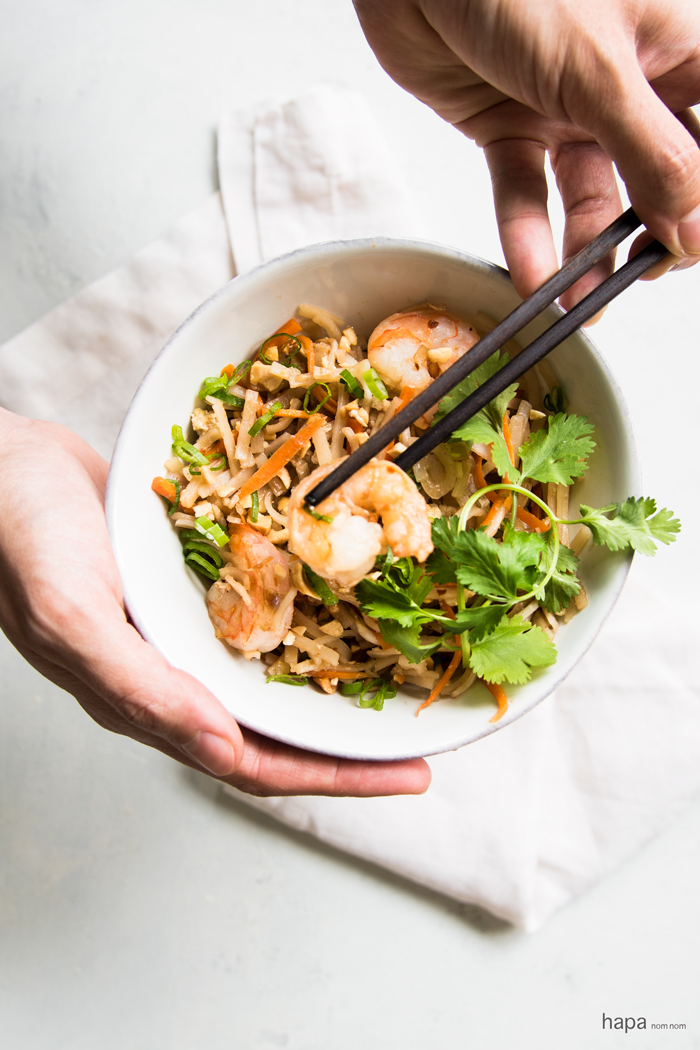 Pad Thai is arguably one of the most popular dishes to come out of Thailand. And for good reason! Great Pad Thai is lightly bodied, with complex, vibrant flavors, and well-balanced. The problem is, to get those perfectly balanced flavors, you're often presented with a laundry list of hard to find ingredients. Go too far to the other end of the spectrum and you whittle away some of those incredible and distinct flavors, leaving you with a bland dish. Enter Easy Shrimp Pad Thai. Save for the tamarind juice (we'll get to that), everything else is pretty easy to come by and can be found at most general grocery stores. And most importantly, the dish remains delicious with those distinct flavors intact. 
So let's get to the tamarind that we mentioned above – it's the only ingredient in this recipe that may require a special trip or online order. The tamarind tree, indigenous to Africa, has been cultivated throughout the world – predominately in South Asia and Mexico. In fact, India is its current leading producer. Open up one of these pods and you'll find a few large inedible seeds, incased in a thick and sticky, fruit pulp. The tart and slightly sweet pulp is what gets used, and it's what gives Pad Thai it's distinctive flavor. It's totally unique and therefore makes finding a suitable substitution difficult if not entirely impossible. If you have an Asian, Indian, or Latin grocery store nearby, check there. I've also seen it at some of those farmers market-type stores. Otherwise go online, you'll definitely find it there. 
As for the rest of the ingredients, most grocery stores these days seem to have an international and/or Asian section. There you should be able find fish sauce and rice noodles. Everything else can be easily found throughout the store and you may even have the rest of the ingredients at home already!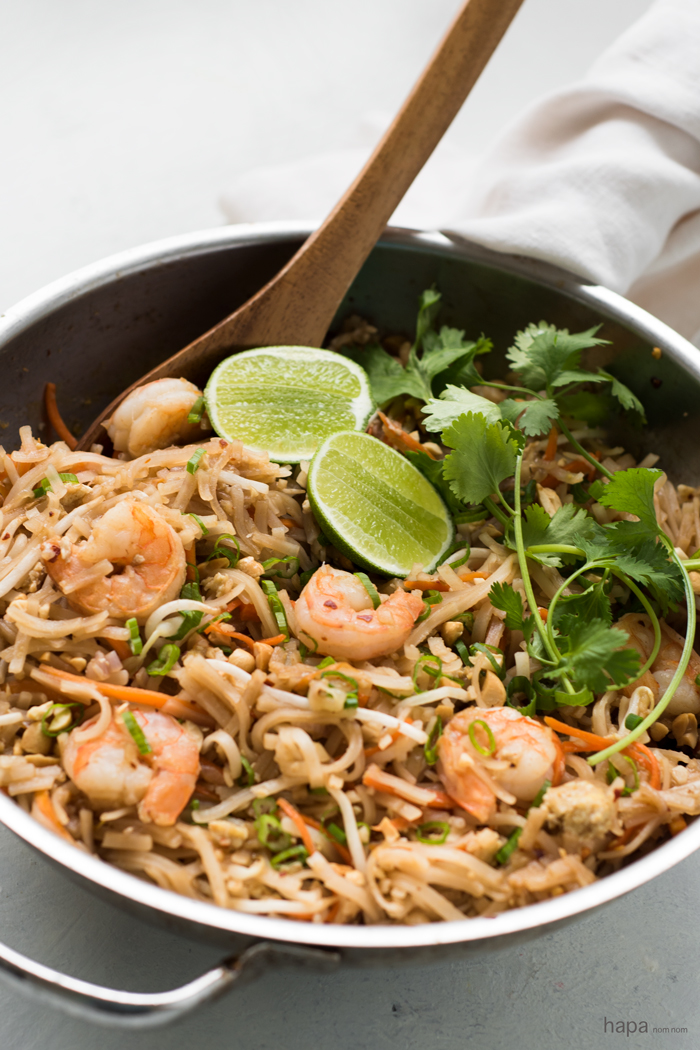 As with any stir-fry, it's vital that you prep all of your ingredients before you start cooking. One of the great things about stir-fry is that it's very quick. However, it's greatest attribute can quickly turn into a disaster if you aren't prepared. Reason being, as you're adding and layering ingredients in a smoking hot pan over high heat, your cook time may be as little as a few seconds. That's why it's imperative that you have all of your ingredients portioned out and ready to go by the cooktop.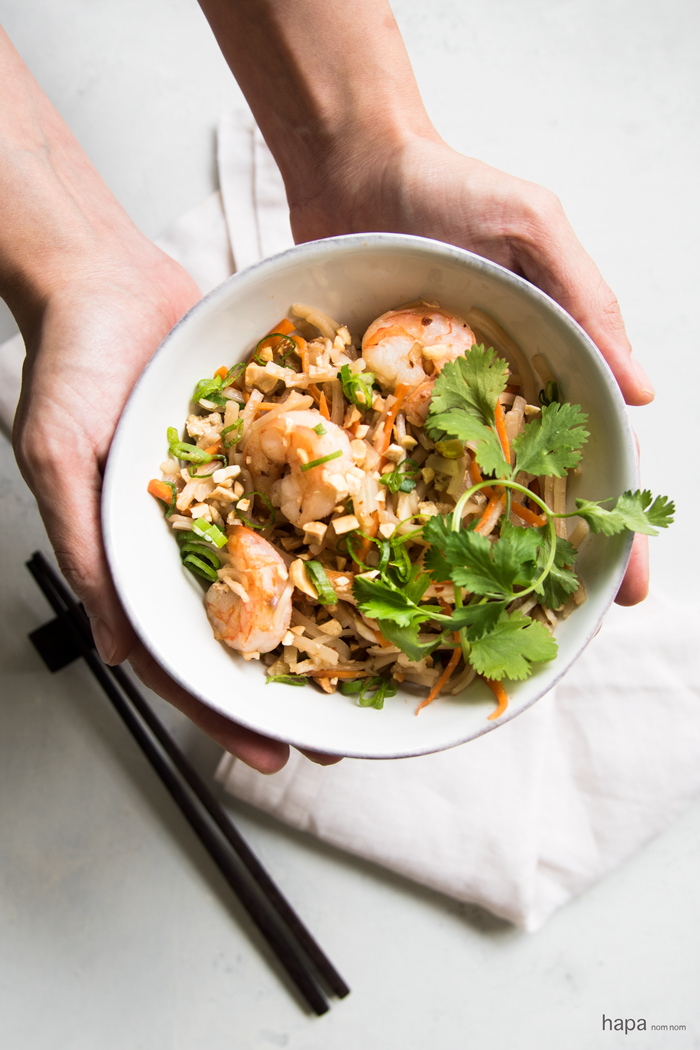 Easy Shrimp Pad Thai
Author:
Kathleen | Hapa Nom Nom
Prep time:
Cook time:
Total time:
Full of perfectly balanced, complex flavors, with lots of easy to find ingredients - this Shrimp Pad Thai is great for the everyday home cook!
Ingredients
Sauce
4 tablespoons fish sauce
½ cup brown sugar
½ cup tamarind juice*
4 cloves garlic, minced
Stir-Fry
8 ounces dried Pad Thai Noodles (also known as stir-fry rice noodles)
2 tablespoons peanut oil
½ pound fresh shrimp, shelled and deveined (you can buy them already deveined for ease)
4 cloves garlic, minced
2 shallots, halved and thinly sliced
½ - 1 teaspoon crushed red pepper flakes (according to your desired spice level)
1 medium carrot, cut into matchsticks
2 eggs
1 cup mung bean sprouts
Garnish
¼ cup unsalted roasted peanuts, chopped
a few sprigs of cilantro, leaves
3 scallions, green parts only, thinly sliced
1 lime, cut into wedges
Instructions
In a small sauce pan set over medium-low heat, add the ingredients for the sauce. Simmer until the sugar has completely dissolved, then set aside.
Place the noodles in a large bowl and pour hot water overtop to cover. Soak according to the package directions, or until slightly firmer than al dente (about 7 - 8 minutes). Drain in a colander, rinse under cold water, and set aside.
Prepare a plate lined with a paper towel. Heat a large wok or sauté pan over high heat until very hot. Add the oil. Then add the shrimp and quickly stir-fry until just pink and almost cooked through. Remove from the pan using a slotted spoon and set aside on the paper-lined plate.
Add the garlic, shallots and red pepper flakes to the remaining hot oil. Stir-fry for 15-20 seconds (do not let it burn).
Add the noodles and stir-fry for about a minute. Add the sauce and carrots, toss. Then add the shrimp and toss again.
Move everything to the side and crack the eggs on the other side and lightly scramble.
Add the mung bean sprouts and toss everything together. Test the firmness of the noodles – if they're still too firm, stir-fry for another minute. Remove from heat and garnish with the peanuts, cilantro, and scallions. Serve with lime wedges and enjoy!
Notes
* Tamarind Juice - You can buy premixed tamarind juice or you can make your own from concentrate. If you're making it from concentrate, purchase a package of compressed tamarind pulp and cut off 1 tablespoon of paste. Soak it in ½ cup of warm water for about 20 minutes. Squeeze out the pulp, discard, and use the remaining liquid.

* IMPORTANT - as with any stir-fry, once you start cooking, the dish comes together very quickly. So make sure that you have prep'd and portioned out all of the ingredients before you begin cooking.