Portable and healthy, this Japanese-style sandwich, known as Onigirazu makes for a perfect light lunch or picnic dish.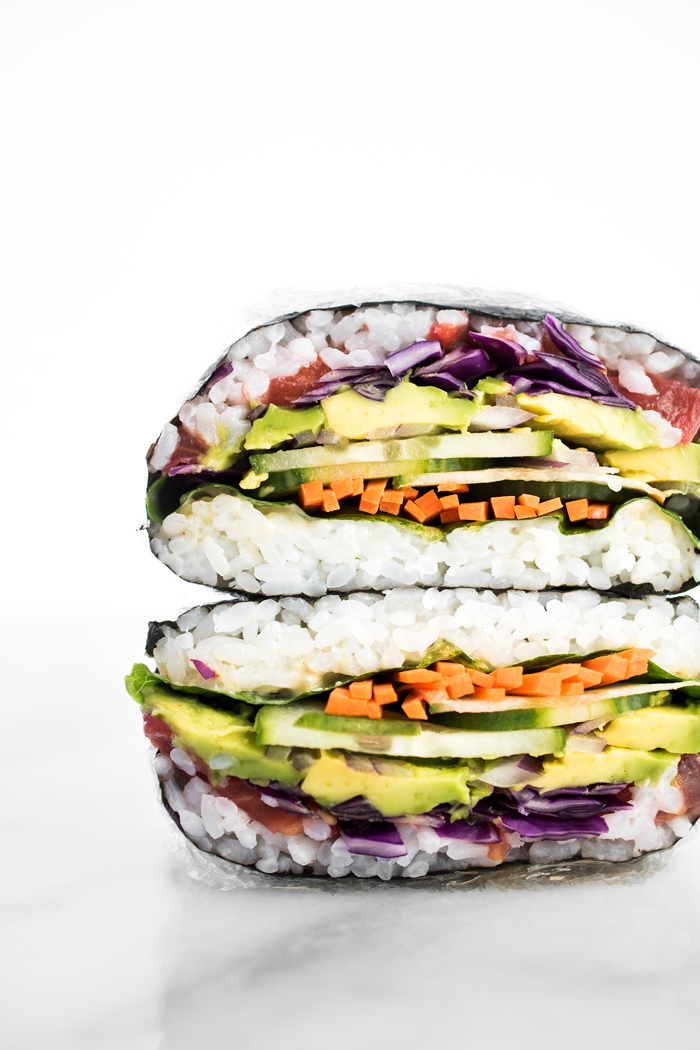 Onigirazu is the culmination of several words – onigiri and nigirazu. Onigiri is a Japanese rice ball made from good quality white rice.  Often, a portion of it is wrapped with nori (seaweed) and contains a small filling.
Onigiri comes from the word 'nigiru', meaning to grasp or hold tightly with your hands (which is how the rice balls are formed). 'Razu' generally makes something negative, so to say 'nigirazu' would mean to not mold with your hands. And to finally bring it all together,  onigi-razu or o-nigirazu (depending on how you want to look at it) becomes a Japanese rice sandwich wrapped in nori and not molded firmly in your hands. Therefore it's often easier for first-timers to make.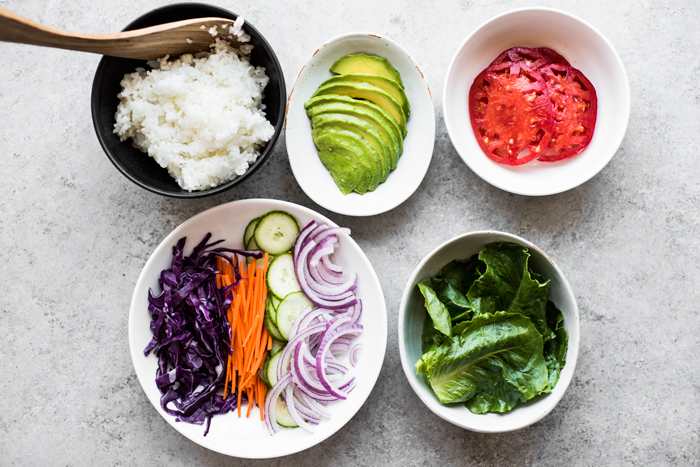 It's no wonder this nori-wrapped sandwich has gained such popularity in Japan over the past few years!
It's portable, making it great for kid and adult lunches.
It's easy to make!
And you can get really creative with the filling and pile em' high! Here are some filling ideas:

Chicken Katsu (fried chicken)
Tonkatsu (fried pork) 
Tofu
BLT
Ham and Cheese
Club Sandwich
Bacon, Egg, and Cheese
Avocado and Lox
Egg Salad Sandwich
Poke-style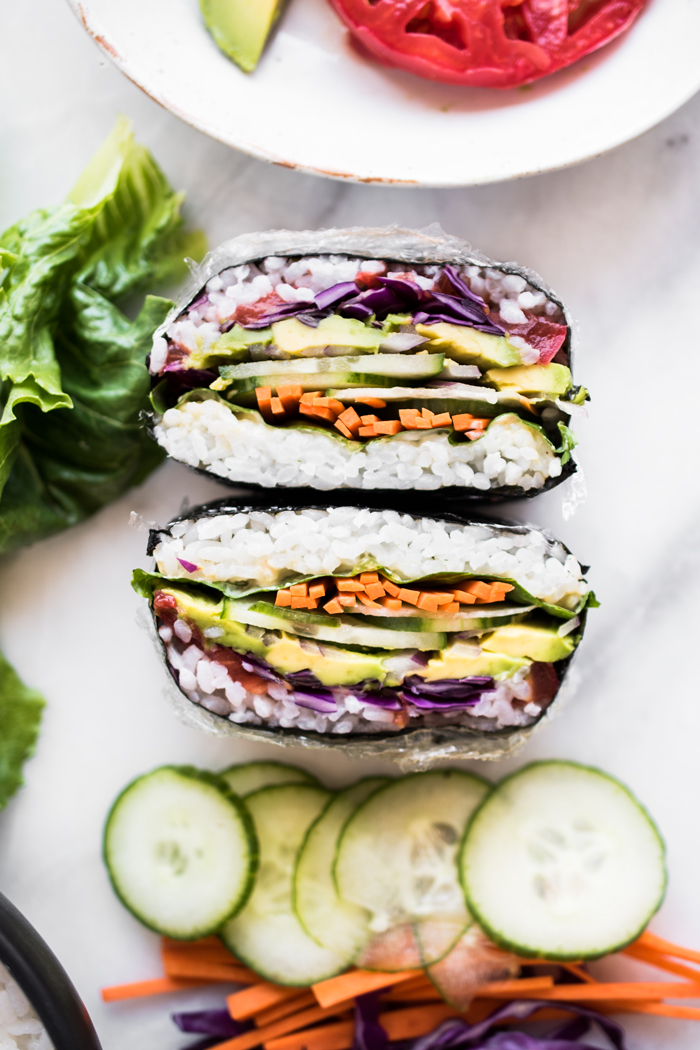 Super Veggie Onigirazu
Author:
Kathleen | HapaNomNom
Portable and healthy, this Japanese-style sandwich, known as Onigirazu makes for a perfect light lunch or picnic dish.
Ingredients
1 sheet of nori
½ cup - ¾ cup short grain sushi rice, cooked
mayonnaise, to taste
Dijon mustard, to taste
2 small leaves of romaine lettuce
½ a small carrot, peeled and julienned
⅛ of a small English cucumber, thinly sliced
a few slices of thinly sliced red onion, halved
¼ of a large avocado, sliced
⅛ of a small red cabbage, thinly sliced
1 slice of a large tomato
Kosher salt and freshly ground black pepper, to taste
Instructions
Place a square piece of plastic wrap on your work surface and then place the sheet of nori (shiny side down) with a corner pointing up, on top of the plastic wrap.
Form a thin layer of rice into the shape of a square in the center of the nori sheet, with the flat sides facing up/down and side-to-side (see video). It helps to wet your fingers when your shaping the rice.
Spread the mayo and mustard on top of the rice and sprinkle with salt and pepper. Then pile on the veggies. Spoon some more rice on top of the veggies and form into another square. Tightly, but gently fold up the corners of the nori so that it completely covers the rice. Then fold up two corners of the plastic wrap to cover the nori and hold it in place. Place a piece of julienned carrot perpendicular to the way the ingredients run on top so that you know which direction to slice the onigirazu. Then fold up the last two sides of plastic wrap and set aside for at least 5 minutes and up to overnight.
When ready to serve, slice the onigirazu along the length of the carrot you placed on the outside, remove the plastic wrap and enjoy.
Notes
* Inspired by I am a Food Blog, Ultimate Veggie Sandwich