Light, refreshing Avocado Tuna Poke Bowl – loaded with healthy ingredients and complimenting flavors and textures! There's a lot going on in one little bite!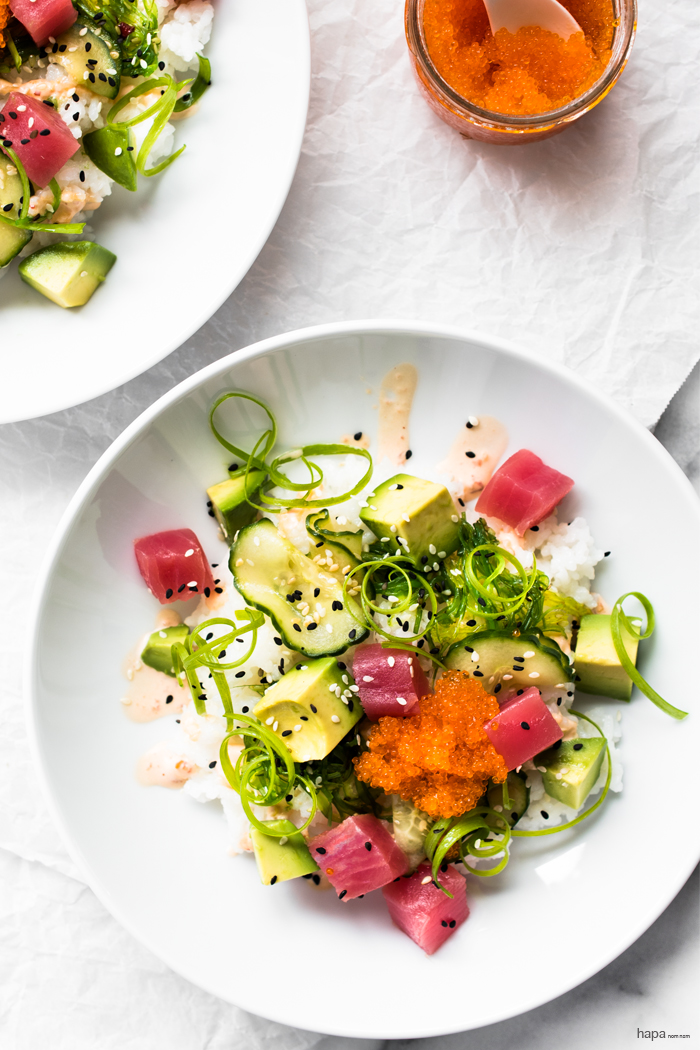 The Poke Bowl is trending, and for good reason!  It's easy, healthy, versitle, and above all delicious! 
My grandfather on my Japanese side was born in Hawaii, but sadly I have not yet been. I'm hoping now that we're living in California, a trip there will soon be on the horizon. Ahem… Mr. Hapa Nom Nom? 😉
If you're not familiar with a poke bowl (pronounced POH-kay), it's a Hawaiian staple with influences from Japanese, Korean, and other Asian cuisines. The combinations and varieties are endless. The base is a good quality short grain Japanese rice (sometimes labeled as sushi rice) and sushi grade tuna cut into pieces. Although other types of proteins have made its way into the bowl – salmon, octopus, tofu, even grilled salmon (which makes great use of leftovers).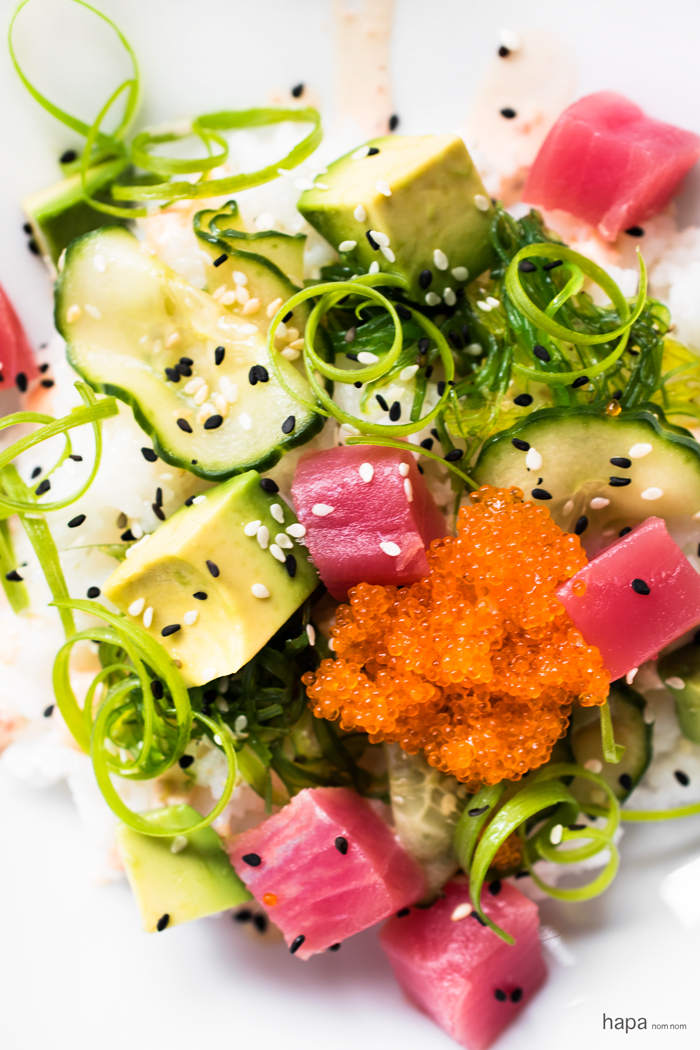 Some people like to dress their tuna with soy sauce, a combination of soy sauce and sesame oil, ponzu sauce, or as I prefer – simply seasoned with sea salt. As far as the toppings go… the sky's the limit – Macadamia nuts, furikake (Japanese seasoning), scallions, seaweed, really it's whatever you like. Personally I like to make sure there is some crunchy element in my toppings to give a variety of texture. 
These dish is amazing on so many different levels! So grab yourself a bowl… grab a poke!
Avocado and Tuna Poke Bowl
Author:
Kathleen | Hapa Nom Nom
Recipe type:
Appetizer/Entrée
Light, refreshing Avocado Tuna Poke Bowl - loaded with healthy ingredients and complimenting flavors and textures! There's a lot going on in one little bite!
Ingredients
1 cup Japanese short-grain/sushi rice or good quality white rice
2 tablespoons rice vinegar
1 tablespoon Sriracha
¼ cup mayonnaise
2 cloves garlic, minced
⅓ pound sushi grade tuna*
sea salt
½ cup prepared seaweed salad*
prepared Japanese cucumbers
2 scallions, green parts only, thinly sliced into strips
1 avocado, diced
2 teaspoons black sesame seeds
2 teaspoon white sesame seeds
2 tablespoons tobiko (flying fish roe)
Instructions
Rinse the rice until the water runs clear and drain. Cook in a rice cooker according to the manufactures directions. If you don't have a rice cooker - place the rice into a heavy-bottomed pot. Add 1 cup of cold water and bring to a boil. Cover and cook over moderate heat for 10 minutes. Reduce the heat to low and cover for 10 minutes more. Remove from heat and allow to sit, covered for 10 minutes. Then drizzle evenly with rice vinegar and gently toss.
In a small bowl, combine the Sriracha, mayo, and garlic. Refrigerate until ready to use.
Cut the tuna into ½ inch pieces and season to taste with sea salt.
Divide the rice evenly among two large bowls. Drizzle with the Sriracha-garlic mayo (use your desired amount), top with the tuna, seaweed salad, cucumbers, scallions, avocado, sesame seeds, and fish roe.
Serve immediately and enjoy!
Notes
* Selecting Seafood - 1.) Go to a reputable vender – one that goes through a lot of fish. 2.) Observe or ask if their 'sushi-grade' fish is prepared and stored separately from their other fish – this will prevent cross-contamination. 3.) Use your senses – smell, touch, and sight. The fish should only smell like the ocean, it should be firm to the touch, and the color should be bright and vibrant.
* Most general grocery stores these days have a sushi counter with prepared containers. They should have seaweed salad there.
* Inspired by
Bon Appétit