The flavors in this Thai Red Curry Pork and Crispy Tofu are bright and complex, with a nice down-home, comfort food quality. 
Last weekend Mr. HNN and I went out to Point Reyes with a couple of friends for a picnic and some hiking. In true northern California fashion, our day started off cold, grey, misting, and incredibly windy. My husband and I (the new NorCal transplants) looked at each other like uh… it is July, right?
We hiked down to the light house, which the placement of such a structure always seems to be at the most unforgiving point in a coastal landscape; the fog was heavy so we couldn't see much more than 100 yards out into the ocean – but it was still a stunning sight.
We hiked back up and found an accessible spot by the ocean for our picnic. Unfortunately it was far too cold and windy to actually enjoy our lunch on the beach so we kind of hunkered down behind our cars and had our picnic there. It was only after our picnic that the fog lifted and blue skies appeared – of course 😉  If you're interested in what we had, I made:
So what does this have to do with Thai Red Curry Pork and Crispy Tofu? Well after a long day of hiking and climbing, I needed some major sustenance and nutrients. I wanted comfort food without it being too heavy. 
The flavors in this dish are bright and complex, but there's a nice down-home, comfort food quality. Personally, I like the combination of proteins – but feel free to use all pork or all tofu if you prefer one over the other. It's so easy just to make this into Thai Red Curry Pork or Thai Red Curry Crispy Tofu!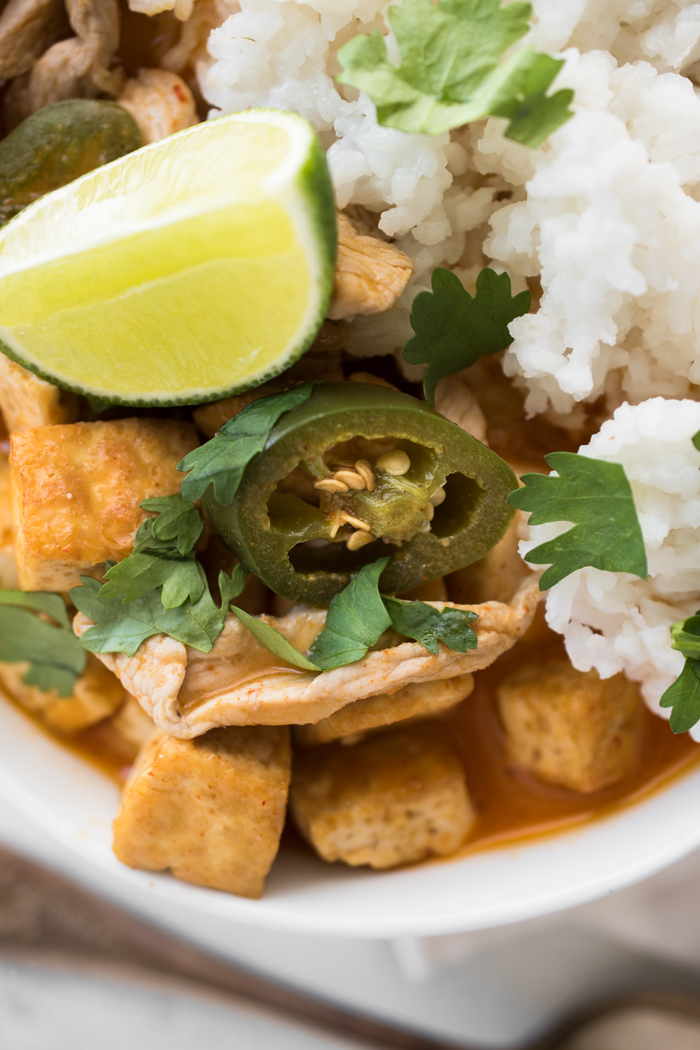 Thai Red Curry Pork and Crispy Tofu
Author:
Kathleen | Hapa Nom Nom
Prep time:
Cook time:
Total time:
The flavors in this Thai Red Curry Pork and Crispy Tofu are bright and complex, with a nice down-home, comfort food quality.
Ingredients
1 cup white rice
vegetable oil, for cooking
14 ounces extra firm tofu, cut into 1 inch cubes and patted dry
Kosher salt
freshly ground black pepper
1 cup good quality chicken stock
1 (14 ounce) can unsweetened coconut milk, shaken
1 tablespoons fish sauce
1 tablespoon fresh lime juice
1-2 tablespoons red curry paste
2 teaspoon brown sugar
1-2 jalapenos, sliced
2 kaffir lime leaves, bruised
½ pound boneless pork loin, thinly sliced
fresh cilantro, garnish
Instructions
Rinse the rice until it runs clear and cook according to the package directions.
Line a large plate with paper towels and set aside. Fill a large non-stick sauté pan with ¼ of vegetable oil. Add the tofu and heat over medium-high heat (you want to add the tofu to a cold pan because if you add it to a hot pan, any excess moisture in the tofu will cause the oil to pop and spatter). Season with salt and pepper. Cook for 15-20 minutes, or until lightly browned on all sides. Using a slotted spoon, remove the tofu and allow to cool on the plate lined with paper towels. (Reserve 1 tablespoon of the oil in the pan).
Meanwhile, in another large pan add the chicken stock and bring to a boil. Allow the stock to simmer until reduced by half. Then add the coconut milk, fish sauce, lime juice, curry paste, sugar, jalapeno, and kaffir lime leaves. Allow to simmer for 5 minutes.
Add the pork and allow to cook for 3-5 minutes, until cooked through.
Add the crispy tofu and toss to combine. Remove the Kaffir lime leaves and serve the red curry pork and tofu, over rice, add the sauce from the pan, and garnish with cilantro. Serve and enjoy.
Notes
* Recipe easily doubles.