Spaetzle literally means 'little sparrows'.  These small egg dumplings are s staple in southern Germany and the surrounding countries. I have a little story to go with these little dumplings.  When my husband (then boyfriend) and I started dating, I thought I would impress him with my culinary prowess and make one of his favorite childhood dishes from Germany. Yeah… I left an impression alright. I don't ever recall having spaetzle prior to our relationship, let alone making it; so I really didn't have any idea what it was supposed to look like or how it was supposed to taste.  
When I read the directions for making the dough, it said nothing about consistency.  I was thinking it should be like pasta dough – pliable, but not at all wet and sticky.  Well let me tell you right now, it needs to be wet and sticky!  I tried to push the relatively dry dough through a spaetzle maker and could barely press anything through.  To be perfectly honest, the small amount I was able to press through and into the water looked like little turds.  Certainly not like whimsical 'little sparrows'.  
The next time I made them, I did my homework. Once I knew what the consistency of the dough needed to be, I got to work. The dough came together well and it practically dripped  into the pot of boiling water (with a little assistance from a press – exactly what you want). Immediately I knew this batch was going to work – they looked perfect! After a quick toss with brown-butter and  little fresh parsley, my husband took a bite and with a genuine smile said,  'This is exactly how they're supposed to taste'.  This time, I knew he meant it.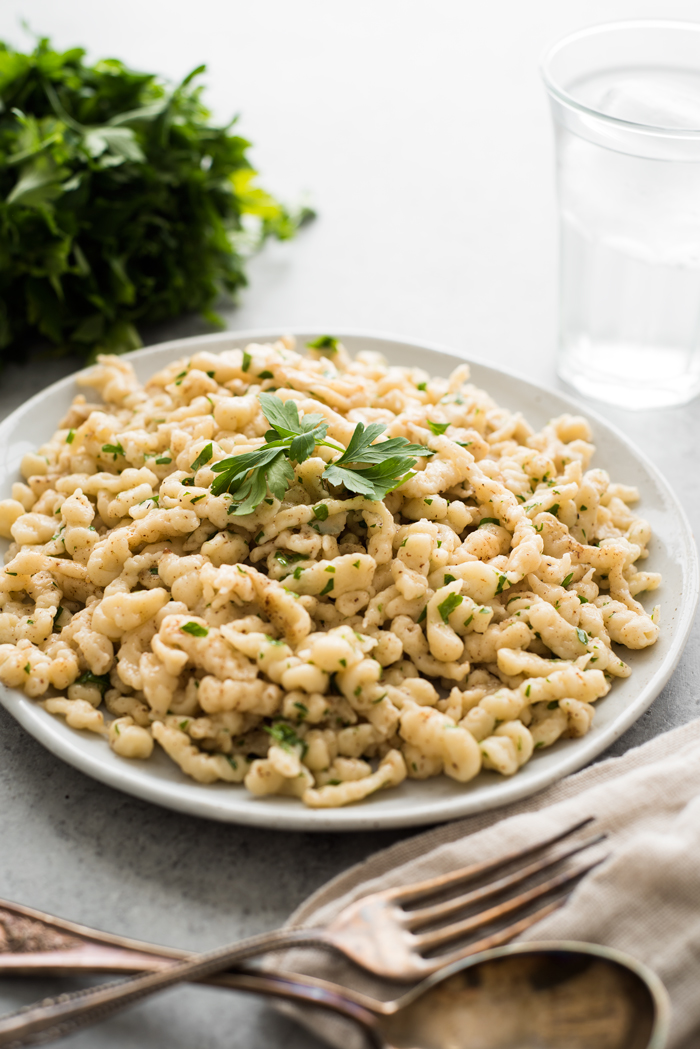 Update: 
I have made this dish numerous times since my first attempt and they're always a hit! That being said, I always used a spaetzle maker. A spaetzle maker looks a bit like flat, large-holed cheese grater with a sliding box on top. As you slide the box, the dough drips into a pot of boiling water. As a single purpose kitchen item, I wanted to make an alternative suggestion for those that don't want or need yet another specialized kitchen gadget. I read on a number of forums that a colander could be used. It made sense to me, it had a firm surface with holes that could be set over a pot of boiling water. Well… as it turns out, that doesn't work so well. The holes just aren't big enough for the dough to easily drip through.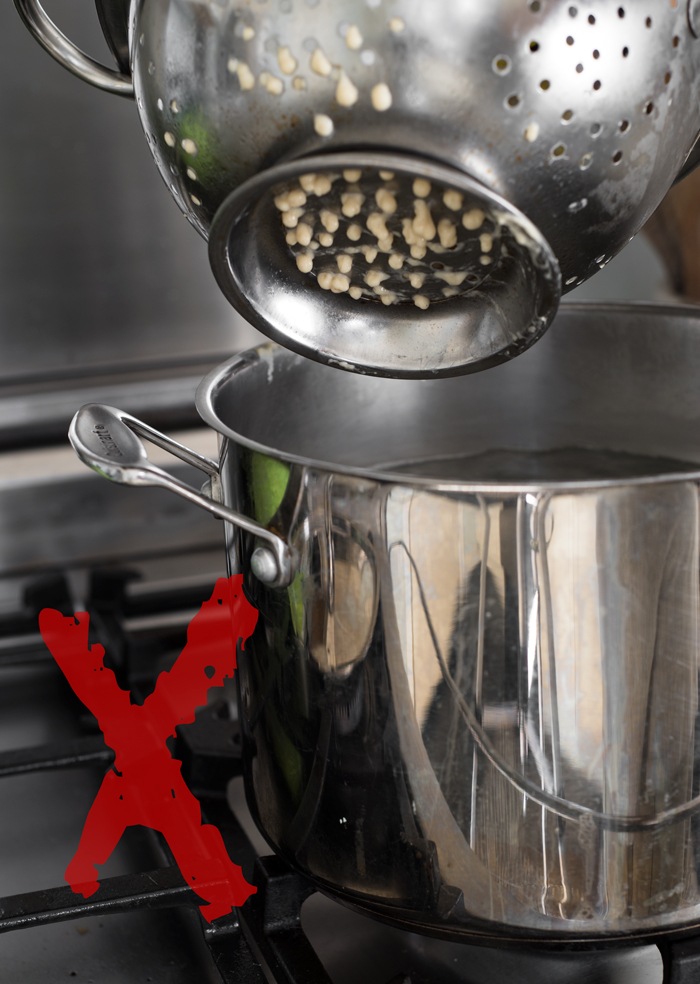 It was back to the drawing board; this time in terms of kitchen gadgets. I did some more research and here are the alternative suggestions I found and my thoughts: 
Pushed through a colander – seems like it would work, but in reality the holes are just too small to press the dough through. You probably could if you really wanted to put some elbow grease into it, but you're going to be at it all day. 
another one that seems like it could work. When put to the test, the dough clumped together – even when trying smaller batches and using a knife to cut them as they dripped into the pot of boiling water. 
Pressed through a potato ricer –
Pressed through a large-holed cheese grater – yet another one that seems like it would work. Except with most flat cheese graters, half of the grater is small-holed, leaving you with just a few inches of space to work the dough through the holes. Just a headache. 
Formed by hand – that just sounds like the making of a mental breakdown, not even gonna go there. 
Perforated hotel pan – why ruin a perfectly good pan when you can buy a spaetzle maker for cheap?
Dripped from a cutting board and cut with a knife – this is another one that would test my patience, not going to do that to myself. 
Mind you, all of these suggestions were made by people claiming that their oma (German word for grandma) made them this way. Now I am certainly no oma and I would place them up there with your Italian grandmother when it comes to making pasta sauce – they just have magical abilities when it comes to their food. So I'm not saying anyone is a liar, far from it. I'm just saying that perhaps these methods aren't the best for someone new to spaetzle making.  
Conclusion: Buy a spaetzle maker! I know it's a single purpose kitchen tool, but it's cheap (mine was $10), and it doesn't take up much room. If you want to make spaetzle, a spaetzle maker is worth your sanity.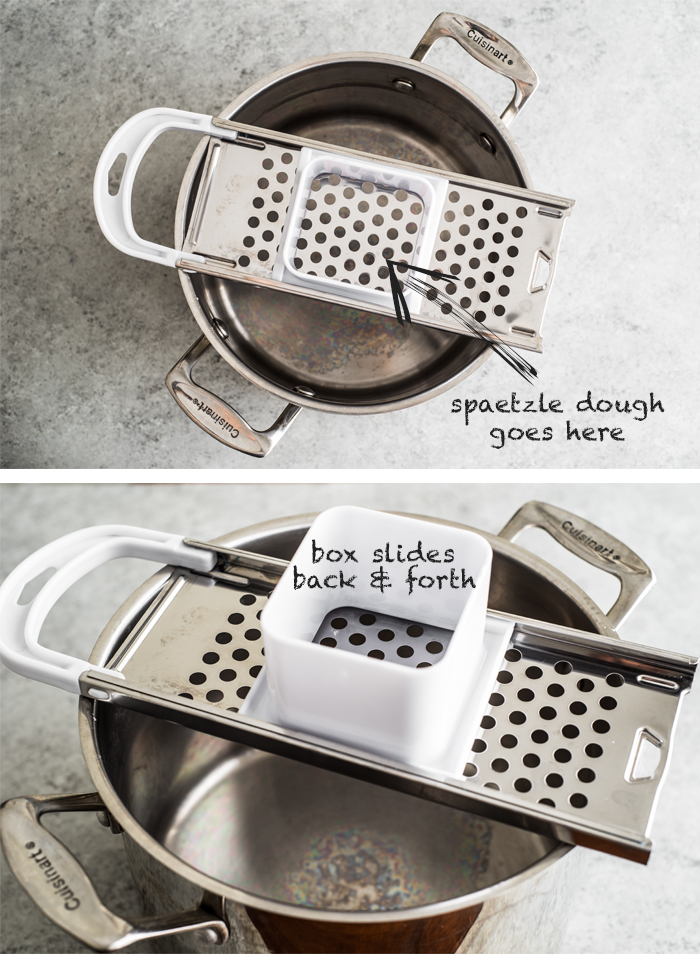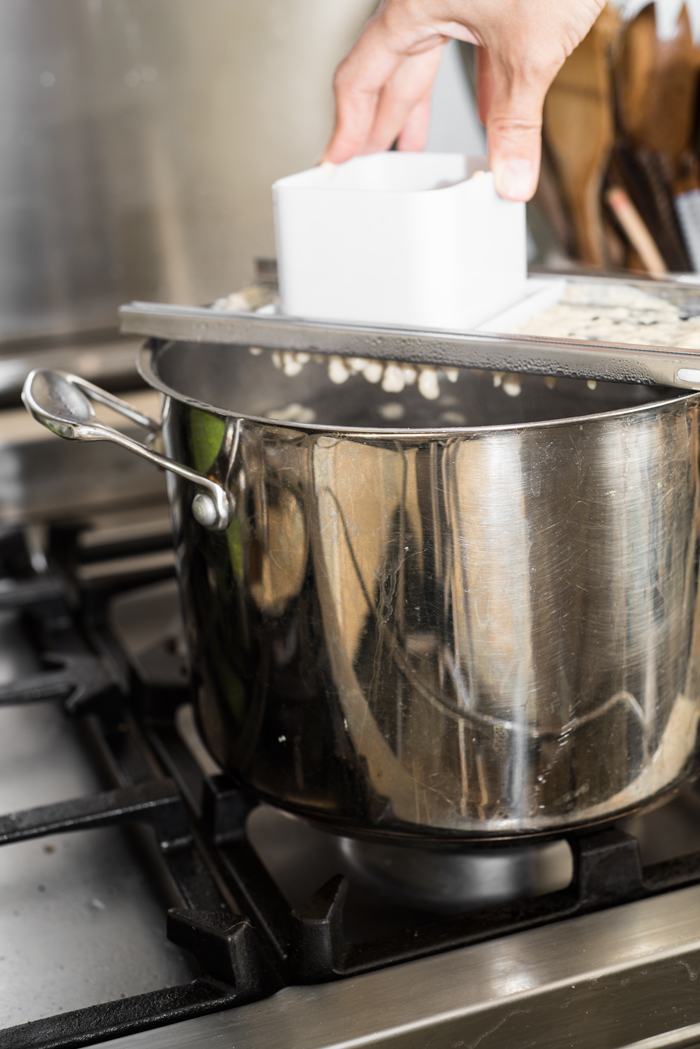 Homemade Spaetzle in Brown Butter
Author:
Kathleen | Hapa Nom Nom
Prep time:
Cook time:
Total time:
Spaetzle, or 'little sparrows' are a German staple. These small egg dumplings are tossed with brown butter, nutmeg, parsley, and are irresistible!
Ingredients
2¼ cups all-purpose flour
1 teaspoon kosher salt
¼ teaspoon white pepper
2 large eggs
1 large egg yolk
¾ cup water
3 tablespoons unsalted butter
pinch nutmeg
1 tablespoon parsley, finely chopped
Instructions
Sift the flour, salt, and pepper into a large bowl. In a bowl, whisk the eggs, yolk, and water together. Make a well in the center and add egg mixture. Mix well - the dough will be wet and sticky. Allow the dough to rest for 10 minutes.
Meanwhile, bring a large pot of salted water to a boil and prepare a medium bowl of ice water and set aside.
Using a spaetzle maker, pour the dough into the sliding box above the grater. Begin sliding the box back and forth as the spaetzle drop into the water.
Cook for 1 minute. Using a mesh strainer or slotted spoon, remove the spaetzle and plunge them into the bowl of ice water to stop the cooking process. Drain the spaetzle.
In a large pan, melt the butter over medium heat until lightly brown and it takes on a nutty smell. Add the spaetzle and toss to coat each piece. Add the nutmeg and season with salt and pepper to taste. Remove from heat, add the parsley, and toss. Serve and Enjoy!