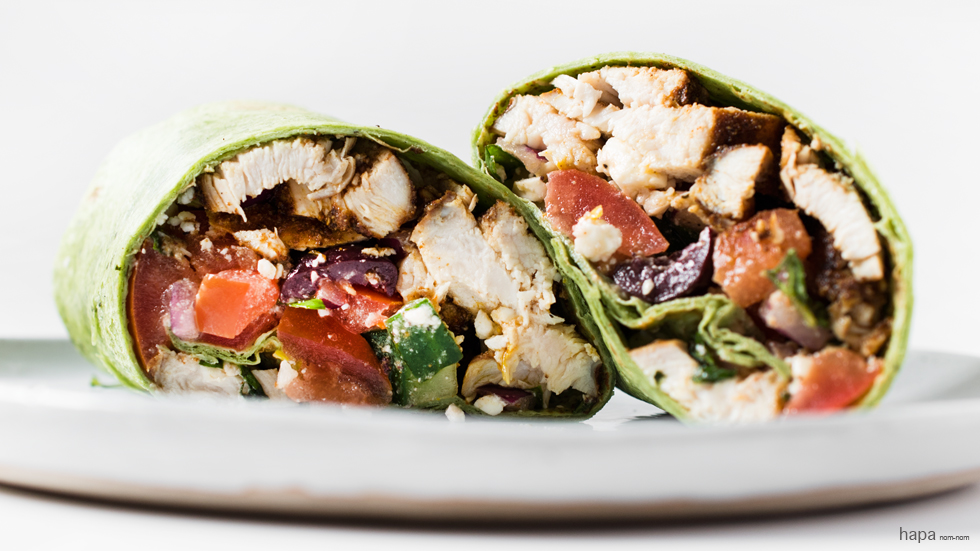 Happy Friday! I hope you had a good week. You may have noticed that I didn't post anything this week (with exception to this post, of course). I've been out of town for my cousin's wedding/family reunion, and I just couldn't quite get a surplus of posts prepared in time – sorry about that. Bad blogger, bad!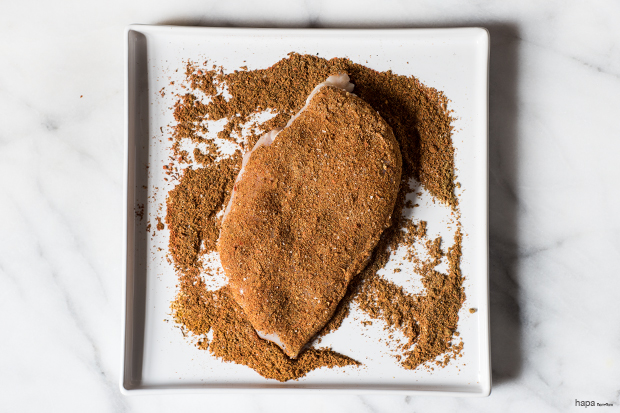 As you can imagine,  all family functions revolved around food. Lots of food… and booze (you can't have that much family around without a lot alcohol). I returned home feeling like I needed some serious detoxing… on numerous levels.
My body was craving something healthy. I wanted a Mediterranean Chicken Wrap.  It's light with crispy veggies, juicy spice-rubbed chicken, all wrapped up in a spinach tortilla. It has so much flavor, you won't even realize you're eating healthy! And if that doesn't sound enticing enough, the entire meal can be made in less than 30 minutes! When you have dirty laundry cascading out of your strewn about suitcases, a pile of unopened mail, and even more unread emails, fast and easy work in the kitchen is what I'm talkin' about.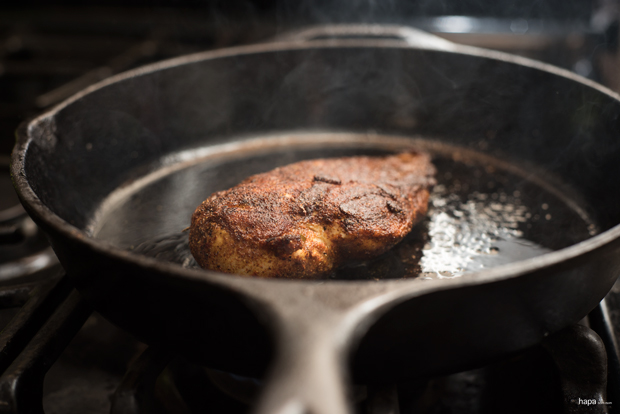 Not to mention, with bathing suit season just around the corner and me needing to loose some of that "I just spent a week with my entire family weight", these healthy and delicious wraps will be on regular rotation in my house for awhile.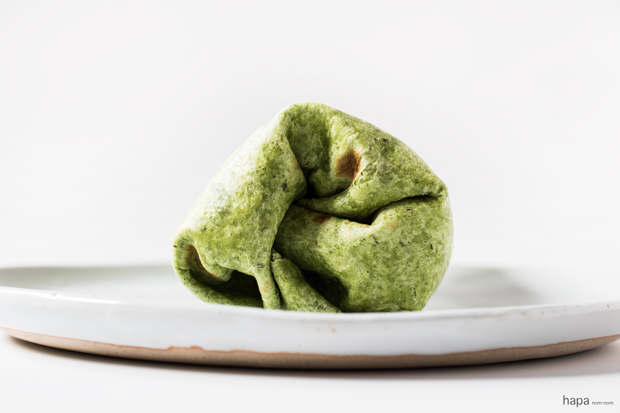 Mediterranean Chicken Wrap
Author:
Kathleen | HapaNom
Prep time:
Cook time:
Total time:
Ingredients
1 pound vine ripened tomatoes
1 small English cucumber
1 clove garlic, minced
½ red onion, diced
½ cup kalamata olives, halved
½ cup feta
¼ cup basil, roughly chopped
4 tablespoons extra virgin olive oil, divided
1 tablespoon red wine vinegar
1 pound boneless, skinless chicken breasts
2 tablespoons paprika
2 tablespoons cumin
1 teaspoon coriander
¼ teaspoon ground mustard
¼ teaspoon garlic powder
pinch of cinnamon
kosher salt
freshly ground black pepper
4 large spinach tortilla wraps
Instructions
Dice the tomatoes and place in a colander in the sink to drain. Slice the cucumber lengthwise, and scrape the seeds out using a spoon. Dice the cucumber and add to the tomatoes draining in the sink. Sprinkle the tomatoes and cucumbers with a teaspoon of kosher salt, toss, and allow to sit for at least 10 minutes (the salt will draw out the excess moisture in the veggies - you don't want watery wraps).
In a large bowl toss the tomatoes, cucumber, garlic, red onion, kalamata olives, feta, and basil. Drizzle 2 tablespoons olive oil and 1 tablespoon red wine vinegar and toss to coat. Season with freshly ground black pepper. Add more salt if needed. Cover and set aside.
Pound out the chicken between 2 pieces of plastic wrap so they are even, about ½-inch thickness. Combine the paprika, cumin, coriander, ground mustard, garlic powder, cinnamon, ½ teaspoon salt, and ¼ teaspoon black pepper. Press both sides of the chicken breasts into the spice mix to coat.
In a large sauté pan, warm 2 tablespoons of olive oil over medium-high heat. Cook 5 minutes on the first side and 4 minutes on the second. Remove from the pan , tent under foil, and allow to rest 5 minutes before slicing.
Thinly slice the chicken. Spoon the veggie mixture on a tortilla. Top with the sliced chicken and roll up like a burrito (careful not to overfill or rolling will be more difficult). Slice in half, serve, and enjoy!
Notes
* Great for leftover chicken or buy a rotisserie chicken for super fast prep!