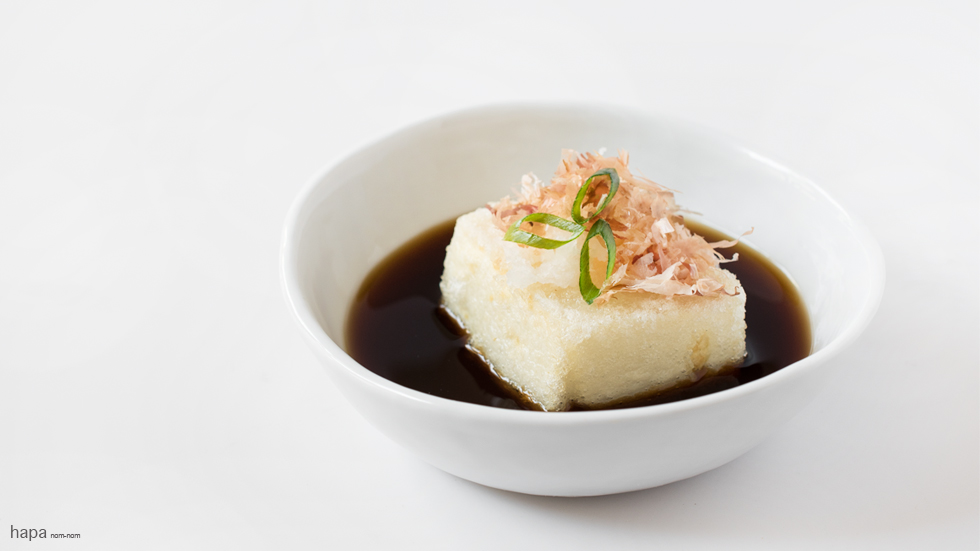 Agedashi Tofu is a classic Japanese appetizer, and one of my favorite dishes to order when dinning out. It wasn't until recently, when I found this delicious and simple recipe on Just One Cookbook, that I realized I can make this awesome dish at home!
The silky tofu is encased in a thin, crispy crust and sits in a shallow dashi-based broth. Topped with a little daikon radish, katsuobushi, and sliced scallions -this dish is delicate in flavor and elegant in presentation.
There are some Japanese dishes that can challenge even the most experienced chef, like sushi or ramen. This is not one of those dishes – this my friends, is very easy to make. Don't let the list of ingredients intimidate you, if you're not familiar with Japanese cooking. These are basic ingredients that can be found at any decent Asian market. If there is no such market nearby, I have noted a few substitutions in the recipe. Otherwise, the Internet is wonderful for things like purchasing katsuobushi and kombu (both of which will last for a long time and if you plan on making more Japanese dishes, you will need anyway).
So what are some of these ingredients?
Dashi is a foundational building block in Japanese cooking, much like the 'mother sauces' are to French cooking.  It's a base for miso soup, udon broth, soba dipping sauce, and tempura sauce – just to name a few. It's simply made with just three ingredients – a piece of kombu (kelp), a few handfuls of katsuobushi (dried bonito), and water. Allow the ingredients to simmer for 30 minutes, then strain out the solids, and what you're left with is dashi.
Katsuobushi (dried bonito flakes), is skipjack tuna that has been dried, fermented, and thinly shaved. Its deep umami flavor is perfect for stocks and toppings.
Agedashi Tofu
Prep time:
Cook time:
Total time:
Ingredients
14 ounces silken tofu
¼ cup potato starch (you can use corn starch as an alternative)
vegetable oil for frying
1 cup dashi broth (instant dashi granules are ok)
3 tablespoons soy sauce
3 tablespoons mirin
3 tablespoons grated daikon radish, drained/pressed to remove excess moisture
4 tablespoons katsuobushi (dried bonito flakes)
1 scallion, thinly sliced
Instructions
Line a plate with several sheets of paper towels. Drain the tofu of the packing liquid and place on the paper-lined plate. Place a few more sheets of paper towels on top, and weigh down with another plate. Allow to sit for 15 minutes.
Meanwhile, make the broth. In a small sauce pan, add the dashi broth, soy sauce, and mirin. Bring to a simmer, turn off the heat, and set aside.
Heat 1½ inches of oil to 350 degrees F. While that's heating, slice the tofu into 6 even blocks. Using a fresh paper towel, pat each piece of tofu dry. Roll in the potato starch and wipe off any excess.
Once the oil comes to temperature, and working in batches, carefully lower the tofu into the oil. Cook for 2 minutes, turning occasionally. Remove and allow to drain on a plate lined with a paper towel.
Carefully pat off any excess oil once the tofu has slightly cooled. Plate the tofu in a bowl and pour the broth overtop. Garnish with daikon radish, bonito flakes, and scallions. Serve immediately and enjoy!