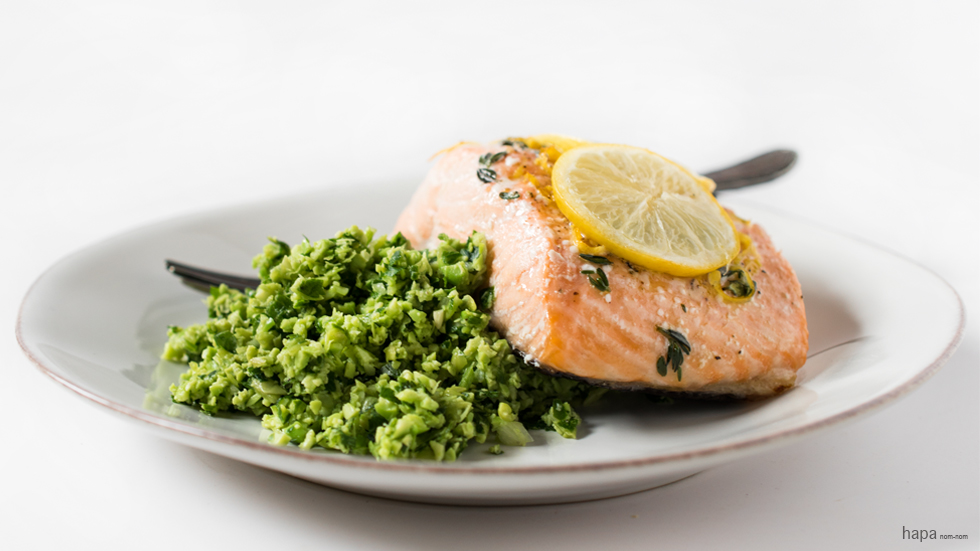 Need a quick and easy weeknight dinner that's healthy and delicious? Salmon en Papillote with Edamame Mash full-fills all!
En papillote is French for 'in parchment' (pronounced "ON poppy-YOTE"). It is a method of steaming that locks in flavor and moisture. It may look (and by name, even sound) fussy, but it couldn't be easier, and it's virtually foolproof.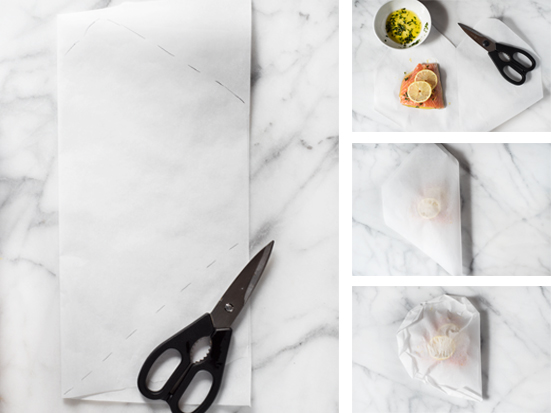 Simply place the salmon on the parchment paper, add a little olive oil, thyme, some lemon, salt and pepper, seal it up and pop it in the oven. That's it. All of the ingredients steam together and the salmon is infused with all of those wonderful bright flavors. It's a method that couldn't be easier, healthier, and more delicious.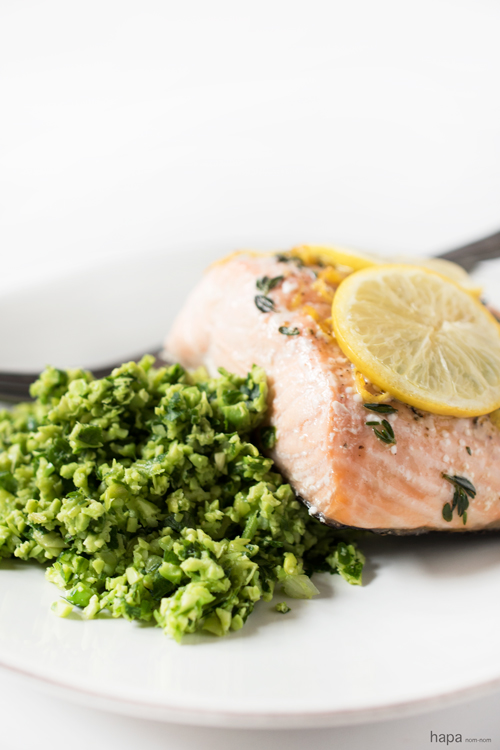 The edamame mash, combined with scallions, parsley, and lemon is bright and herbaceous. It's a lovely compliment to the lemon and thyme infused salmon.  Like the salmon, the mash is super quick and easy to make. Just throw all of the ingredients into a food processor, pulse to a course texture – done.
From start to finish, you can have a healthy and delicious dinner on the table in under 20 minutes!
Salmon En Papillote with Edamame Mash
Author:
Kathleen | HapaNom
Prep time:
Cook time:
Total time:
Ingredients
8 ounces shelled edamame
2 scallions
¼ cup parsley
1 lemon
kosher salt
freshly ground black pepper
2 - 6 ounce salmon fillets
1 tablespoon extra virgin olive oil
1 tablespoon fresh thyme
*You will need parchment paper or foil for this recipe
Instructions
Preheat the oven to 400 degrees F.
Zest the lemon. Then slice in half. Juice one half of the lemon, and slice the other. Set the deconstructed lemon aside.
Cook the edamame according to the package directions. Drain the edamame and place in a food processor, along with the scallions, parsley, lemon juice, ¼ teaspoon salt and a few cracks of pepper. Pulse until coarsely ground. Taste and add more salt and pepper if needed. Set aside.
In a small bowl, combine the olive oil and thyme.
Fold two squares of parchment paper (or foil) in half and cut into a heart shape. Place one piece of salmon on each half of the parchment paper. Brush the salmon with the olive oil - thyme mixture. Sprinkle with a generous pinch of salt and few cracks of pepper. Sprinkle with lemon zest and place 2 slices of lemon on each salmon fillet. Fold the top half of the parchment over the fish, and overlap small folds along the open edge to seal. (Click here, to see a video demonstration).
Place the pouches on a sheet pan and cook for 10 minutes.
Carefully open the packets. Serve either still in the packet or carefully remove and plate the salmon with the edamame mash. Serve immediately and enjoy!