Blackened Shrimp Tacos with Black Bean Mango Salsa and Jalapeño Aioli – spicy, tangy, sweet, and completely delicious! Bring an appetite and lots napkins!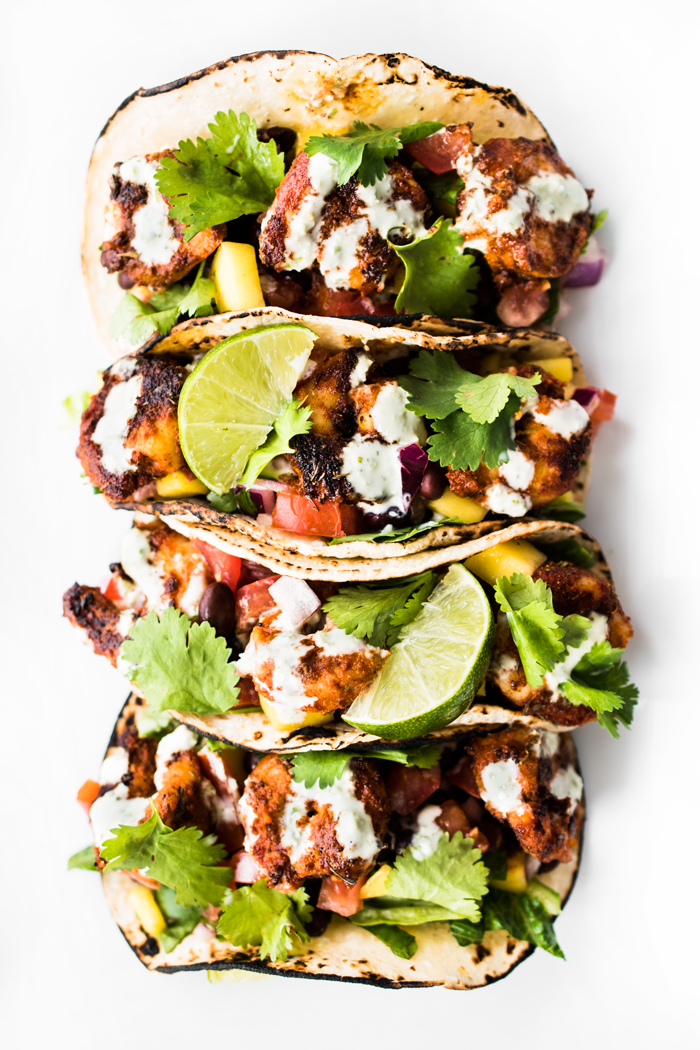 Last month, Mr. HNN and I flew to Amelia Island, FL to see his parents new house. They recently retired after spending 30-some years in Germany… juust a bit of a culture adjustment. 
We flew down just in time for the islands annual Shrimp Festival. It's a massive event filled with street after street of pop-up venders, live music, and of course… lots of places to eat shrimp. It was actually so packed with people, we decided to retreat to a local dive-bar across the street from the beach. It's one of those outdoor places where none of the furniture matches, the tables and chairs were straight out of the 80's, and boy was there some good people watching (I love places like this)!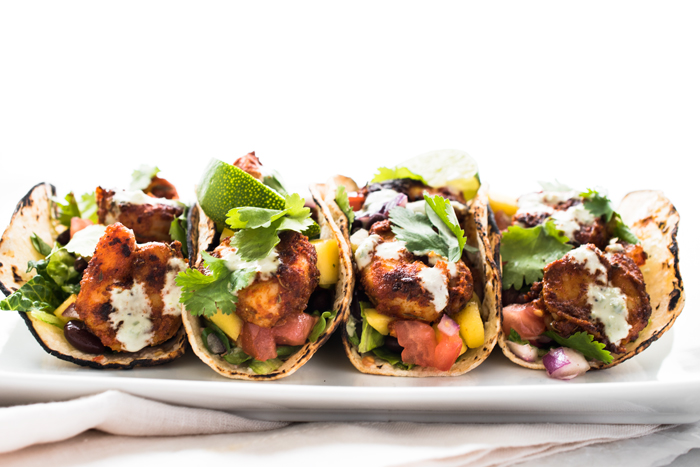 First things first, we ordered a pitcher of beer. To eat, I had to get the shrimp tacos! And anytime I have the option to order something blackened, I'm on it! A mix of spices popular in Cajun cuisine, it adds major flavor to food! Chances are you already have all of the spices needed in your pantry. I like making a big batch to have on hand for a quick and easy weeknight meal of shrimp, tilapia, mahi mahi, even chicken breasts. They all get a burst of flavor with this incredible spice blend. 
So these amazing blackened shrimp came accompanied with a wonderful black bean salsa and a spicy sauce drizzled over top. The salsa is a really nice compliment to the flavor-packed shrimp – it adds a cool, sweet, and slightly tangy component; while the jalapeño aioli adds a nice creamy texture and another layer of subtle heat. All together, they sing like a symphony! 
Blackened Shrimp Tacos with Black Bean Mango Salsa and Jalapeño Aioli
Author:
Kathleen | Hapa Nom Nom
Prep time:
Cook time:
Total time:
Blackened Shrimp Tacos with Black Bean Mango Salsa and Jalapeño Aioli - spicy, tangy, sweet, and completely delicious! Bring an appetite and lots of napkins!
Ingredients
Jalapeno Aioli
½ cup mayo
1 jalapeno, seeds and membrane removed
2 cloves garlic
1 lime zested and juiced
¼ teaspoon kosher salt
fresh black pepper, a few cracks
Black Bean Mango Salsa
1 can black beans, drained and rinsed
1 ripe mango, peeled and diced
½ small red onion, diced
1 lime juiced, about 2 tbs
1 orange juiced, about ¼ cup
2 tablespoons cilantro, chopped
1 jalapeno, diced
½ teaspoon Kosher salt
fresh black pepper, a few cracks
Blackened Shrimp
2 tablespoon paprika
2 teaspoon ground cumin
2 teaspoon onion powder
2 teaspoon garlic powder
2 teaspoon dried thyme
2 teaspoon dry mustard
1¼ teaspoon Kosher salt
¼ teaspoon cayenne pepper
2 tablespoon extra virgin olive oil
1 pound medium shrimp, cleaned, tails removed
Other Ingredients
12 tortillas
5 plum tomatoes, diced
2 cups chopped romaine lettuce
½ cup fresh cilantro
Instructions
In the bowl of a food processor, add the ingredients for the Jalapeno Aioli and puree. Add to a squeeze bottle or cover and refrigerate until ready to use.
To make the Black Bean Salsa, add the ingredients to a bowl, stir well to combine, and adjust season if needed.
Warm the tortillas in a heavy-bottomed skillet. Heat the pan to medium-high heat and warm each tortilla 1 to 2 minutes per side – you want to heat the tortillas just enough to slightly char and add a bit of crispness, but not so much that when you fold it, it cracks. Wrap the tortillas in a clean tea towel to keep warm and set aside.
Combine the ingredients for the blackening seasoning in a large zip-top bag. Add the shrimp, seal, and shake well to coat. Heat a large heavy-bottomed pan over medium-high heat and add the olive oil. Once the oil is hot, add the shrimp (shaking off any excess rub) and sear – about 2 minutes per side.
To assemble: place some of the chopped romaine lettuce in the center of the tortilla. Place a few heaping spoonfuls of the black bean mango salsa on top, add some diced tomatoes, top with shrimp, drizzle with jalapeño aioli, and top with some cilantro. Serve and enjoy!