Crunchy cabbage and carrots with ginger-garlic poached chicken, vermicelli rice noodles, crispy shallots, and a dressing that will knock your sock off! 
I can't believe we've been in the San Francisco Bay Area for a year already! Which is why I really can't believe I have yet to go to The Slanted Door, a modern Vietnamese restaurant that I've been dying to go to since we arrived. The restaurant is in a prime location, in the Ferry Building overlooking the illuminated Bay Bridge – it's a place I would love to go to with Mr. HNN. Alas, my hubby has been traveling endlessly for work and when he's home, he's usually pulling long nights in front of the computer. Poor guy, I hope a break comes for him soon, I know he's exhausted. 
So until we can get over to dine at the Slanted Door, I've brought the Slanted Door to us! I bought their cookbook and I've been cooking my way through it. The Vietnamese Chicken Salad was one of the first dishes I made and it's sensational! I made a few adaptations, adding carrots, garlic to the poaching liquid for the chicken, and making a few measurement adjustments.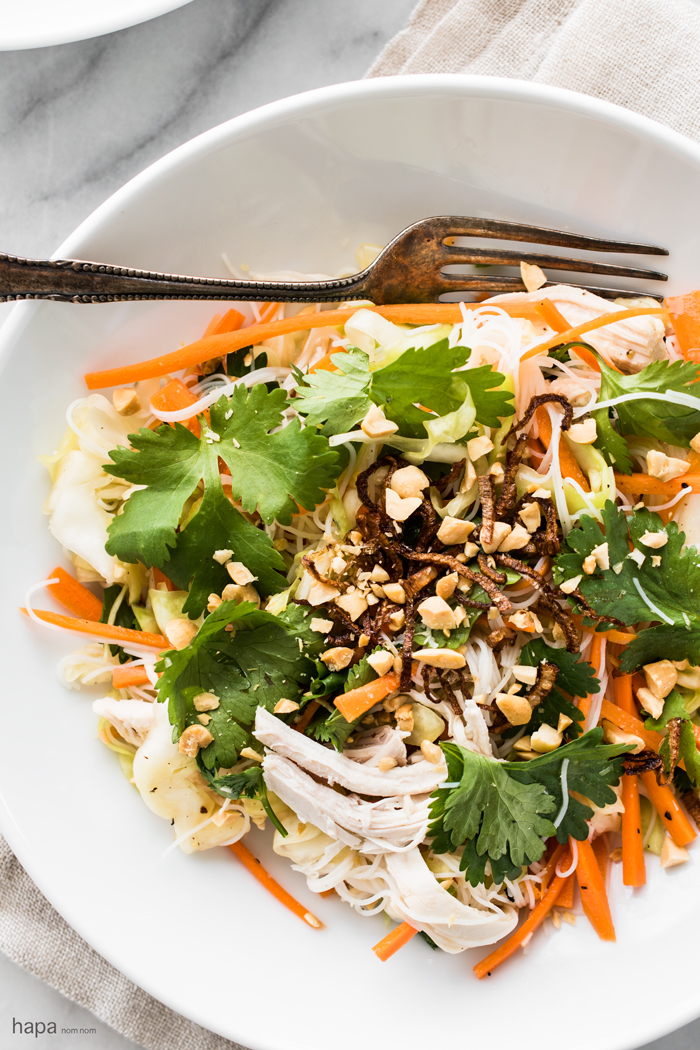 The cabbage, carrots, noodles, and chicken create the base for this salad, while the dressing creates some serious flavor! The prominent ingredient in the dressing is fish sauce, and if you've never used it before you're in for a real treat! Ok I'll be honest, one whiff and you'll probably want to toss the bottle. But please, I beg you, give it a chance – the smell dissipates once it's added to other ingredients. And it truly is a magical ingredient, responsible for adding a ridiculous amount of layered flavor to your dishes. If you like Vietnamese, Thai, or other Southeast Asian cuisine, chances are you've had it – it's what makes the food so wonderfully flavorful! So buy, use it, you'll love it! Ok, I'll get off my fish sauce soapbox now 😉
You're going to love this salad – varying flavors, textures… just thinking about it makes me want to squeal with delight! You're going to wolf-down a salad like you never thought you could. Enjoy!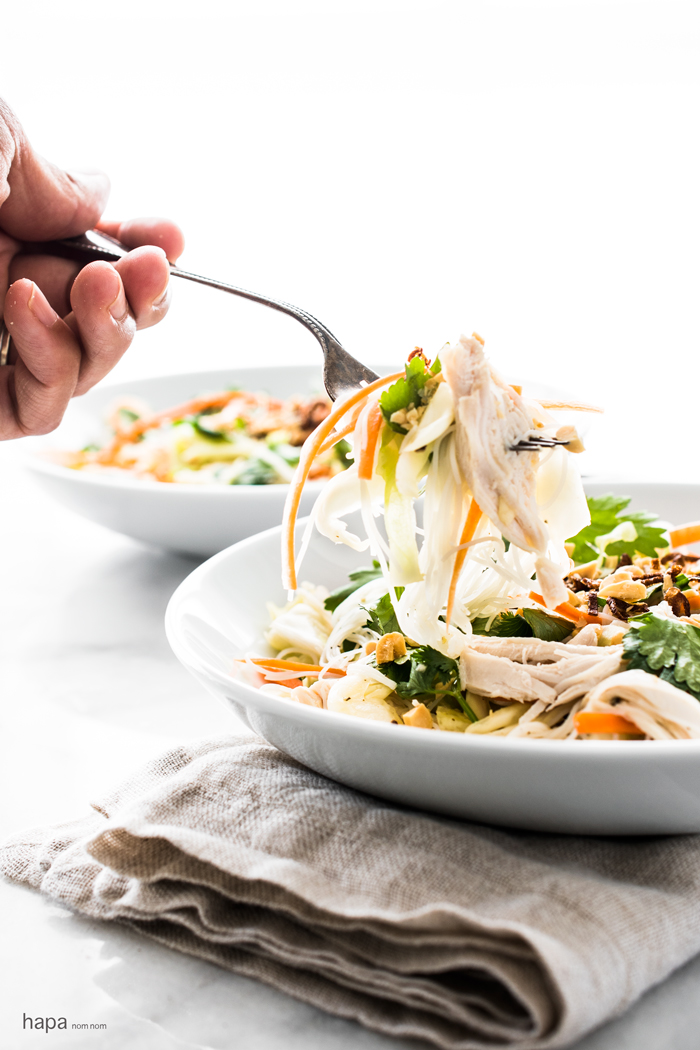 Vietnamese Chicken Salad
Author:
Kathleen | Hapa Nom Nom
Prep time:
Cook time:
Total time:
Ingredients
Dressing
¼ cup fish sauce
2 tablespoons sugar
2 tablespoons rice vinegar
¼ cup water
1 clove garlic
1 Thai chile, seeded and minced
Chicken Salad
Kosher salt
1 (3-inch) piece of ginger, smashed
2 garlic cloves, smashed
2 chicken breasts, boneless, skinless
¼ cup canola oil
1 shallot, thinly sliced
½ large head green cabbage, cored and sliced into ¼-inch strips
2 cups rice vermicelli noodles, cooked*
¼ cup fresh cilantro leaves
2 large carrots, peeled and julienned
freshly ground black pepper
2 tablespoon dry roasted peanuts, roughly chopped
Instructions
To make the dressing, combine the fish sauce, sugar, vinegar, and water in a small bowl. Stir until the sugar is dissolved. Add the garlic and chile and whisk to combine. Set aside until ready to use.
Fill a large saucepan with water and salt as you would with pasta water. Add the ginger, garlic, and bring to a boil. Once the water is boiling, add the chicken and poach for 15 minutes. Remove the chicken from the water and allow the chicken to cool. Once cool enough to handle, shred the chicken.
Meanwhile, heat the canola oil in a small saucepan over low heat. Once hot, add the shallots and fry until golden brown, about 5-7 minutes. Remove the shallots with a slotted spoon and allow to drain on a plate lined with a paper towel. (You can reserve the shallot infused oil and refrigerate for up to 2 weeks. It's nice to use as a stir-fry oil or to make an aioli).
Place the cabbage in a colander and sprinkle with 2 tablespoons of salt. Using your hands, massage the salt into the cabbage. Allow to sit for 5 minutes and then rinse very well with cold water. Taste the cabbage - to make sure you've removed all of the salt crystals (it will have a mildly salt taste, but it should not be overly so). Let the cabbage drain while you prep the other ingredients.
In a large bowl add the cabbage, cilantro, vermicelli noodles, chicken, dressing, and toss well. Season with pepper to taste and lightly toss again. Divide equally among 4 bowls and garnish with the crispy shallots and chopped peanuts. Serve immediately and enjoy!
Notes
* To cook the vermicelli rice noodles, bring a large saucepan filled with water to a boil. Turn off the heat and add the noodles. Allow to soak for 5 minutes, until tender, then drain.
* Recipe adapted from Charles Phan, The Slanted Door