Indian tea, meets a Taiwanese beverage, meets an Italian treat. This Chai Bubble Tea Affogato is quick, easy, and sure to be a dessert favorite!
So I kinda went down the rabbit hole with this one. It started out innocently enough… I just wanted to make a glass of bubble tea. Then I wanted something a little more… I wanted a bubble tea dessert.
Popsicles? No, I wanted the boba (tapioca pearls) to keep their soft and chewy texture. How about an affogato? YES! Do I use espresso, as traditionally used in an affogato, or a milk tea that's common in bubble tea? Ooo, milk tea… chai, my favorite kind of milk tea. Chai Bubble Tea Affogato – done!  
Just to give you a little background on what each one of these components are, let's first talk chai. Masala chai, meaning 'mixed-spiced tea', and sometimes known as just 'chai', is a black tea infused with spices like green cardamon pods, cloves, cinnamon sticks, black peppercorns, ground ginger, and traditionally served with buffalo milk – it's warm, creamy, and wonderfully aromatic. 
Bubble tea, the drink that you can chew, first appeared in Taiwan in the 1980's and has slowly gained popularity around the globe. There are numerous variations of this drink, but generally you find fruit-flavors or milk teas.  The boba, or tapioca pearls are added to give the drink a pleasant chewy texture. With milk tea being a popular base for bubble tea, masala chai is a natural bridge in this combo.
Back in my college days, I spent a semester in Italy learning the language. One of my favorite after-dinner-treats was affogato. The marble-swirled dessert comes from the word 'affogare', meaning 'to drown'. Aptly named, it's a scoop of gelato literally drowned in a shot of espresso. The gelato melts and turns into the most wonderful dessert drink.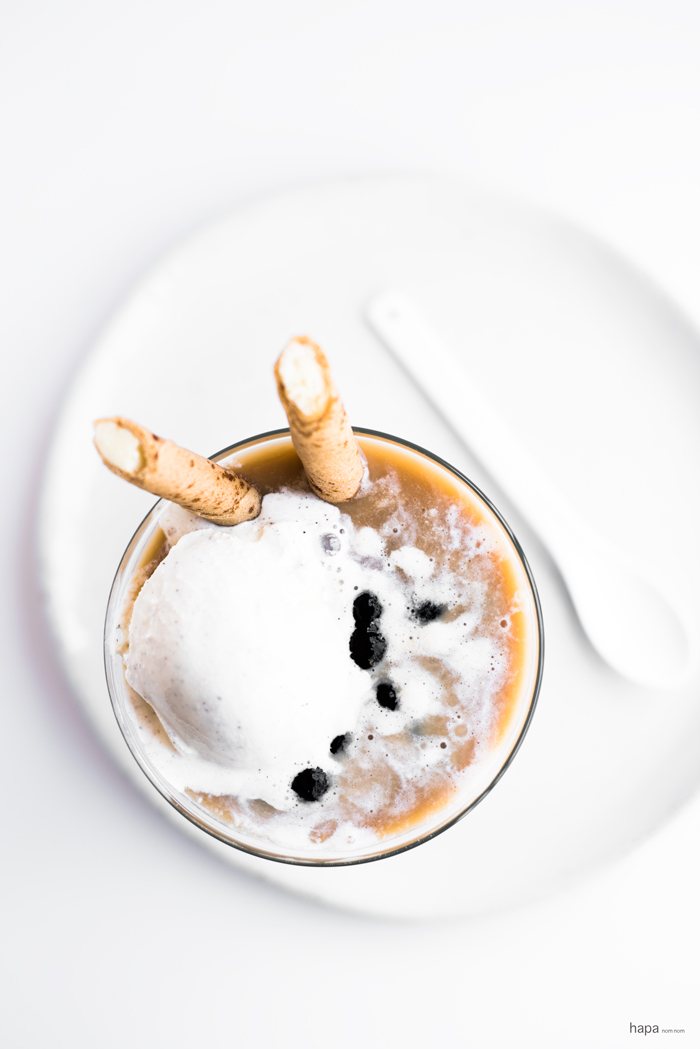 The culmination of these three drinks is pure perfection! It's truly a combination that works! The contrasting textures and temperatures is enough to send your mouth into pleasure-overdrive!
Chai Bubble Tea Affogato
Author:
Kathleen | Hapa Nom Nom
Recipe type:
Dessert, Drink
Prep time:
Cook time:
Total time:
Indian tea, meets a Taiwanese beverage, meets an Italian treat. This Chai Bubble Tea Affogato is quick, easy, and sure to be a dessert favorite!
Ingredients
¼ cup black boba (tapioca pearls)*
¼ cup chai latte concentrate*
¼ cup unsweetened almond milk or regular milk
2 small scoops Tahitian vanilla bean gelato or French vanilla ice cream
1 pirouette cookie, cut in half (optional)
Instructions
Cook the boba according to the package directions.
In a small saucepan combine the chai latte concentrate and milk. Bring to a simmer and remove from heat.
Scoop two scoops of gelato or ice cream into a cup or small bowl and top with the boba. Pour the chai latte overtop and serve with a pirouette cookie. Enjoy immediately.
Notes
* Black boba (tapioca pearls) may be be found at a well stocked Asian grocery store or easily online.
* Chai latte concentrate can be found at most general grocery stores in the tea aisle. It comes in a rectangle box that's similar in size to boxed chicken broth. My favorite brand is Oregon Chai.