These baked kitty cat doughnuts are SO adorable, they're sure to bring a smile to anyone's face! Great for parties, special occasions, or just to brighten your day!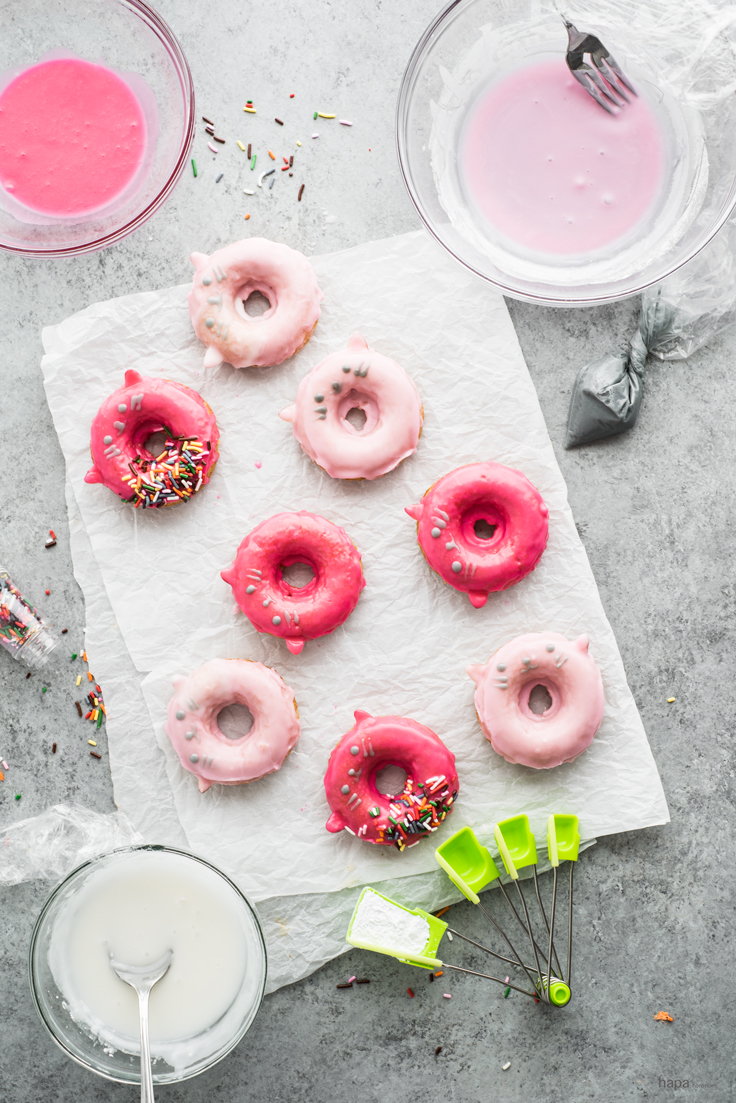 Sugar and spice and everything nice, that's what little girls are made of.
I'm not what you would call a 'girly girl', so for a pink explosion of this magnitude to be happening in my kitchen, there must be a good reason. Well folks, there is… I'm pregnant! And as you may have already guessed, it's a girl!
When we found out we were having a little girl, I looked over at Mr. HNN; he had a look of overwhelming joy and pure terror on his face. One of the first things he said was, 'I'm enrolling her in MMA' – preparing her for the day she starts to date, no doubt. 
Our little Rhonda Rousey aside, she's been super easy so far – no morning sickness, no strong cravings, and no food aversions… per se. Perhaps food 'aversion' is too strong of a word for me, I would describe it more as just a general non-interest in food – it's just that nothing really seems that appealing. Which as you can imagine, has made it rather difficult to blog about food! Naturally, the only foods that I want to eat are all of the ones I can't have – runny eggs, sushi, smoked salmon, and I would kill for a club sandwich pilled high with deli turkey!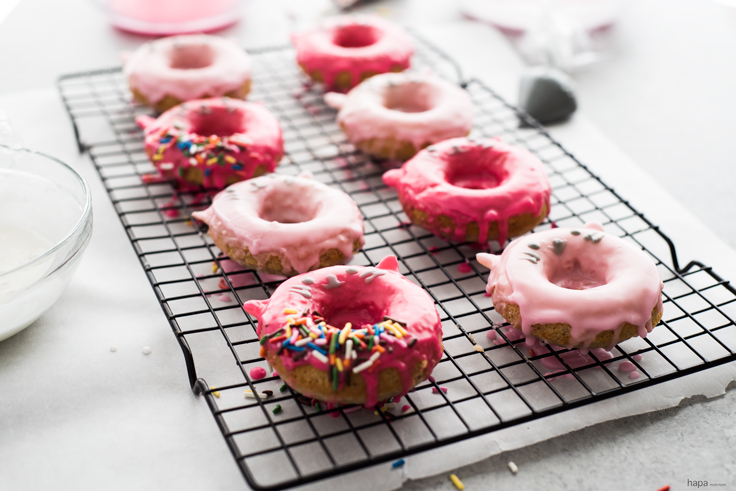 Now I've said I haven't had any strong cravings (turkey club aside), and that's true. But there is something that I have been enjoying that I usually don't, and that's sweets! I have never had much of a sweet tooth, but since I've been pregnant, I've been indulging a bit. My mother suggested that perhaps it has to do with cutting out wine, and no longer getting those sugars. Clearly my mother knows how much wine I drink, or perhaps I should say drank, and I'm not quite sure what that says about my previous drinking habits… but I digress.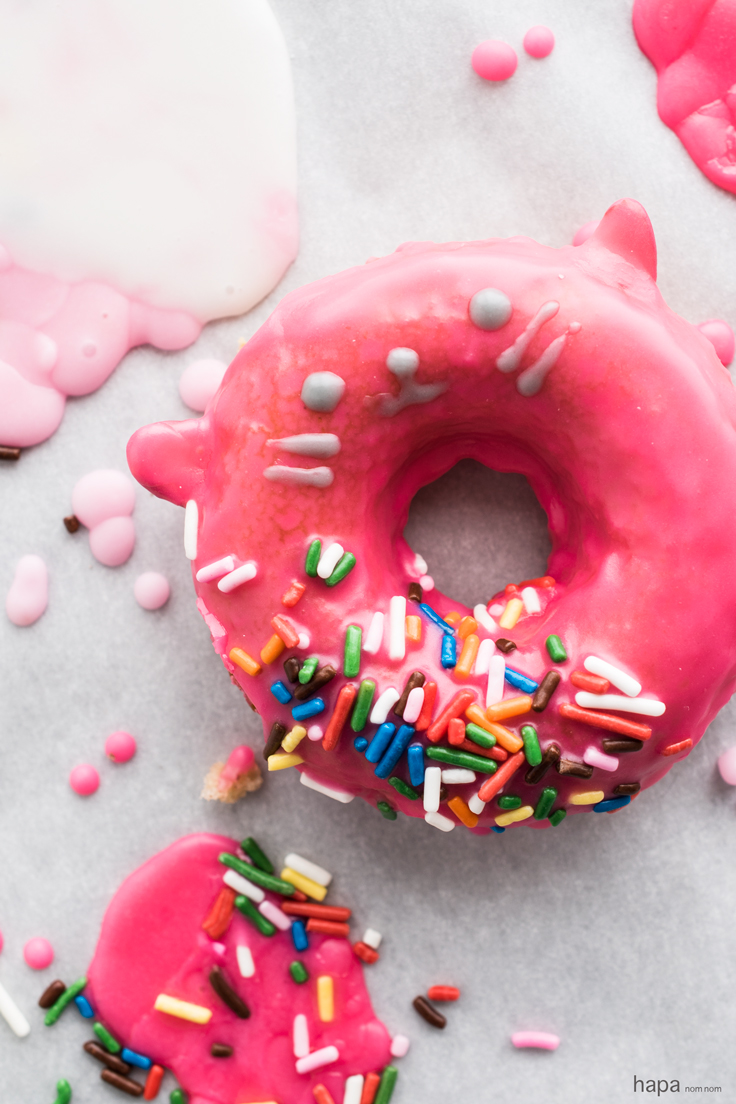 If you want to bring a smile to your day or someone else's, these kitty cat doughnuts are sure to do the trick! Make them just be for the fun – no pregnancy needed 😉 Use any color or combination of colors you want and get crazy with different sprinkles. Have fun with them and enjoy! 
Baked Kitty Cat Doughnuts
Author:
Kathleen | Hapa Nom Nom
Recipe type:
Dessert / Breakfast
Prep time:
Cook time:
Total time:
These baked kitty cat doughnuts are SO adorable, they're sure to bring a smile to anyone's face! Great for parties, special occasions, or just to brighten your day!
Ingredients
Doughnuts
Baking spray
2 cups all-purpose flour
1½ cups sugar
2 teaspoons baking powder
1 teaspoon ground cinnamon
½ teaspoon ground nutmeg
½ teaspoon Kosher salt
1¼ cup whole milk
1 extra large egg, lightly beaten
2 teaspoons pure vanilla extract
2 tablespoons unsalted butter, melted
Almond slivers
Pink Glaze
2 cups confectionary sugar, divided
2 tablespoons heavy cream, divided
Pink food coloring, or color of your choice*
Grey Glaze
½ cup confectionary sugar
2 teaspoons heavy cream
Red, green, and blue food coloring
Instructions
Preheat the oven to 350 degrees F and spray a doughnut pan - 2 if you have them.
Sift the flour, sugar, baking soda, cinnamon, nutmeg, and salt into a large bowl. In a separate, small bowl, whisk together the milk, egg, vanilla extract, and butter. Stir the wet ingredients into the dry ingredients, until just combined, being careful not to over-mix.
Carefully spoon the batter into the doughnut molds and fill approximately ¾ of the way full. Bake for 15 - 17 minutes, or until a toothpick comes out clean. Allow the doughnuts to cool for about 5 minutes and then turn them out onto wire rack to continue cooling.
While the doughnuts are cooling, prepare the icing. For the pink icing (or whatever color you choose) set out 2 medium bowls large enough to dip the tops of doughnuts in. Add 1 cup of confectionary sugar to each bowl and then 1 tablespoon of heavy cream to each bowl of confectionary sugar. Stir until the confectionary sugar has turned into a thick glaze. For a really nice, deep color, add 4-5 drops of the food coloring to one bowl. To the other bowl, add 1-2 drops of food coloring for a softer color. (You can a little more heavy cream if you need smooth it out a bit, but not too much, the glaze should be nice and thick). Cover the bowls, close to the surface of the icing with plastic wrap until ready to use.
Once the doughnuts have cooled, take the almond slices and gently push them into the side to make cat ears. Make sure the pointed end of the almond is sticking out.
Dip one side of the doughnuts into the icing. If you want, you can dip it a couple of times for a stronger color. If you're using sprinkles, sprinkle while the glaze is still wet. Then move to a cooling rack or onto parchment paper to dry.
To make the grey icing for the kitty cat faces, mix ½ cup of confectionary sugar with 2 teaspoon of heavy cream in a small bowl. Add 1 drop of red food coloring, 2 drops of blue, and 2 drops of green. Combine until smooth. Scoop the grey icing into a small sandwich bag or other small plastic bag. Push the icing down into one corner and clip off the corner of the bag (clip just a tiny hole, otherwise the icing will come out too quickly when decorating). Pipe the icing at the top of the doughnuts where the almond ears are, creating the eyes, nose, and whiskers. Allow to dry. Serve and enjoy!