A classic California Club in a wrap stuffed with juicy chicken, crispy bacon, lettuce, tomato, and creamy avocado. Perfect for an easy lunch and loaded with flavor. 
If you read my previous post (Baked Kitty Cat Doughnuts), then you know that Mr. HNN and I are expecting, and with that I have some dietary restrictions to include deli meats. So what's a pregnant gal to do when she's craving a deli sandwich? Adapt. 
Let's start with a classic BLT. Add some slices of chicken breast and avocado, and you've got a California Club. Traditionally, this sandwich is served between two slices of bread; but I've used a whole wheat wrap in this case to lighten up the carbs and give you a higher ratio of tasty filling to wrapper. 
One of the great things about a California Club, is that it's fairly adaptable. Give one of these variations a try:
Try it with a drizzle of ranch dressing.
Add cheese! Perhaps some baby swiss.
Use a little sun dried tomato spread instead of tomatoes.
Have some guacamole? Use that en lieu of the avocado slices.
Put the wrap in a panini press to slightly crisp up the outside. 
Use bread instead of the wrap. Try some focaccia!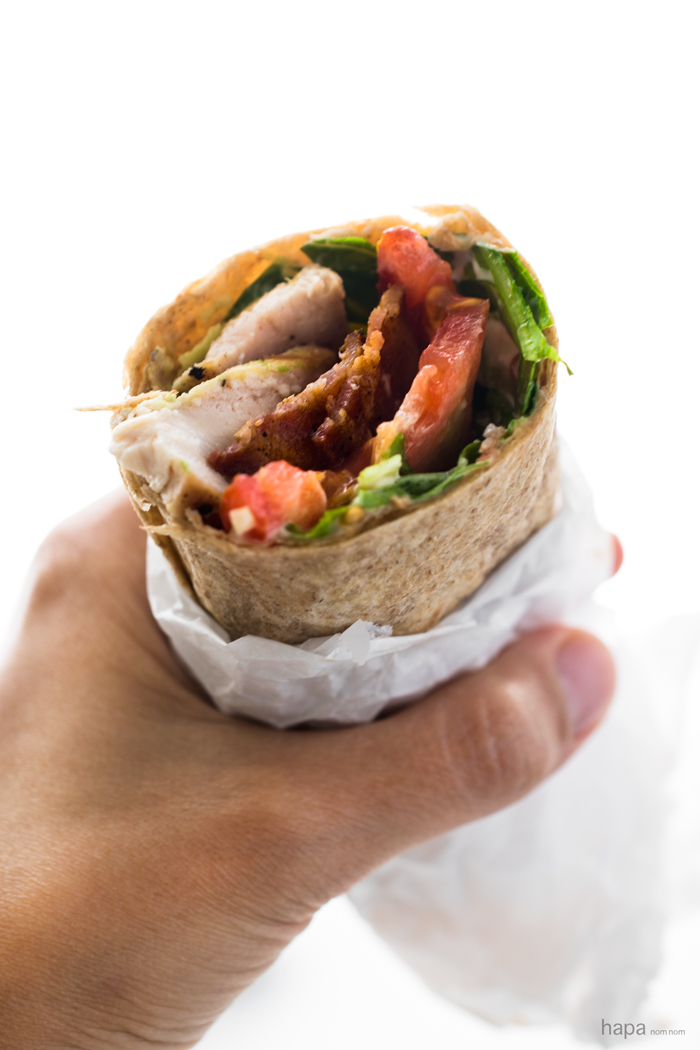 California Club Wrap
Author:
Kathleen | Hapa Nom Nom
Prep time:
Cook time:
Total time:
Ingredients
1 large chicken breast, boneless, skinless*
Kosher salt and freshly ground black pepper
2 tablespoons extra virgin olive oil
8 pieces bacon
¼ cup mayonnaise
1 clove garlic, minced
2 cups shredded romaine lettuce
2 plum tomatoes, sliced
1 large avocado, sliced
4 (10-inch) whole wheat tortillas
Instructions
Pound the chicken breast so it's an even ½-inch thick. Sprinkle both sides liberally with salt and pepper. In a large sauté pan, warm the olive oil over medium-high heat. Cook 5 minutes on the first side and 4 minutes on the second. Remove from the pan, tent under foil, and allow to rest 5 minutes before thinly slicing.
Cook the bacon in large, heavy bottomed skillet over medium heat until crispy. Transfer to a plate lined with a paper towel and allow to cool.
In a small bowl, combine the mayo and minced garlic.
Lay a tortilla out on your work surface and spread with a tablespoon of the garlic-mayo. In the center of the tortilla, add a ¼ of the shredded lettuce, a ¼ of the tomato slices, 2 slices of bacon, a ¼ of the chicken, and a ¼ of the avocado. Wrap up like a burrito and assemble the remaining wraps in the same manner. Serve and enjoy!
Notes
* Feel free to use leftover chicken or a rotisserie chicken from the store for super quick prep. Also feel free to use some nice slices of deli turkey instead of chicken, if you that's what you prefer.