These Buttermilk Biscuit Chili Cups are perfect for parties, sporting events, or just an evening at home. So delicious, I never have leftovers!
Finally, it's football season!!!  The air is cool and crisp in the morning, the days are getting shorter, and the leaves are starting to turn their vibrant hues of reds, yellows, and orange.  I love football season, but not for the reasons that 99.9% of America loves football.
Quite frankly, I'd rather defrost my freezer than watch a game on TV.  My mother, a huge football fan, still can't figure out how she ended up with a child that doesn't like football. But I digress…there's something about football season that I really do love and that's the tailgate party – where for a few hours before the game it's all about the food.  I've made these Buttermilk Biscuit Chili Cups for nearly every tailgate or football party I have ever attended; it's always a huge hit and I've always left with a empty tray.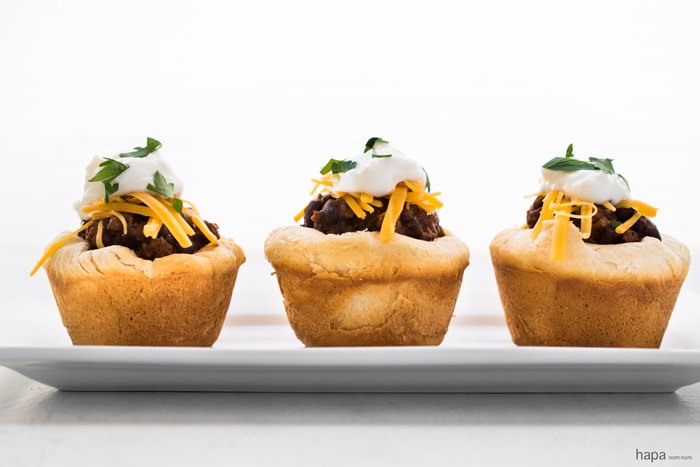 Guys… I want to shout this from the rooftops! The chili is just incredible! I really don't like to toot my own horn, but seriously… the chili is fantastic – like can't help but constantly sneak spoonfuls before you serve it kind of fantastic! What's the secret? Add a little bit of semi-sweet chocolate. It adds a bit of body, extra dimension, and a certain je ne sais quoi. And it pairs just beautifully with the dark beer and chipotle peppers. When the culmination of all of the ingredients simmer together, they make something magical… they make truly AMAZING chili!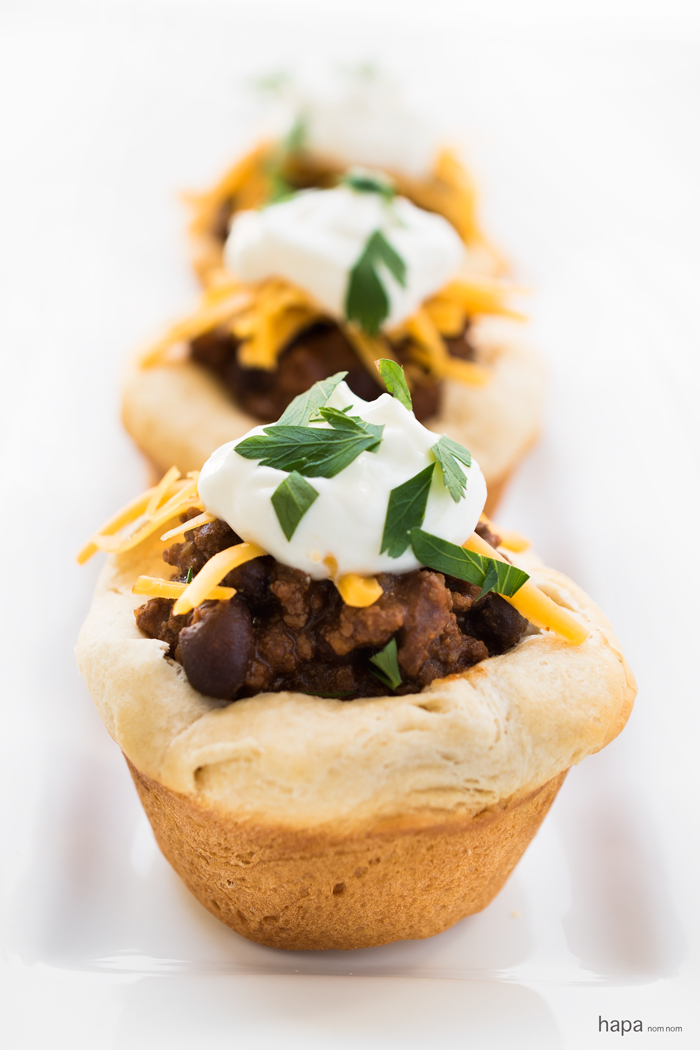 Buttermilk Biscuit Chili Cups
Author:
Kathleen | Hapa Nom Nom
Recipe type:
Appetizer, Entree
Prep time:
Cook time:
Total time:
These Buttermilk Biscuit Chili Cups are perfect for parties, sporting events, or just an evening at home. So delicious, I never have leftovers!
Ingredients
cooking spray
20 count canned buttermilk biscuits
2 pounds ground beef
1 large red onion, finely chopped
4 cloves garlic, minced
kosher salt and freshly ground black pepper
3 tablespoons chile powder
1 tablespoon Cajun seasoning
1 tablespoon ground cumin
1 (12 oz) bottle dark beer, like Guinness
1 (14 oz) can tomato sauce
2 peppers from a can of chipotle peppers in adobo sauce, pureed
1 teaspoon - 1 tablespoon jalapeno, seeded and finely chopped
2 tablespoons semi-sweet chocolate
3 cups chicken stock
1 tablespoons brown sugar
2 (15 oz) cans black beans, rinsed and drained
1 lime, juiced
TOPPINGS:
sour cream
cheddar cheese, shredded
cilantro, roughly chopped
Instructions
Preheat the oven to 350 degrees F.
To make the biscuit cups, spray 2 large muffin tins with cooking oil. Flatten out each piece of biscuit dough and press each piece of dough into the muffin tin to line each cup. Bake for 13 -17 minutes (or according to the package directions).
Remove from the oven and allow to cool for 2 minutes. If the biscuits puffed up, simply take a small spoon and press down the center to reform the cup. Then set aside until ready to use.
While the biscuits are baking, heat a large pot over medium-high heat. Add the ground beef, breaking it up, and season with salt and pepper. Saute until cooked through. Using a slotted spoon, transfer the beef to a bowl and set aside.
Remove all but 2 tablespoons of the fat remaining in the pot and add the onion. Cook over medium-high heat until soft. Add the garlic and cook 2 minutes. Add the chili powder, Cajun seasoning, and cumin – cook another 2 minutes.
Add the beer, scraping up any brown bits from the bottom of the pot. Bring to a boil and then reduce the heat to medium-high and cook until reduced and thickened – approximately 10 minutes.
Meanwhile, puree the tomato sauce and chipotle peppers using a hand blender or food processor. Set aside.
Add the jalapeno (the amount you're comfortable with) and chocolate, stir to combine.
Return the beef to the pot and add the chicken stock, the tomato and chipotle puree, and brown sugar. Bring to a boil and then reduce to a simmer, uncovered for 30 minutes to 45 minutes – or until you have reached the desired consistency.
Add the black beans and cook for another 5 minutes, covered.
Remove the pot from heat and add the lime juice. Add salt to taste.
Remove the biscuits from the muffin tin, fill with chili, and top with shredded cheese, sour cream, and cilantro. Serve and enjoy!
Notes
* Chili can be made up to 2 days in advance.
* The recipe calls for 20 buttermilk biscuits. Even with 20 cups, there will be plenty of chili leftover. I like to keep some set aside for a couple of big ol' traditional bowls of chili. But if you want to make more cups, you could probably make another 20.