Be the envy of the office with this Take-to-Work Mason Jar Ramen!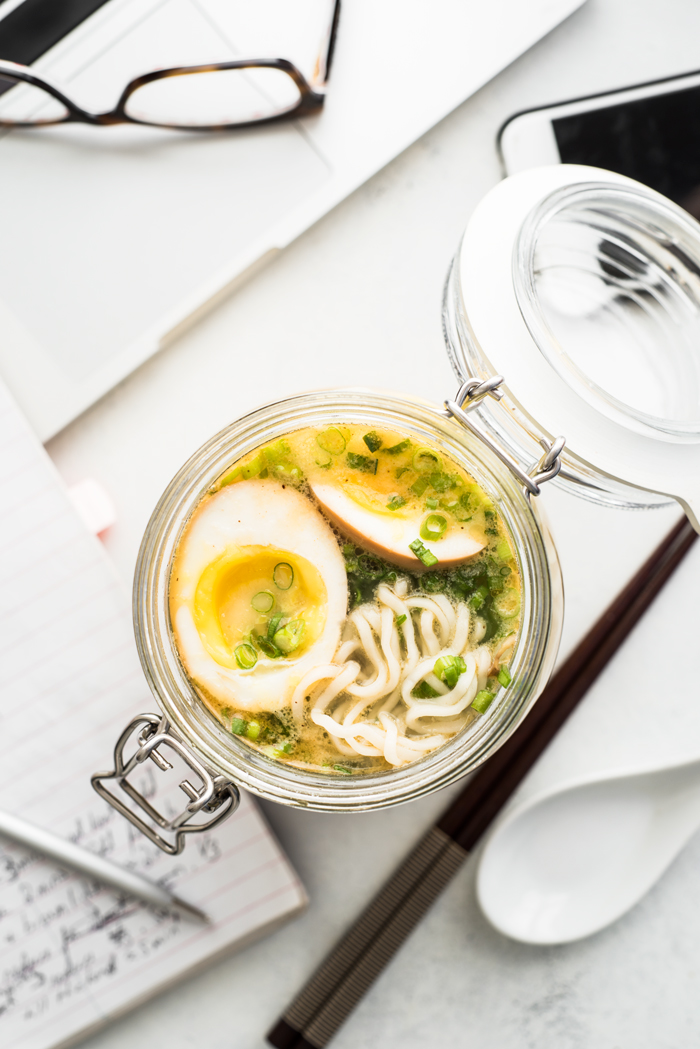 Let's face it, work lunches can get a little boring. Sure, you may bring awesome leftovers from time-to-time, but your general go-to fare may need a bit of a makeover.  Why not mix things up and bring your own mason jar ramen?! With the weather getting cooler and office colds running rampant, this is sure to be a season favorite; and it's SO much better than nuking a frozen meal! 
The key to this soul satisfying dish is the rich broth made up of chicken base, miso, tahini, toasted sesame oil, and sambal oelek. Nearly every general grocery store carries Better than Bouillon, I highly recommend picking up a jar – it has a far superior taste to those dried bouillon cubes. Another ingredient that you can find in just about every grocery store (check the Asian/international food aisle) is sambal oelek. If you're not familiar with it, it's a popular Southeast Asian chile sauce. It adds some really nice heat without the tang you get from something like Sriracha. 
One of the great things about this take-to-work mason jar ramen, is that it's totally customizable (WIN)! Tweak ingredients to fit your tastes or just mix things up to keep the idea fresh all season long! Here are some suggestions:
Use a beef or vegetable base instead of chicken.
You can add dried rice vermicelli noodles instead of ramen. Simply add hot water when you're ready to eat and allow to sit for 5 minutes (they soften in hot water more easily than ramen noodles). 
Add tofu or leftover slices of chicken, steak, or pork. 
Add fresh spinach, sliced mushrooms, dried seaweed, frozen corn, frozen peas or other veggies that soften easily in hot water.
You can add quartered bok choy or other firmer veggies like asparagus, but make sure you par boil them (boil until they start to soften, then remove before they're fully cooked). 
If you like the idea of adding a ramen egg, but don't want to spend the time marinating it in a soy sauce mixture, then skip it! Just cook and peel the egg before adding it to your mason jar. 
* Don't forget your chopsticks and spoon! Oh and a knife to cut the ramen egg 🙂
Take-to-Work Mason Jar Ramen
Author:
Kathleen | Hapa Nom Nom
Prep time:
Cook time:
Total time:
Be the envy of the office with this Take-to-Work Mason Jar Ramen!
Ingredients
1 large egg
¾ cup low sodium soy sauce
1 tablespoon sugar
1 package instant ramen, such as Top Ramen (flavor packet removed)
3 teaspoons shiro miso
3 teaspoons chicken base, such as Better Than Bouillon
1 teaspoon tahini
½ teaspoon toasted sesame oil
½ teaspoon sambal oelek
¼ cup bean sprouts
¼ cup bamboo shoots
¼ cup scallions, green parts only, thinly sliced
1-34 ounce glass jar (mine came from Ikea)
Instructions
To make the shoyu egg, aka "soy sauce egg", aka "ramen egg", bring a pot of water to a boil. Gently add the egg and cook for exactly 6 minutes and 50 seconds. While the egg is cooking, prepare a bowl of ice water. Once the egg is done cooking, immediately transfer the egg to the ice bath, and allow to cool for 5 minutes. Meanwhile pour the soy sauce into a 2 cup glass measuring cup (or other high-sided, narrow bowl) and add a ¼ cup of water. Stir in the sugar until it dissolves. Peel the egg (while in the ice water - it will peel more easily). Add the egg to the soy sauce mixture. Make sure the egg is completely submerged (you can use a smaller cup or plate set on top). Allow to marinate for 2 to 6 hours. (You can save the soy sauce mixture to make several more batches of shoyu eggs, if you like).
Par boil the ramen - cook the noodles for 1 minutes less than the package directions suggest (generally that's 2 minutes). Immediately drain in a colander and run cold water over top to halt the cooking process. Allow to drain completely.
In a glass jar, add the miso, chicken base, sesame paste, sesame oil, and sambal oelek. Then add the bean sprouts, bamboo shoots, ramen noodles, and top with the shoyu egg. Place the scallions in a zip top bag (this will keep them crispy), then place the baggy in the jar and close the lid. Refrigerated until ready to eat.
Once lunchtime rolls around, boil some hot water. While the water is boiling, remove the shoyu egg and the baggy of scallions. Pour the hot water over the noodles and stir well to fully incorporate the flavors and ingredients. Slice the egg in half, add to the jar of ramen, and top with the scallions. Enjoy!
Notes
* When making the soup base, make sure your measurements are level. Heaping teaspoons of the ingredients can make the broth too strong.