Roasted Kabocha Lasagna Rolls with a Sake Cream Sauce and Crispy Bacon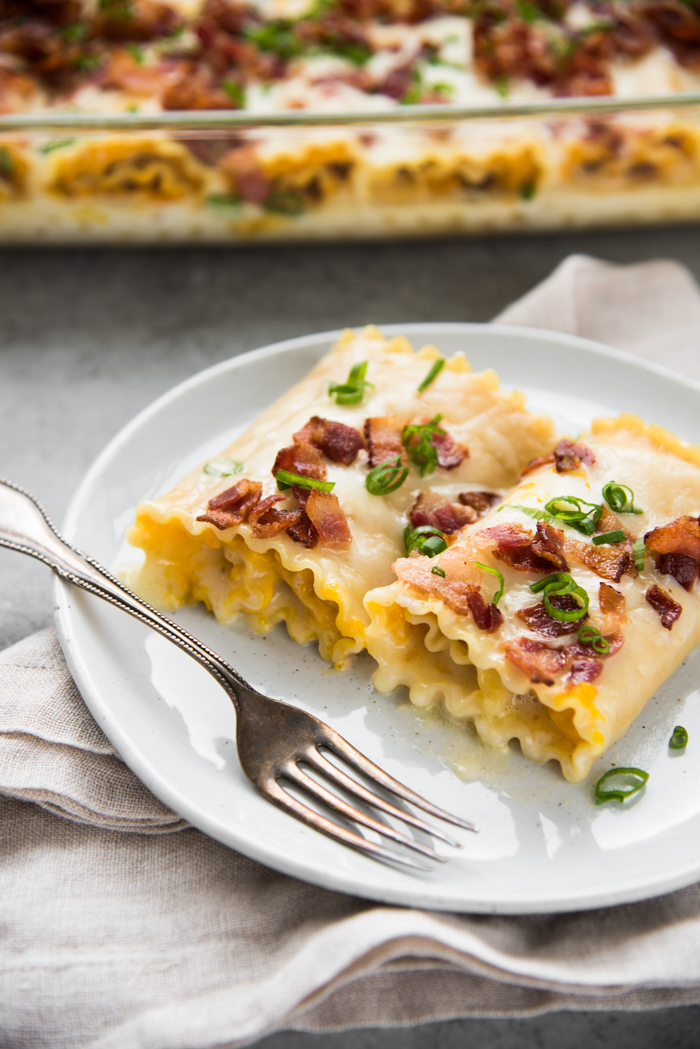 Awhile back a reader contacted me asking for a Japanese-fusion lasagna recipe. I had considered making lasagna using Japanese eggplant, but with autumn in full swing, it seemed like the perfect opportunity to use kabocha. Also known as a Japanese pumpkin, it's the sweeter cousin of the butternut squash. This particular winter squash has an exterior that is generally dark green, though they have been known to come in pumpkin-colored orange as well. When sliced open, the flesh is a bright and vibrant yellowy-orange, full of beta carotene and iron.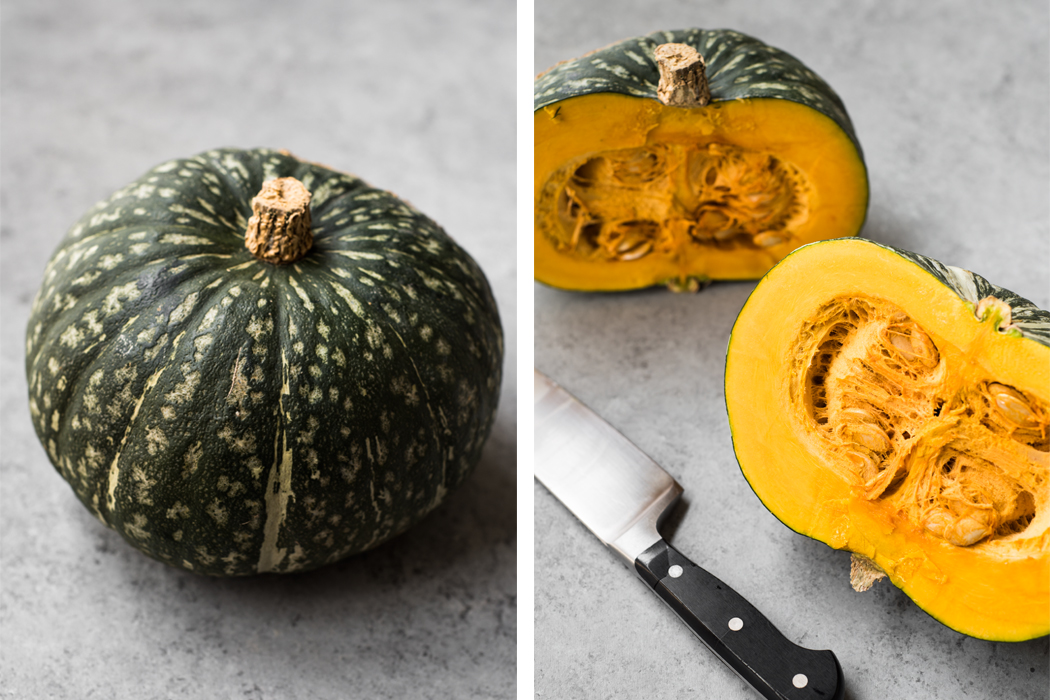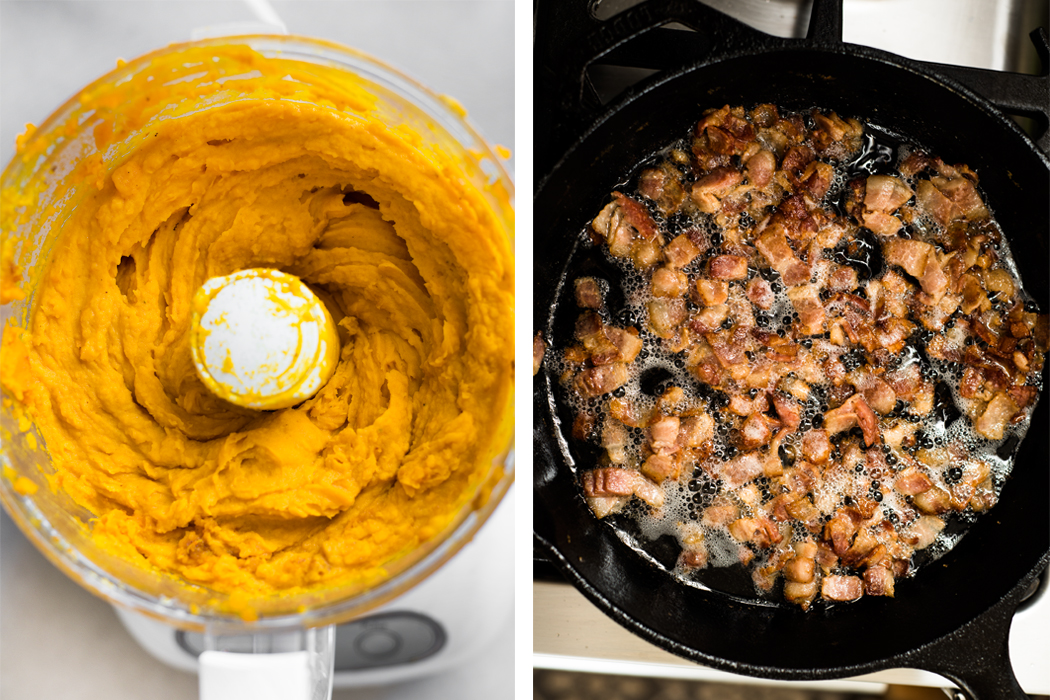 Since kabocha is sweet, I've balanced it out with lots of savory goodies. A sake cream sauce (adding a bit more Japanese flare), mozzarella (I've gotta have mozzarella in lasagna), and the mother of all savory-goodness…. crispy bacon. Together, they work to create a wonderful sweet and savory bite.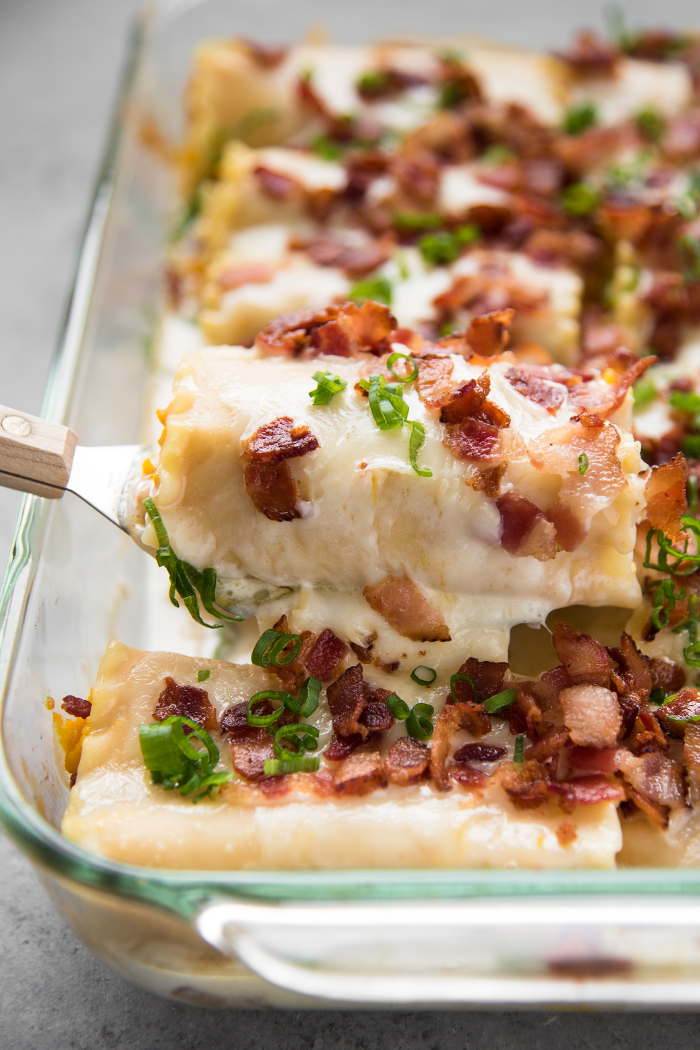 Looking to do some advance preparation? This dish was made for advance prep and at numerous stages! Want to prepare just a few components ahead of time? The kabocha puree and the sake cream sauce can be made several days in advance and refrigerated.
If you're looking to make the whole shebang – this dish can be made a day ahead. Simply assemble the lasagna rolls according to the recipe instructions and without baking, cover the dish tightly with foil. Then refrigerate until the following day and bake.
If you want a great freezer meal – again, assemble the lasagna rolls and top with the sake cream sauce and mozzarella, hold off on the bacon topping. (I like using foil pans when freezing so I'm not tying up a nice baking dish for too long). The lasagna rolls can be frozen for up to a month. When you're ready to cook, remove the dish from the freezer and bake at 350 degrees F for 45 minutes (leaving the foil on). Then remove the foil, add the rendered bacon, and bake for another 15 minutes, or until the lasagna is done.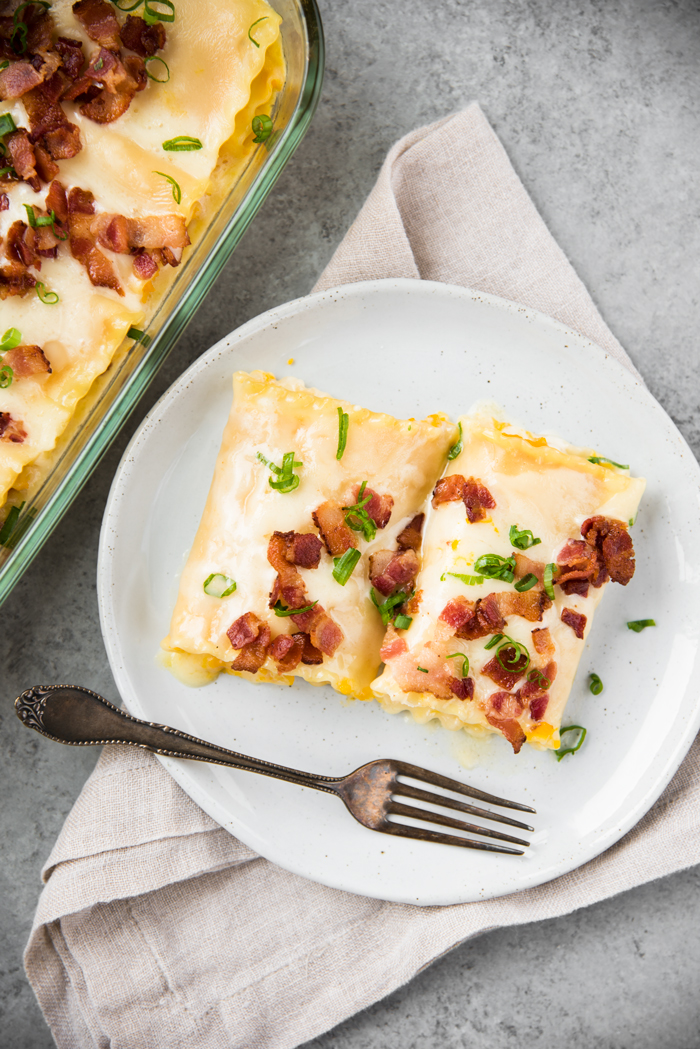 Roasted Kabocha Lasagna
Author:
Kathleen | Hapa Nom Nom
Prep time:
Cook time:
Total time:
Serves:
10 - 12 lasagna rolls
Roasted Kabocha Lasagna Rolls with a Sake Cream Sauce and Crispy Bacon. Make ahead for a great freezer meal!
Ingredients
½ stick unsalted butter, 4 tablespoons
½ teaspoon shiro miso (white miso)
1 kabocha squash (about 5 pounds)
1 cup heavy cream, divided
pinch of nutmeg
Kosher salt
freshly ground black pepper
¾ cup sake
⅓ cup shallots, finely chopped
⅓ cup fresh ginger, finely chopped
3 tablespoons rice vinegar
½ cup whipping cream
12 lasagna noodles, cooked*
1 teaspoon extra virgin olive oil
16 ounces mozzarella, shredded
8 slices of bacon, chopped
1 scallion, green part only, thinly sliced
Instructions
Preheat the oven to 400 degrees F.
In a small saucepan, melt the butter, add the miso, and stir to combine. Set aside.
Kabocha has a tough exterior and meaty interior, so take care when cutting. Find a sturdy surface and quarter. Scoop out the seeds and the stringy material (save those seeds, you can roast them later like pumpkin seeds). Brush the melted miso butter all over the pieces and place on a foil-lined baking sheet, skin side up. Roast for 45 minutes to an 1 hour, until softened and caramelized. Once cool enough to handle and working in batches, scrape half of the flesh from the skin into the bowl of a food processor and add a ¼ cup of the heavy cream. Puree. Scoop the contents into a large bowl and puree the other half of the kabocha and another ¼ cup of heavy cream. Add the remaining contents from the food processor to the bowl of pureed kabocha. Add the nutmeg and season with salt and pepper to taste. Stir to combine and set aside. Turn the oven down to 350 degrees F.
While the squash is in the oven, make the sake cream sauce. In a small saucepan add the sake, shallots, ginger, and rice vinegar. Bring to a simmer and reduce to 2 tablespoons of liquid, about 15 minutes. Add a half cup of heavy cream and allow to simmer for about 5 minutes. Strain through a fine-meshed sieve into a small bow and set asidel. Discard the solids.
In a large heavy-bottomed skillet, cook the bacon just until the fat has rendered but not crispy. Remove from the pan and allow to drain on a plate lined with a paper towel.
In a 9x13 rectangular baking dish, spread 2 tablespoons of the sake cream sauce over the bottom. Put a piece of wax paper on a work surface and lay out the lasagna noodles. Spread some of the kabocha puree over each noodle. Then top with several tablespoons of mozzarella. Carefully roll them up and put them seam side down in the baking dish. Ladle the remaining sake cream sauce over top of each roll and top with the remaining mozzarella and the bacon. Tightly cover with foil and bake for 20 minutes. Remove the foil and continue to bake for 5 more minutes.
Allow to cool for 5 - 10 minutes before serving. Garnish with scallions, serve, and enjoy!
Notes
* I used the shorter lasagna noodles in this recipe (they're about 7-inches in length). You can use the larger 10-inch noodles if you like, but you're rolls will be much larger.

*Advance prep: The lasagna rolls can be assembled up to a day in advance and refrigerated.

*Sake cream sauce slightly adapted from Bon Appétit, July 1993.