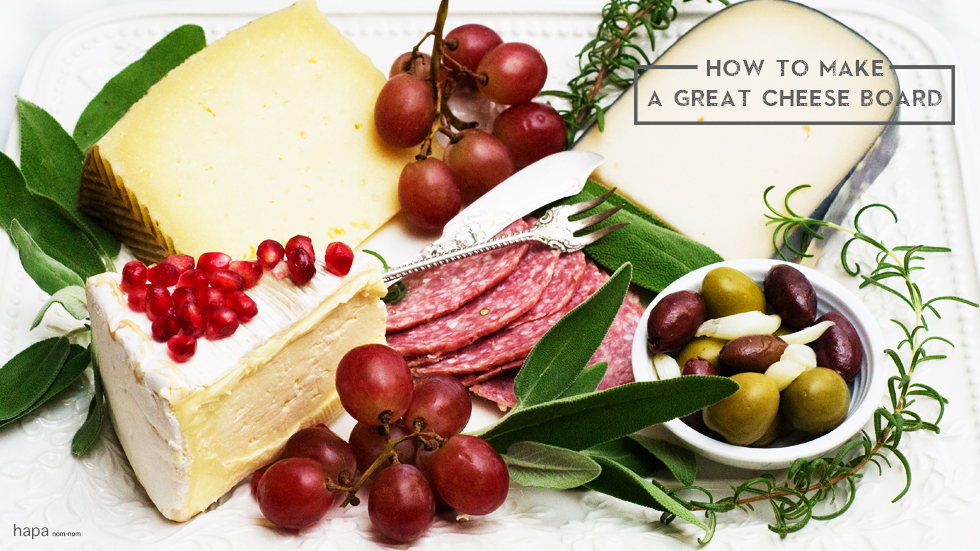 This is the time of year for lots of holiday parties and gatherings.  Whether you're hosting or just bringing a dish to share at another event – a great cheese board is always a crowd pleaser and probably the easiest dish to put together!  Another great attribute to the cheese board, is that you can really customize it to you and/or your guests tastes, and you can change it up if you're hosting multiple gatherings!  There is no right or wrong way to put together a selection of cheeses.  But there are a few guidelines that I like to follow to ensure a variety and complimenting flavors.  So how do you make a great cheese board??? First off, you want to think about how many people you are serving.  Generally speaking, you want plan for 1 to 2 ounces per person.  Once you've established the amount you need, what's to consider next?: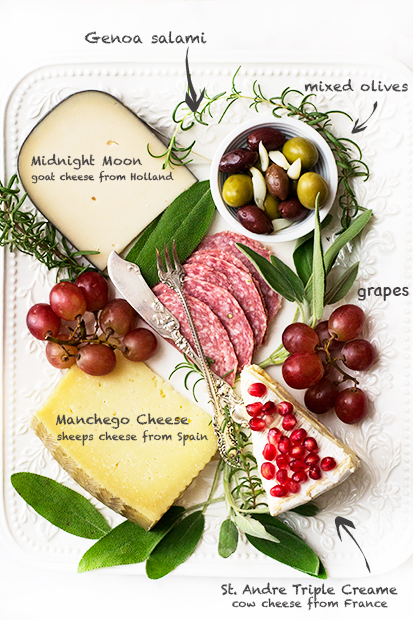 A quick way to decide what cheeses to serve, is to choose a theme.  For example: a variety of cheeses from France or Spain.
Another route, is an assortment of various textures – a great way to make sure there's something for everyone.  For example: a soft Brie, a semi-soft Stilton , a semi-hard Gouda, and a hard Grana Padano.
Another variety that pleases crowds, is to choose cheeses by milk type.  For example: a cow milk cheese like Pierre Robert (I was once told by a Frenchman in a very nice restaurant in Paris, 'Pierre Robert is what Brie wishes it was'), a goat cheese like Humboldt Fog, and a sheep cheese like Zamorano.
I also like to serve charcuterie with a cheese board.  Personal favorites are Genoa Salami and/or my all-time love (while in Italy it single-handedly broke me of a 12 year vegetarian stint) Prosciutto de Parma, aka 'God's gift to meat'.
Some seasonal fruit is a very nice compliment to the rich flavors of cheese.  When in season; cherries, cantaloupes, red grapes, pears, and/or pomegranates seeds are great!  They also serve as a bit of a palate cleanser.  Other sweet components that are fantastic pairings are fig preserves and Membrillo (my personal favorite)!
Other items that I like to serve with a great cheese tray, are a small bowl of mixed olives and/or mixed nuts.  They're small little bites that add texture and provide additional small snacks that please a crowd.
Greens for a garnish are always well received,  considering the aesthetics of a cheese board.  Several sprigs of fresh rosemary, sage, and/or thyme are not only beautiful and fragrant, they fill in any empty spaces.
Last, but certainly not least, are the vehicles to layer all of these flavors (the substrates, if you will), i.e. the bread/crackers.  A nice crusty exterior bread with a soft inside like French baguette are always great.  A crisp cracker variety is also nice, such as a nice sea salt or olive oil infused cracker for a crisp texture.
There are an infinite number of ways to prepare a great cheese board!  Just remember to provide some variety to your guests, and this platter will certainly be one of the most popular dishes of the party!
How to Make a Great Cheese Board
Author:
Kathleen | Hapa Nom Nom
Ingredients
Saint-André Triple Crème
Cypress Grove Midnight Moon
Manchego
Genoa salami
Pomegranate seeds (or whatever is seasonal)
Fig preserves
Fresh red grapes (or whatever is seasonal)
Mixed olives
Mixed nuts
Baguette and/or nice crackers
Fresh sage and rosemary for garnish
Instructions
Plate the items and garnish with fresh herbs. Serve with crackers, fresh fruit, and or bread. Serve and enjoy!