This easy Orange-Maple Glazed Ham is perfect for the holidays, feeds a crowd, and takes only minutes of prep time!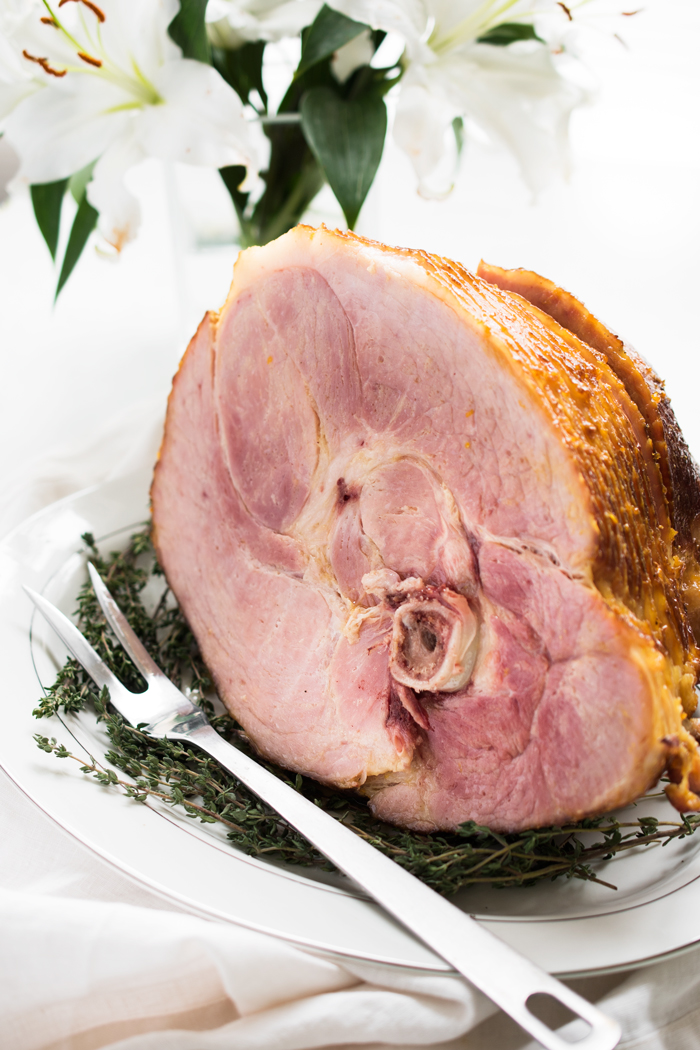 One of the things I love about a glazed ham is that it's SO easy to prepare! Got 10 minutes? Then you can prep an awesome meal that feeds a crowd! Most of the time spent on this recipe is in the cook time, most of which is hands off! That means while the glazed ham is cooking, you have almost 2 hours to prepare your sides, set the table, or just kick your feet up with a cocktail – with the holiday season in full swing, you deserve it! 
Oddly enough, selecting your ham can be more difficult than actually preparing it. So when it came to buying one, I did some homework.  City ham or country ham? Shank or butt? Bone-in or boneless? What about water content? Whole or spiral cut? I've done the research so you don't have to! 
City Ham vs. Country Ham:
A city ham is basically any brined ham and it's the most common variety you'll find in the U.S. It can come in various stages of doneness, such as 'partially cooked' to 'fully cooked' also known as 'ready to serve'. For this recipe, you'll want to go with a fully cooked city ham.
A country ham is cured and then may or may not be smoked and then hung to dry, it's kind of like the prosciutto of the American south. They tend to be very salty and a little drier, so they're generally best enjoyed in small doses. 
Shank vs. Butt:
A whole ham includes the shank and the butt, and weighs about 20 pounds. A whole ham is generally too much for your typical family get-together so what you want is half a ham. The shank is the lower half of a whole ham. It's less fatty and only has one bone which makes for easier slicing. This is the end you'll most likely find and what I recommend for this recipe.
The butt or rump is the top portion of a whole ham. It's fattier than the shank, but also tends to be juicer (which is one reason why we add a cooking liquid and cover when cooking the shank). The butt also contains part of the hip bone which can make for awkward carving. 
Bone-In vs. Boneless:
I'm just going to come right out and say it – bone-in is the way to go! Bone-in will keep any cut of meat more flavorful, juicer, and yield a better texture. Plus, you can use that ham bone later for ham bone soup! Yum! 
When the bone is removed from a ham, it must be reshaped by essentially compressing it back together which can give you a bit of a spongy texture.  
Water Content: 
The amount of water injected into a ham determines the grade, which will be indicated on the label.
Straight-up, 100% ham is the most expensive you can buy and chances are you won't find one at your grocery store. If you want one of these babies, you'll more than likely have to order one online and expect to pay anywhere from $50 to $90 for half a ham! 
'Ham in Natural Juices' is the next best thing and it's what I purchased. It can contain up to 10% of added water weight, which can actually help to keep it juicy as it cooks without greatly affecting it's overall taste and texture. It's affordable and is widely carried throughout grocery stores. 
'Ham, Water Added' means that it can contain up to 15% of added water weight. The more water you add the spongier it gets and the less 'hammy' it will taste. 
'Ham and Water Product' can have any amount of water added and is the lowest quality you can purchase. This type of ham will have the least amount of flavor. 
Whole vs. Spiral Cut:
So this is the one that I had to think the most about. I wanted a whole ham. Aside from the fact that a whole ham has a much easier time of staying moist during the cooking process, I really wanted to score the fat in that lovely diamond pattern and stud it with cloves. But when I went to the grocery store, all they had were spiral cut hams. So I went down the road to our higher-end grocery store and they didn't have a whole ham either! The entire point of this post was to make an 'easy' glazed ham! And part of that, as far as I'm concerned, is how easily you can find the ingredients. I figured if most of the hams out there are spiral cut, perhaps I should use a spiral cut ham. 
A spiral cut ham is pre-sliced around the bone, so it's super convenient when serving. Most spiral cut hams come either already glazed or with a glazing packet. If you can find one without any type of glaze, great! Otherwise, buy the kind with the packet and just toss it when you get home, we'll be making our own glaze. One of the down-sides to a spiral cut ham, is if not properly prepared, it can dry out. Fortunately, there are a few simple ways to lock in that moisture. First, you want to make sure you use water in the bottom of your pan. Second, you'll want to cover the ham tightly with foil as it cooks. Together, this will keep your glazed ham nice and moist. That's it! That's easy, right? 
Easy Orange-Maple Glazed Ham
Author:
Kathleen | Hapa Nom Nom
Prep time:
Cook time:
Total time:
This easy Orange-Maple Glazed Ham is perfect for the holidays, feeds a crowd, and takes only minutes of prep time!
Ingredients
1 (9-pound) bone-in, fully-cooked city ham, shank end, spiral cut
4 cups orange juice
1 orange, zested
4 sprigs of thyme
¼ cup pure maple syrup
1 tablespoon low sodium soy sauce
½ teaspoon black pepper
Instructions
Position a rack in the lower third of the oven and preheat to 300 degrees F.
Place the ham in a large roasting pan with a rack and pour ¾ cup of water into the bottom of the pan. Cover tightly with aluminum foil and bake for 1 hour and 30 minutes.
While the ham is roasting, prepare the glaze. In a large saucepan combine the orange juice, orange zest, and thyme. Bring to a boil and cook stirring occasionally, until reduced to ½ cup, about 20 - 25 minutes.
Remove the sprigs of thyme and stir in the maple syrup, soy sauce, and pepper. Set aside.
Once the ham has been in the oven for 1 ½ hours, remove from the oven and pour/brush the glaze over the top to completely cover. Raise the temperature to 400 degrees F. Return the ham to the oven and cook, uncovered for 20 minutes, or until the glaze is bubbly and has caramelized.
Transfer the ham to a cutting board and allow to rest for 10 minutes. Serve and enjoy!