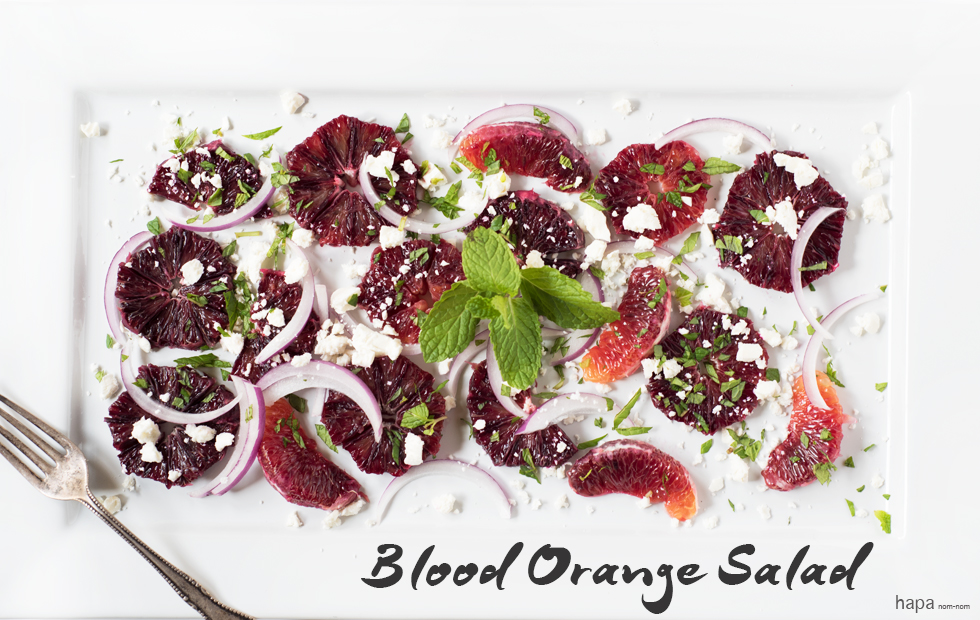 After a whirlwind trip around Ireland, my husband and I are back in Germany with his parents for a few days until we have to fly back to the States.   Still being on vacation, I'm going to keep this one short and sweet… kind of like this recipe.
I'll tell you guys all about our trip and the amazing food we enjoyed when we're settled back home.  (Stay tuned for a fantastic Guinness Shepherd's Pie for St. Patrick's Day).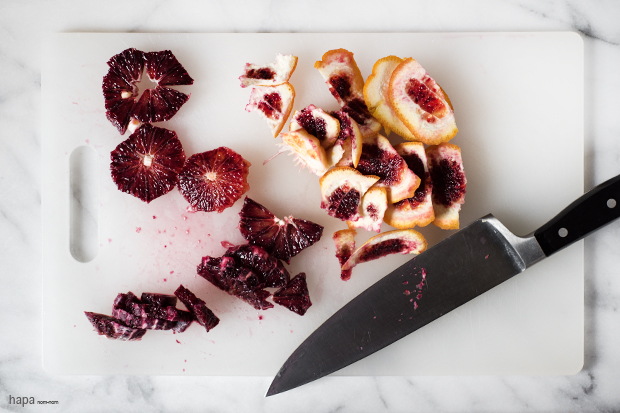 I can remember the first time I had a blood orange.  It was when I was in college and taking an Italian language and history course in Italy.  Our first stop in country was Taormina, Sicily.  Incredible beaches, colorful flowers cascading from window boxes, old cobblestone streets, and oranges and lemons the size of your freakin' head!  Everywhere we stayed, the rooms were filled with bowls of enormous blood oranges.  I remember peeling the first one and being shocked by the fruits deep blood-red juice that dripped down my fingers.  I popped a wedge in my mouth, and it was pure bliss.  So incredibly sweet and juicy – it was unlike any orange I had ever tasted.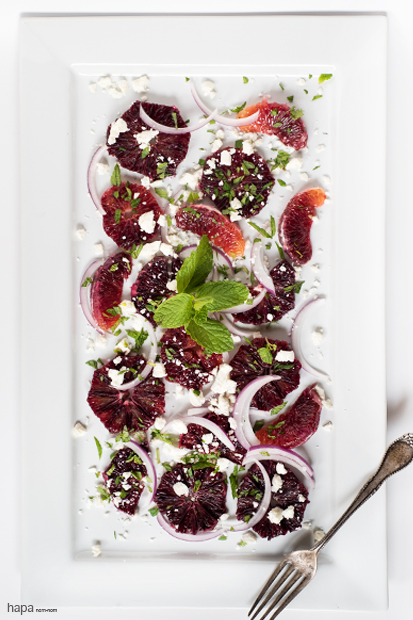 I came back to the States and was disappointed that I couldn't find blood oranges.  Or on the rare occasion when I did, they were completely tasteless and you'd have to run over them with a truck before you could extract any amount of juice from them.  Fortunately, I've been seeing them around more often and with much better quality.  Nearly every farmers market carries them and many general grocery stores carry them now during the season.
When selecting blood oranges, make sure to select those that are firm to the touch and heavy for their size. The rind will be red-blushed and darker patches, which are common, have no effect on the taste of the fruit – just make sure those spots are not spongy or moldy and you're good to go!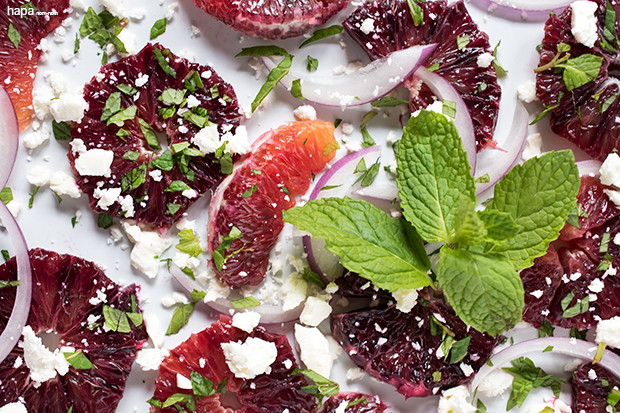 This Blood Orange Salad is super easy to make and packs a wonderful visual impact – they're like little gems on a plate!  The sweet blood oranges pair perfectly with the salty feta, and the red onion and mint add another fabulous dimension of flavor and color.  Drizzled with homemade White Balsamic Vinaigrette and you have a simple dish that's packed with a ton of fresh flavors.

Blood Orange Salad
Author:
Kathleen | HapaNom
Ingredients
4 blood oranges
½ small red onion, thinly sliced
3 ounces feta, crumbled
2 tablespoons mint, roughly chopped
Instructions
Cut the rind and pith off of each orange. Slice into ¼-inch rounds and/or wedges.
Arrange and plate the oranges, top with sliced red onion, feta, and mint. Drizzle with White Balsamic Vinaigrette. Serve and enjoy!
White Balsamic Vinaigrette
Author:
Kathleen | HapaNom
Ingredients
½ cup extra virgin olive oil
¼ cup white balsamic vinegar
1 tablespoon honey
2 tablespoons lemon juice
½ teaspoon kosher salt
¼ teaspoon black pepper
Instructions
Whisk well all of the ingredients together in a small bowl, until fully incorporated.